With an exceptionally smooth ride, Global aircraft offer the most comfortable cabin experience of any business jet
The new Premier cabin features architectural design and commonality with the entire Global family
Contemporary Premier design accentuates the spaciousness of a cabin interior already the widest in its class
Hand-stitched seats, intelligent ergonomics, streamlined galley, elegant flooring options, the industry's fastest Ka-band in-flight Wi-Fi connectivity and the Venue™ advanced cabin management system are among the highlights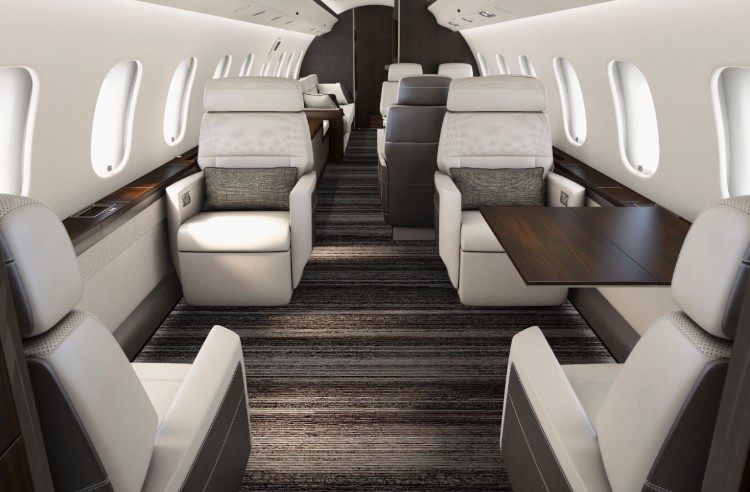 Bombardier today unveiled the highly sophisticated and meticulously crafted new Premier cabin for its Global 5000 and Global 6000 business jets. The new interior's striking aesthetics, intelligent ergonomics and advanced connectivity features are showcased on board the first Global 6000 aircraft equipped with the Premier cabin, which is on static display at the 2017 European Business Aviation Convention & Exhibition in Geneva.
The all-new Premier cabin – now available on Global 5000 and Global 6000 jets – has a bold and fresh contemporary interior that brings a new level of refinement to the cabin experience, establishing a superior design commonality to the entire portfolio of Bombardier aircraft. The design draws inspiration from the high-end craftsmanship in luxury automotive interiors and the spaciousness, comfort and productivity of the Global 7000 and Global 8000 aircraft cabins.
"Cabin comfort and sophistication are top priorities for our customers. Global aircraft already lead the industry with spectacular cabin interiors, and our new Premier cabin demonstrates that we are committed to remain ahead of the curve across all of our products," said David Coleal, President, Bombardier Business Aircraft.

"The refined aesthetics, luxury and ambience of our new Premier cabin, combined with an advanced cabin management system and Ka-band connectivity, will result in an even more productive experience for our Global 5000 and Global 6000 aircraft passengers."
Among the cabin's new highlights are the stylish seats and sleek side ledges. These elements heighten the feeling of a clean design aesthetic in a cabin that is already the widest and most comfortable in its class. With its impeccable lines and flawless hand-stitched finishing, the new seat design offers improved ergonomic features, such as higher armrests, a sculpted backrest, and crisp, clean lines throughout.
The galley has been streamlined and modernized to a contemporary form, and visually stunning hardwood and stone floor coverings are available in the galley and lavatories. The level of refinement is further elevated by the Global family's unmatched cabin functionality, featuring the fastest in-flight Wi-Fi connection in the skies and the most reliable and most intuitive cabin management system available. Finally, Bombardier's advanced and unique wing design on Global aircraft provides passengers with a restful flight and a smooth ride.
Global 5000 aircraft: By combining expert engineering and superior craftsmanship, every detail on the Global 5000 aircraft has been meticulously designed to deliver an exceptional private jet experience. With a cabin that is nearly a foot wider (30 cm) than its nearest competitor, coupled with an advanced wing design that optimizes speed, range and control, the Global 5000 aircraft delivers maximum comfort and a remarkably smooth and comfortable ride.
Global 6000 aircraft: Elegance and performance meet to deliver an unparalleled experience on board the Global 6000 aircraft. Skillfully designed to leave a lasting impression, the Global 6000 business jet features an intelligently crafted interior that balances luxury with productivity. The industry's fastest worldwide in-flight internet connectivity* combined with a comprehensive cabin management system keep passengers entertained and connected at all times*. With the widest cabin in its class and a smooth ride for exceptional comfort, the Global 6000 aircraft offers the finest experience you can expect from a business jet.
May 21, 2017 Geneva Business Aircraft,  Press Release