Record traffic for Bordeaux Airport over the first half of the year: 2.9 million passengers over the first six months with overall growth of 8.5%, or 227,600 new passengers, and a special mention for growth in international traffic, up 13.6%.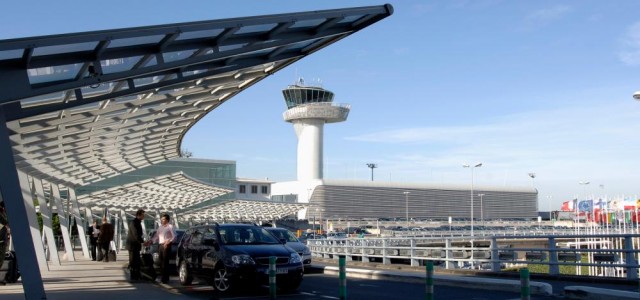 The results posted to the end of June reveal an excellent start to the year. International traffic reached 1.37 million passengers, boosted by the opening of 8 new routes in the spring. Low-cost airline traffic made a significant contribution to this success, representing 45% of all passenger traffic at the beginning of the year, with growth of 21%. Domestic travel continued to show a steady increase over the 6 months, up 4.3% on 2016. Bordeaux airport experienced a historic peak in one-day traffic with 26,640 passengers on 30 June.
Bordeaux is on a roll! After being voted the 'Best European Destination' in 2015, it dominated the 2016 top city list for the 'place we would love to live and work in'. The Los Angeles Times and the Lonely Planet travel guide have called it the 'Tourist Destination for 2017'. In June, Bordeaux became the 'Best Place to Eat' in a ranking published by leading restaurant guides and on the Atabula website, and was crowned the 'Best Place to Live' by the Harris survey institute. At the beginning of July, the Telegraph showcased the '10 reasons why Bordeaux is France's greatest city.' Bordeaux seems to have caught everyone's eye!
International traffic reached 1,375,000 passengers with a 13.6% increase in passenger numbers for the first half of 2017. The whole of Europe has shown significant progress:
•    The Iberian Peninsula recorded 282,000 passengers within the 6-month period and the highest increase in 2017, up 31.2% on last year. These excellent results were especially due to an increased offering on existing lines in the spring: Madrid with a 56.4% increase in traffic, operated jointly by Iberia, Iberia Express and Volotea since April, and Barcelona with a 44.8% increase. Tenerife (+31.4%), Palma de Mallorca (+25.5%) and Lisbon (+25.1%) were also very popular.
•    Italy has also got off to a great start with a 19% increase. This is thanks to a strong increase in passenger numbers on the Venice route (+41%). Milan, served by two airports (Malpensa with easyJet and Bergamo with Ryanair since May), Pisa and Palermo did not disappoint either, with +33.2%, +33.5% and +21.1% respectively.
•    The British Isles took 3rd place for growth over the 6 months with a 12.5% increase, the main contributors being Southampton which has multiplied its traffic by 12, Bristol +65,4%, Liverpool +54,2% and Edinburgh +47,2%. The 3 London airports totalled more than 200,000 passengers in the first half of the year, which makes London the 4th most popular destination from Bordeaux.
To a lesser extent, the results of the new routes vindicated the airport's desire to develop internationally:
•    Germany doubled its traffic with 38,000 passengers by mid-2017, boosted by the new link to Hamburg with easyJet, and Frankfurt operated by Lufthansa, in addition to the existing routes to Berlin (easyJet) and Munich (Volotea)
•    Not to be outdone, Northern and Eastern Europe showed 30% growth in passengers, particularly Scandinavia which has a multiplied its traffic by 6 thanks to an early start to the season for Oslo and Stockholm operated by Norwegian
•    Montreal traffic with Air Transat has also increased by 25%.
841,000 passengers used the international hubs over the 6 months (+5%), with excellent results for Madrid (+54.6%), Brussels (+26.4%) and Lisbon (+25.1%). Paris Charles-de-Gaulle continues to show a steady increase (+4.5%) with 327,200 passengers, as well as Amsterdam with 145,076 passengers (+0.8%).
Domestic traffic was up 4.7% in the first half of the year. Corsica took a place on the podium for national destinations, experiencing growth of 24.7%, driven by the capacity increases offered by Volotea. Bastia is currently in the lead with a traffic increase of 38.7%. It is worth noting that Corsica is expected to make further progress this summer with the arrival of a new airline, Air Corsica, for Ajaccio and Calvi. The Marseille and Strasbourg routes also posted promising results with +23.2% and +21.7% respectively. The Orly shuttle service remained at the same level as in 2016 with 504,600 passengers.
This first half of 2017 saw low-cost traffic reach a record high with 1,311,000 passengers and 20.8% growth over the first 6 months. By the end of the period, the low-cost airlines accounted for 45% of airport traffic (+225,000 passengers compared to the first half of 2016). easyJet has made exceptional progress with an increase of 17% to 800,000 passengers over the 6 months, with over 21 destinations. Volotea followed the same trend with 30% growth and 3 new airline routes since spring (Malta, Madrid and Santorini) which means it now has a total of 26 routes from Bordeaux airport.
This mid-year review provides us with an opportunity to celebrate:
–    The 12 new routes for the summer season 2017: Frankfurt (Lufthansa and Air France), Malta (Volotea), Madrid (Volotea), Milan Bergamo (Ryanair), Santorini (Volotea), Bucharest (Blue Air), Hamburg (easyJet), Algiers (Aigle Azur), Ajaccio (Air Corsica), Calvi (Air Corsica), Copenhagen (Air France) and Budapest (Wizz Air)
–    The arrival of 4 new airlines: Air Corsica, Blue Air, Lufthansa and Wizz Air
13/07/2017