Off to the City of the White Nights: Fly with S7 Airlines from Tegel to St. Petersburg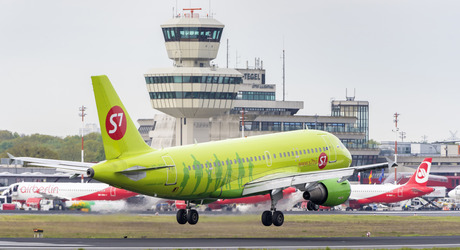 Starting today, S7 Airlines flies three times a week to St. Petersburg, Russia. Flights to the historical city on the Neva leave three times a week, every Tuesday, Thursday and Saturday. Flight time is around two and a half hours. St. Petersburg in Russia is the Russian airline's second route from Berlin. Since March 2016, S7 has connected the German capital with Domodedovo Airport in Moscow.
City of White Nights
In its heyday in the 18th century, St. Petersburg was the capital of the Russian Empire. Today, with its population of about five million, it is Russia's second largest city (after Moscow) and the number four in Europe. Every year, millions of tourists visit the former City of the Tsars. Visitors can gorge on some 1,500 m2 of museums and historic buildings. The centre is home to more than 2,000 palaces, castles and other historical buildings from various periods. It's not for nothing that it is known as "Russia's Capital of Culture". Built in the classical-Baroque style, the Old Town is a renowned UNESCO world heritage site and is often called the "Venice of the North".
St. Petersburg is also called the City of the White Nights. Located at latitude 60° north, it never gets completely dark in the period from the end of May to the middle of July. Dusk melts seamlessly into dawn. With generally warm temperatures, the city is bathed in a magical light. Whether by taxi or boat, by bike, on foot or as part of a guided tour – no one should miss out on St. Petersburg during the White Nights.
S7 Airlines
S7 Airlines has been a member of the airline alliance oneworld since 2010. The airline's headquarters are located in Moscow. The airline operates aircrafts from Boeing and Airbus.