GOOGLE MUST PREVENT CUSTOMERS BEING MISLED & OVERCHARGED
Ryanair today (6 Oct), called on Google to enforce greater transparency on its online advertising following extensive complaints from Ryanair customers who have been misled into booking Ryanair flights on non-Ryanair websites, which are purposely designed to mislead customers.
Screenscraper websites such as eDreams have been paying for Google advertising to have their websites rank above the official Ryanair website on Google searches, which in turn is misleading Ryanair customers into visiting the eDreams website, masquerading as Ryanair.com, and in turn booking with eDreams.
Ryanair has been engaged in several legal cases against screenscraper websites across Europe to prevent its customers from being subjected to additional, hidden charges and to ensure Ryanair has appropriate contact details to communicate with its customers.
Many of these websites continue to cause problems for Ryanair customers and/or fail/refuse to pass on vital information to both customers and Ryanair regarding issues such as flight changes, web check-in, special needs assistance and contact details, which has resulted in missed flights and repeated problems for Ryanair customers. Indeed, the Court of Hamburg recently ruled that eDreams has been using an unlawful subdomain and was misleading customers into thinking that it had an official partnership with Ryanair.
Ryanair urged customers to book directly on Ryanair.com and called on Google to enforce greater transparency on its advertising rules, to prevent European customers being misled and overcharged.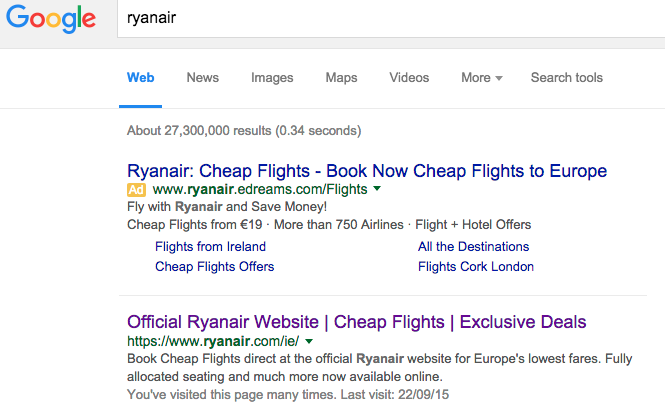 Ryanair's Kenny Jacobs said:
"As Europe's largest airline, Ryanair has received numerous complaints from our customers who have inadvertently purchased Ryanair flights on the eDreams website, as a direct result of the misleading advertising provided by Google. EDreams has been unlawfully selling Ryanair flights, by masquerading as Ryanair.com, and then offering customers a substandard service, with additional fees, or by often selling fares that don't even exist. While we have no issue with Google advertising in general, it is unfair that it is used as a mechanism to mislead customers.
Customers end up paying more for their flights, thinking they've bought Ryanair flights with Ryanair, and often their contact details aren't passed on, meaning they can't be contacted if their flight changes, and they also have trouble checking-in online. This is a particular problem for customers in the UK and Ireland.
Ryanair will continue to pursue screenscraper websites such as eDreams to prevent Europe's consumers from being misled over price and booking conditions. We would again urge customers to book directly on the Ryanair.com website to guarantee the lowest fares and best customer service. In the meantime, we call on Google to enforce greater transparency of its advertising to prevent any more customers from being misled and overcharged." 
06 Oct 2015