Record summer: more than five million passengers fly off on summer holiday/top destinations: Germany, Spain and Italy
Record month: 2.4 million passengers in July
Full house: Mallorca almost fully booked already/Long-haul Airbus A330 also in use
Big in Bavaria: more than 340,000 tickets sold since December 2016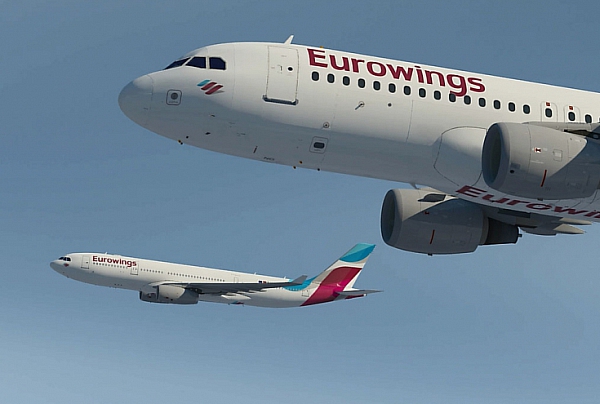 Eurowings is rocking the summer and flying Germany off on holiday. Europe's fastest growing low-cost airline is taking more than five million passengers to their dream destinations in the hot months of this year.
The top holiday countries are Germany with almost 850,000 passengers, Spain with more than 440,000 passengers, followed by Italy with over 270,000 passengers. July has already shown that Eurowings is heading for a record summer having carried more than 2.4 million passengers—the strongest month ever for Eurowings. In North Rhine-Westphalia, Germany's most highly populated federal state, the airline flew no less than a quarter of a million passengers off on holiday on the first weekend of the holidays in mid-July which was more than ever before. On 14 July, Eurowings offered 670 flights, yet another all-time high.
So far Eurowings' most popular summer destinations are Mallorca, Barcelona and Split in Croatia. Those wanting to fly to Mallorca should get a move on: three quarters of all Eurowings tickets to Europe's top holiday isle this summer are already booked. At times, Eurowings will even be operating this route with an Airbus A330 which seats more than 300 passengers and is otherwise used for long-haul flights.
It's also full house at Eurowings for the start of the holidays in Bavaria right now. More than 100 flights will take almost 15,000 passengers to the sun in the first week of the holidays. Eurowings is certainly reaping the full benefit of having launched 30 new European flights from Munich at the end of March. In the first six months, the airline has already sold 340,000 tickets for flights from Munich. Mediterranean destinations such as Kos, Rhodes and Lamezia Terme are already as good as sold out for the entire summer.
Eurowings' intention, however, is to fly not only to Europe from Munich but worldwide. Long-haul flights will take off in summer 2018 with the first flight departing for the American casino city of Las Vegas on 16 April. The following destinations can now be booked from Munich online at www.eurowings.com: Bangkok, Las Vegas, Fort Myers, Windhoek, Mauritius, Varadero, Montego Bay, Puerto Plata, Cancun and Punta Cana – from as little as EUR 199.99 each way. Las Vegas, Fort Myers and Mauritius have been particularly popular as dream destinations since booking started a few weeks ago. Together with its second long-haul base in Cologne/Bonn, Eurowings will offer around 1.2 million attractively priced long-haul seats in summer 2018.
With this level of growth, it's no wonder that Eurowings is now the market leader at four major German airports. The airline was previously number one at its home base in Cologne/Bonn and in Stuttgart and now Eurowings has also climbed the rankings to become the most important carrier at Hamburg and Düsseldorf airports too. The airline has doubled the seating capacity at its Hamburg and Düsseldorf bases by making a huge fleet change. Now instead of 23 90-seater Bombardier (CRJ 900), it will use 23 Airbus A320, each of which seats up to 180 passengers. The brand-new Airbus aircraft are also part of the reason that Eurowings is heading for a record summer.
Cologne/Bonn, 01.08.2017