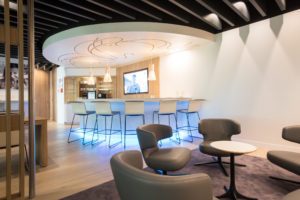 Brussels Airlines opende op de luchthaven van N'Djili (Kinshasa, DR Congo) zopas haar eerste buitenlandse lounge, in aanwezigheid van de Congolese premier,  vice-premier en talrijke hoogwaardigheidsbekleders en klanten. The Suite biedt een unieke comfortervaring aan alle Business Class reizigers en frequent travelers voor het vertrek van hun vlucht naar Brussel. Met deze belangrijke investering erkent Brussels Airlines het belang van Kinshasa in haar netwerk.
De Brussel-Kinshasa verbinding is één van de belangrijkste Brussels Airlines routes. Dagelijks wordt de hoofdstad van Congo verbonden met Brussels Airport. Op jaarbasis maken niet alleen tienduizenden passagiers gebruik van de vlucht, ook het cargoruim is goed gevuld met vracht. Om de dagelijkse vluchten uit te voeren en te commercializeren, stelt Brussels Airlines in de Democratische Republiek Congo 100 mensen te werk.
De voorbije jaren investeerde Brussels Airlines flink in het passagiercomfort in Kinshasa. Zo biedt de maatschappij een  pre-check-in desk aan in het stadscentrum van Kinshasa, waar veel passagiers hun bagage een dag op voorhand komen inchecken.  Ook de Congolese overheid realiseerde heel wat inspanningen en investeerde  op de luchthaven van N'Djili in een gloednieuwe terminal die sinds vorig jaar ook door Brussels Airlines wordt gebruikt.
Met de opening van de eigen luchthavenlounge The Suite gaat Brussels Airlines nu nog een stap verder.  Voor de allereerste keer neemt Brussels Airlines een eigen luchthavenlounge in gebruik in het buitenland, om zo haar passagiers een optimaal comfortniveau te kunnen aanbieden.
In The Suite worden Brussels Airlines Business Class passagiers en frequent flyers verwend met drankjes, een snackbuffet, een uitgebreid aanbod kranten & magazines en uiteraard gratis WIFI. Het concept van The Suite is gebaseerd op dat van de erg gewaardeerde  'The Loft' lounge die Brussels Airlines aanbiedt in Brussels Airport: modern en strak design met een knipoog naar Belgische art nouveau, comfortabele zetels, een zone met werktafels, hoge tafels voor wie wil netwerken  en een hoek om te relaxen.  The Suite ligt vlak naast de vaste gate waar de Brussels Airlines vlucht vertrekt. Een Brussels Airlines host staat garant voor het hoge serviceniveau dat de bezoekers in  The Suite mogen verwachten.
The Suite werd zopas in aanwezigheid van de Congolese Premier, Vice-Premier, verschilende ministers, hoogwaardigheidsbekleders en trouwe Brussels Airlines klanten ingehuldigd en is vanaf nu elke dag geopend.
"Dankzij The Suite kunnen we nu ook onze talrijke loyale Business Class passagiers, Miles & More en Star Alliance Gold gasten een unieke comfortervaring aanbieden in Kinshasa", zegt Brussels Airlines Vice President Sales Africa Philippe Saeys. "Deze investering in kwaliteit, in lijn met onze We go the extra smile aanpak,  is nogmaals een illustratie van de passie van Brussels Airlines voor Afrika én voor service."
Volgens Patrick Roothooft, Brussels Airlines Countrymanager in DR Congo, illustreert de opening van een eigen lounge ook het sterke geloof van Brussels Airlines in de Kinshasaverbinding.  "Het is heel symbolisch dat we onze eerste eigen buitenlandse lounge openen in Kinshasa", zegt hij. "De Kinshasa route speelt een sleutelrol  in ons netwerk en dat wordt met The Suite nogmaals  onderstreept."
Woensdag, 25 Mei 2016
Alle foto's: copyright © Brussels Airlines