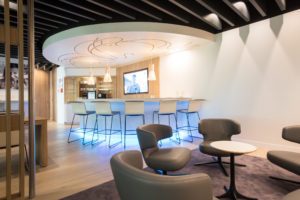 Brussels Airlines a récemment ouvert à l'aéroport de N'Djili (Kinshasa, RDC) son premier salon international, en présence du Premier Ministre congolais, du Vice-Premier Ministre et de nombreux autres dignitaires et clients. 'The Suite' offre une expérience unique de confort à tous les passagers de la Business Class et aux 'frequent travellers' avant  leur vol à destination de Bruxelles. Avec cet important investissement, Brussels Airlines souligne l'importance de Kinshasa dans son réseau.
La liaison Bruxelles-Kinshasa est une des connexions les plus importantes de Brussels Airlines.  La capitale de la République Démocratique du Congo est reliée quotidiennement à l'aéroport de Bruxelles. Sur une base annuelle, des dizaines de milliers de passagers empruntent ce vol, sans oublier l'activité fret qui est également très importante sur cette liaison. Cent employés Brussels Airlines basés à Kinshasa mettent chaque semaine tout en œuvre pour garantir la commercialisation et le bon déroulement des opérations.
Au cours de ces dernières années, Brussels Airlines a investi massivement dans le confort de ses passagers à Kinshasa. Ainsi, l'entreprise propose un pré-enregistrement dans ses bureaux au centre de Kinshasa, permettant ainsi à de nombreux passagers d'enregistrer leurs bagages la veille de leur départ pour Bruxelles.  En parallèle, le gouvernement congolais a récemment lourdement investi dans un nouveau terminal à l'aéroport de N'Djili qui est utilisé depuis l'année dernière par Brussels Airlines.
Avec l'ouverture de son propre salon à l'aéroport, "The Suite", Brussels Airlines montre son engagement à l'égard de la RDC. Pour la première fois depuis son existence, Brussels Airlines ouvre un salon dans un aéroport à l'étranger, afin d'offrir un excellent niveau de confort à ses passagers.
Dans «The Suite», les passagers Brussels Airlines de la Business Class et les 'frequent travellers' sont choyés avec des boissons, un buffet de collations, une large sélection de journaux et de magazines ainsi qu'avec du WiFi. Le concept de «The Suite» est basé sur celui du salon « The Loft » à l'aéroport de Bruxelles: un design moderne et élégant avec un clin d'œil à l'art nouveau belge, des sièges confortables, un coin «buffet» avec boissons et collations, une zone avec des tables de travail, des tables hautes pour ceux qui souhaitent faire du 'networking' et un coin pour se détendre. 'The Suite' se trouve juste à côté de la porte d'embarquement d'où partent les vols Brussels Airlines. Un hôte Brussels Airlines se porte garant pour que les passagers puissent profiter d'un service de haut niveau tout au long de leur séjour dans le salon.
« The Suite » a été inauguré en présence du Premier Ministre congolais, du Vice-Premier Ministre, et de plusieurs autres excellences et dignitaires ainsi que des fidèles clients de Brussels Airlines.
"Grâce à « The Suite », nous pouvons maintenant offrir à nos nombreux passagers de la Business Class, nos membres 'Miles & More' et 'Star Alliance Gold' une expérience de confort unique à Kinshasa. Cet investissement dans la qualité, en ligne avec notre approche 'We go the extra smile', est à nouveau une illustration de la passion de Brussels Airlines pour l'Afrique et de l'importance que nous donnons à la qualité du service offert à nos passagers." dit Philippe Saeys-Desmedt, Vice President Sales Africa Brussels Airlines.
Selon Patrick Roofthooft, Brussels Airlines Country Manager en RDC, l'ouverture du salon illustre également l'importance que Brussels Airlines donne à ses vols entre Kinshasa et Bruxelles.
"L'ouverture de notre premier salon à l'étranger, à Kinshasa, est très symbolique," dit-il. "La liaison au départ de Kinshasa joue un rôle clé dans notre réseau et ceci est encore renforcé par l'ouverture de « The Suite »."
Mercredi, 25 Mai 2016
Tous photos: copyright © Brussels Airlines