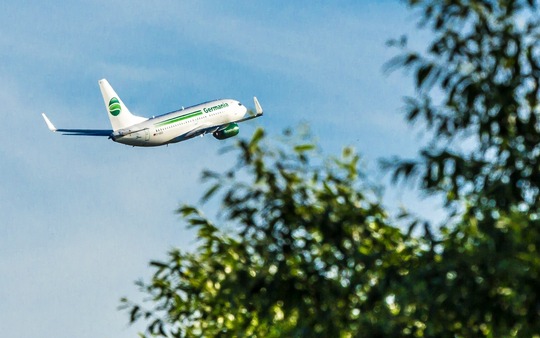 Since the start of the summer season, demand for last-minute-flights to Turkey has been increasing. Like the travel industry as a whole, Germania has noticed growing confidence in holiday resorts on the Turkish Riviera. With significant last-minute bookings, passenger numbers on flights to Turkey in May and June saw an 8 % year-on-year increase for the green-and-white airline, while capacity remained unchanged.
Germania operates 39 flights a week, linking 11 German airports with 11 destinations in Turkey, including the resorts of Antalya, Alanya/Gazipasa, Bodrum and Dalaman. Value for money and the high quality of hotels and beaches had already persuaded holidaymakers last year. Due to political unrest prices had fallen yet again, but the situation is stabilising and as a result the Turkish seaside resorts are becoming attractive once more.
In addition to the tourist destinations, Germania also operates routes away from tourism, which are used predominantly by families and commuters. These destinations include Adana, Ankara, Edremit, Hatay, Kayseri, Malatya and Zonguldak.
Flights from Dusseldorf to Adana, Münster/Osnabrück to Kayseri as well as Nuremberg to Adana feature among the new routes. On these flights passengers have a free baggage allowance of up to 25 kg.
Germania flights depart to Turkey from the German airports of Bremen, Dusseldorf, Münster/Osnabrück, Erfurt, Dresden, Hamburg, Rostock-Laage, Friedrichshafen, Berlin-Schönefeld, Dortmund and Nuremberg. Some of these airports will see a definite increase in flights for summer 2018. From Nuremberg, for instance, there will be four weekly flights to Antalya, all at family-friendly departure times around midday. Furthermore, the volume from Dresden to Antalya will be doubled. The offer is already bookable.
BERLIN – 05 July 2017