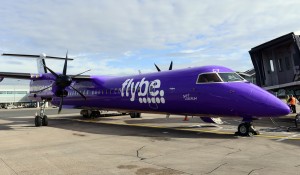 Flybe has stepped in quickly with the news today (23rd March 2016) that it will operate up to four 'rescue flights' on weekdays, and two a day on weekends between Cardiff and London City Airports. These will provide fast, convenient and affordable transport options for those travelling between South Wales and SW/SE England, who will be severely inconvenienced by the six week closure of the Severn Tunnel scheduled for 12th September – 21st October 2016.
Flybe customers will land in the heart of London's docklands less than one hour after departing Wales' national airport, with a range of convenient flight times to choose from throughout the day. The link will also offer ideal opportunities for tourism both into and out of Wales.
Vincent Hodder, Flybe's Chief Revenue Officer comments: "We have pulled out all the stops to ensure that customers wanting to travel between the two capital cities of Wales and England still have convenient and affordable travel options during the period when the Severn Tunnel will be closed and there will be no direct rail link. Flybe champions regional air travel and we hope these rescue flights will help alleviate the travel woes of the thousands of passengers displaced by the loss of the region's direct rail services."
Debra Barber, Managing Director and Chief Operating Officer at Cardiff Airport, said: "This is really good news for Wales and another great way in which the Airport has been able to serve the people of South Wales. It's fantastic to see the Flybe response to the news about Severn Tunnel closure. The airline's swift offer to step in and create alternative options for Welsh business and leisure passengers to travel to London by air from Cardiff at such short notice, is further evidence of the confidence they feel about growing their flights linking Wales to key British, Irish and European cities."
This is not the first time that Flybe has come to the rescue following disruption to national rail services – in 2014, the airline stepped in for many months to provide additional capacity on its popular London Gatwick to Newquay service when a portion of the rail line between the UK capital and Cornwall was severely damaged at Dawlish during winter storms.
22/03/2016
The schedules
Cardiff Airport (CWL) – London City Airport (LCY) Schedule
Mon-Thurs
Dep CWL 06:00 Arr LCY 06:50
Dep LCY 07:20 Arr CWL 08:20
Fri
Dep CWL 06:10 Arr LCY 07:00
Dep LCY 07:30 Arr CWL 08:30
Mon – Fri
Dep CWL 09:25 Arr LCY 10:15
Dep LCY 10:45 Arr CWL11:45
Mon – Fri
Dep CWL 14:00 Arr LCY 14:50
Dep LCY 15:20  Arr CWL 16:20
Mon – Fri
Dep CWL 18:50 Arr LCY 19:40
Dep LCY 20:10 Arr CWL 21:10
Flights on Saturdays depart Cardiff and London City at 07:50, 10:50 and 09:10 and 12:10 respectively: and similarly on Sundays at 14:00, 17:40 and 15:20 and 19:00.