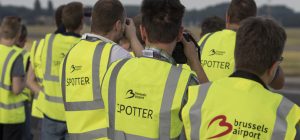 On Tuesday 4 July 2017, Brussels Airport organised the third edition of the Brussels Airport Spotters Day.
Between 4pm-9pm, 25 lucky winners of a contest were invited to be taken airside for stunning views of the airside activities.
At 4pm, all participants gathered near the Exki shop on the departures level of the main terminal building of Brussels Airport and received a warm welcome by staff members of Brussels Airport. After the necessary registration, each participant received a visitors badge and a fluo jacket. This was followed by a brief instruction on what we could expect that afternoon.
A few moments later, we were kindly invited to board the dedicated bus which would take us airside. Before going airside however, every participant needed to go through security and was screened very thoroughly.
Once all participants were airside, we made our way to the very first stop of the day: a Boeing 787-8 Dreamliner of All Nippon Airways. The aircraft wearing registration JA806A had just arrived from Tokyo Narita. We were kindly invited by Brussels Airport and All Nippon Airways for an aircraft visit.
First, we walked around the aircraft and received a very detailed explanation of the aircraft and its systems by one of the handling agents. After the walkaround, we were divided into two groups, and each group had the opportunity to visit the aircraft. We were welcome onboard by friendly All Nippon Airways staff members and got some additional explanations on the cabin layout and the various systems to operate the cabin during a flight. We also had the opportunity to visit the pilot crew rest area as well as the flight deck of the Boeing 787 Dreamliner.
After this unique aircraft visit, all participants proceeded to the bus which took us to the second airside location for some serious aircraft photography.
This photography spot was located north of RWY 25R and offered very good views of aircraft taking off and landing on this runway. It also offered good views of aircraft taxiing to and from the north side of Pier A.
As it was already 6pm by the time we arrived at this airside location, we were invited to have a sandwich and a drink kindly offered by Brussels Airport.
After a few hours of nonstop aviation action and aviation photography, everybody boarded the bus again, which took us to the third and final photography spot, which was located south of Pier B and offered very good views of aircraft landing on RWY 25L and taxiing to their stands.
Shortly before 9pm all participants were asked to gather in front of the bus. Brussels Airport offered a goodie bag and thanked everybody for participating. A great way to end a fascinating experience.
We would like to thank Brussels Airport and All Nippon Airways for organizing this Spotters Day.
9 July 2017
More information about plane spotting.
Photos: copyright (c) Ivan Coninx