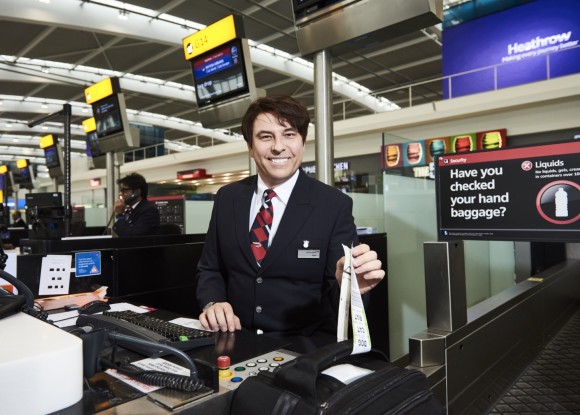 British Airways has launched a collection of comedy videos for 'Red Nose Day' (Friday 24 March), starring David Walliams, Emma Bunton and Tom Daley dressed as British Airways staff surprising customers in support of Comic Relief – the airline's charity partner
Launched today on British Airways' YouTube page (youtube.com/britishairways), the final film features all three celebrities undercover in T5. There are also three separate edits of each of the celebrities available to view
[su_youtube url="https://www.youtube.com/watch?v=QOwyQaAISW0″]
No stranger to playing airline characters, TV personality David Walliams assumed the role of customer service representative 'Dave', amusing customers at Heathrow T5, asking them to pose seriously for security photos and at one point even kissing a passenger's passport!
Spice Girl and Heart FM presenter Emma Bunton spiced up the 'check-in-kiosks', mischievously assisting unsuspecting customers, asking them if they had packed any 'sporty or ginger' products. Meanwhile, Olympic medallist Tom Daley swapped his swimming trunks for luggage trunks, as he greeted customers in T5, even persuading some of them to perform dive moves before flying.
Troy Warfield, British Airways' director customer experience, said: "This year Red Nose Day is going back to its comedy roots, and we're delighted to be supporting it with these great films from some of the nation's favourite personalities working a shift at British Airways. "
The video is our way of saying 'thank you' to customers and staff for helping us raise over £15 million over the past seven years."
Red Nose Day takes place every two years for Comic Relief, which empowers the public to make the world a better place, simply by having a great time. The charity spends the money raised, to help the people who really need it most both in the UK and across the world's poorest communities.
For more information visit rednoseday.com or http://www.ba-flyingstart.com/ or follow the airline on Twitter @British_Airways