DAILY FLIGHTS FROM WARSAW TO KIEV ZHULIANY INTERNATIONAL AIRPORT – LOT SPREADS ITS WINGS IN UKRAINE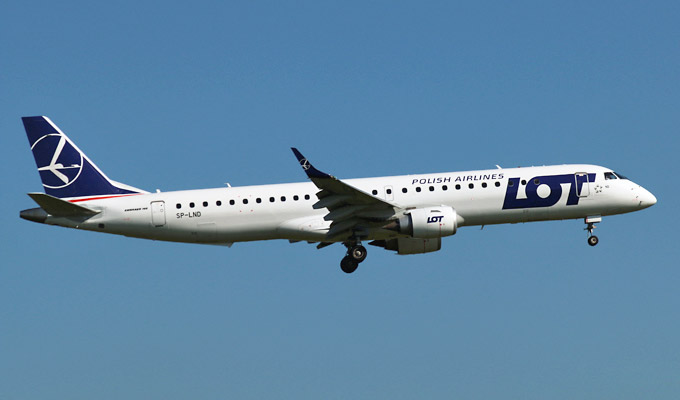 LOT is going to launch a direct flight to Kiev's central Zhuliany airport. The flights are scheduled to be launched on 26 February and will be initially operated 6 and then 7 times a week. It's LOT's fifth direct connection to Ukraine. In that way the Polish carrier have become the largest European Union airline operating on the Ukrainian market.

Flights to the Zhuliany airport will be operated daily apart from Saturdays. The departure is scheduled for 22:40. Return flights are operated on all weekdays apart from Sundays (at 6:00). Starting in the summer the flights will be operated daily. Such timetable allows passengers not just from Poland but from all the other western European cities to travel comfortably to Kiev. Passengers travelling from Kiev can reach Warsaw and other European tourist and business centers in the shortest possible time, even without an overnight stay.
"The Zhuliany airport is recognized as Kiev's central airport. We are glad that being the only EU carrier we are able to offer daily flights from that airport to our hub in Warsaw. As a result the passengers starting their journey at the Zhuliany airport have access to the entire network of more than 60 connections offered by LOT. We are convinced that Kiev inhabitants will gladly take advantage of that opportunity", says Adrian Kubicki, Director of Corporate Communications.
The Zhuliany airport in Kiev is the fifth Ukrainian destination in LOT's network of connections and Ukraine is one of the most important markets in the Central and Eastern Europe to the Polish airlines. In March 2016 LOT launched a flight to Kharkiv which quickly turned out to be a success.
"Ukrainian passengers need access to a hub that offers direct connections to major cities in Europe and in the world and Warsaw is now the largest hub in the Central and Eastern Europe. Strengthening our leading position in Ukraine results directly from our strategy of consolidating air traffic in that part of Europe", says Adrian Kubicki. "Apart from flights to the Boryspil International Airport which we operate twice a day, we are going to offer as many as 20 flights to and from Warsaw and Kiev per week!", adds Adrian Kubicki.
The flights on the Warsaw-Kiev Zhuliany route will be operated using modern Embraer 195s with the seating capacity of 112 passengers. LOT is the only carrier in Europe which offers as many as three travel classes on short-distance flights, each of which meets the individual requirements and expectations of our clients. Currently, apart from LOT Business Class, the carrier also offers LOT Premium Economy Class, which combines business class service and affordable price. On the other hand, for Economy Class passengers, LOT has created a dedicated tariff known as LOT Economy Simple, which enables them to travel only with hand luggage at a 30% discount. Furthermore, in each class we offer a unique range of products available on board. All LOT passengers can choose from "a la carte" services, such as "My Favourite Meal", "My Extra Baggage", Duty Free shopping or AirKiosk on board.
The launch of the flights to Kiev Zhuliany is a part of LOT's profitable growth strategy which has been implemented since the early 2016. Based on its underlying assumptions LOT intends to become the first-choice airlines not only among passengers travelling from Poland but also from other countries in the region. In November the carrier have started to work together with the Estonian national airlines, in that way initiating the process of consolidating the markets of the Central and Eastern Europe. Launching the fifth direct flight to Ukraine is another step reinforcing LOT's position in that part of the continent.
LOT plans to continue its intensive development following 2017; as of April 2017, the carrier will launch direct flights to new US destinations, Newark and Los Angeles, in that way expanding its overseas routes.
Tickets for LOT's new flights to the Zhuliany airport in Kiev can be purchased using all available channels, including the lot.com website, LOT Call Center, the LOT Travel offices and travel agents.
Warsaw, 1 December 2016