Bombardier announced today that the first CS300 aircraft will make its inaugural flight in early 2015 following the completion of functional test procedures (FTPs) and required engine and taxi runs in Mirabel, Québec.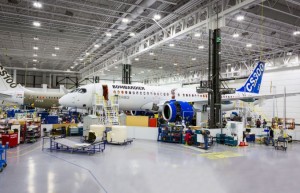 "The excitement is building as we get ready to fly the first CS300 aircraft! Over the next few weeks, theCS300 aircraft will be outfitted with the latest software rolls, taking it to the most current production standards – therefore making it the most optimized and productive first flight of any test vehicle seen to date," said Rob Dewar, Vice President, CSeries Program. "We elected to target early 2015 for the CS300 aircraft's first flight to take advantage of the knowledge we acquired from the accumulation of data from the four flight test vehicles currently flying, thus allowing us to build maturity and reliability upfront."
The CS300 aircraft's entry-into-service (EIS) is expected to occur approximately six months after the CS100aircraft's EIS, currently slated for second half of 2015.