Thai Airways International Public Company Limited (THAI) recently signed an agreement with the Thai Marine Finfish Farmers Association for THAI Catering to use quality products in its inflight meals.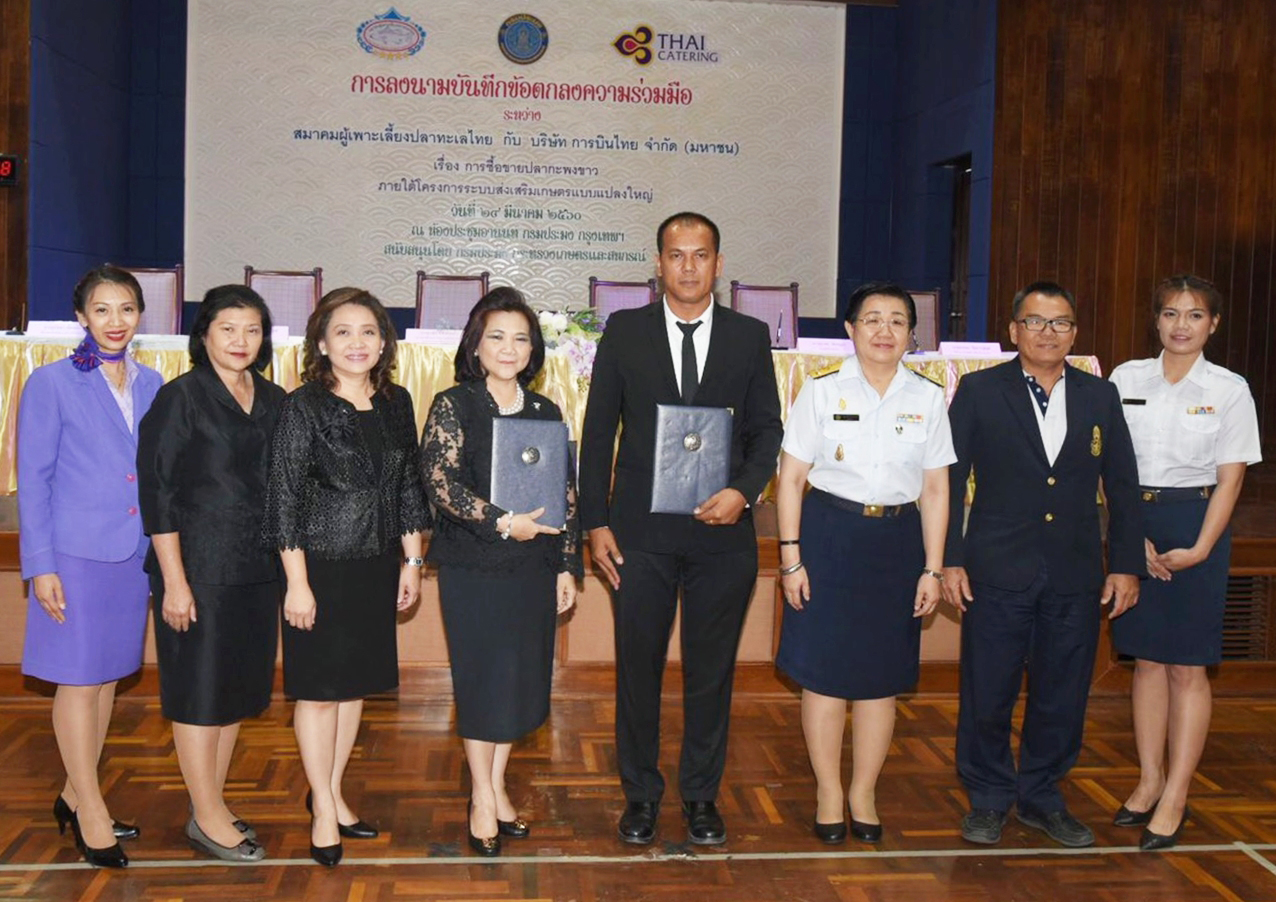 Mrs. Usanee Sangsingkeo (fourth from left), THAI Acting President, and Mr. Sutthi Mahalao (fifth from left), President of Thai Marine Finfish Farmers Association, signed an agreement at the Department of Fisheries that was witnessed by Mrs. Umaporn Pimolbutr (sixth from left), Deputy Director of Department of Fisheries, and Mrs. Varangkana Luerojvong (third from left), Managing Director of THAI Catering Department.
Mrs. Usanee Sangsingkeo,THAI Acting President, said that THAI as the national carrier upholds its policy to conduct its operations with awareness of corporate social responsibility (CSR).
In the past, THAI assisted Thai farmers from all regions across Thailand by purchasing processed and unprocessed agricultural products, such as seasonal fruits from the Royal Projects, agricultural goods from Southern Thailand, Doi Kham processed food, shrimp from the Ta Tong Basin Shrimp Farm Cooperative in Surat Thani. The Company also supports the sale of OTOP or local products on board and serves OTOP local meals to passengers at THAI Passenger Lounges, Suvarnabhumi Airport.
Since May 2017, THAI ordered high quality white sea bass from Chachoengsao which was obtained base on the Department of Fisheries standards, whereby the white sea bass is used by THAI Catering to produce inflight meals for its passengers with positive feedback.
THAI Catering uses approximately 155 tons of white sea bass per year as raw materials for inflight meal production, such as a white sea bass in dried red curry, white sea bass with sauce, and steamed white sea bass. This agreement helps to boost the marketing and production capability of Thai fishermen at an international level, which creates career stability and sustainability in accordance with public policy.
THAI produces inflight meals at international standards for its passengers, made from high quality chemical-free raw materials, for exceptional premium service throughout the journey.