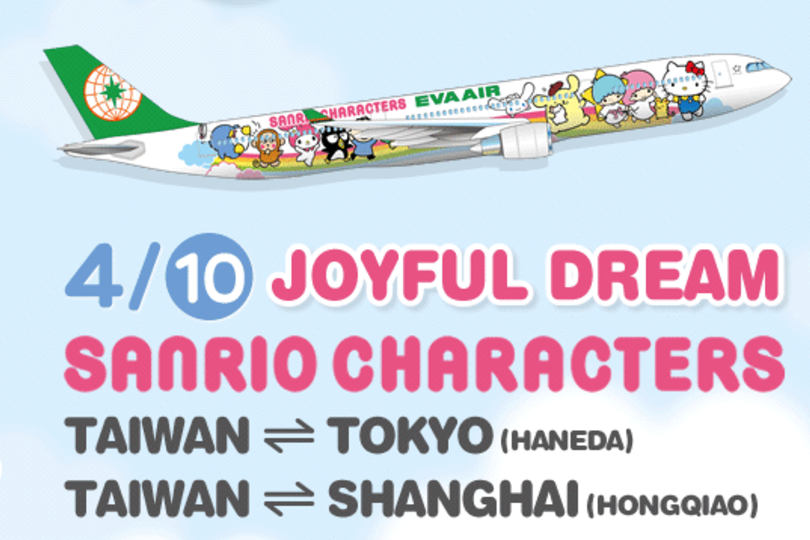 EVA Air revealed Hello Kitty frolicking along the fuselage of the latest edition of its popular painted aircraft with more Sanrio Family characters on the Joyful Dream Jet in a launch celebration at Tokyo Haneda Airport today (10 April, 2017). While costumed Hello Kitty and Dear Daniel characters posed for pictures with passengers, children and special guests, others pressed against airport windows for views of the plane. The airline is flying the Joyful Dream Jet on Taipei Songshan International Airport – Haneda and Taipei Songshan – Shanghai Hongqiao International Airport routes. All three airports are located close to the cities' centers. Travelers can learn more about the Joyful Dream and EVA's other Sanrio Family and Hello Kitty Jet flights at EVA Hello Kitty Jet and EVA Air Official Website.
EVA's Joyful Dream is an Airbus A330-300 configured for 309 passengers, 30 in Business Class and 279 in Economy. Like the Hand-in-Hand Jet, Joyful Dream brings Hello Kitty and some of her friends together with different Sanrio Family characters as they invite passengers to enjoy the enchantment of travel. In the sweet spirit of Hello Kitty, Kiki, Lala, cute Pom pom purin and the entire Sanrio Family parade along the length of the plane on a magical path where dreams come true in destinations waiting to be explored.
EVA Air and Sanrio worked together to create the first generation of Hello Kitty Jets in 2005 and 2006. Starting in 2011, the two companies began developing this second generation of EVA Hello Kitty and Sanrio Family Jets. In addition to enthusiastic response from passengers and fans worldwide, The Daily Mail recognized EVA's specially painted aircraft among the world's best liveries and Global Traveler Magazine awarded the carrier a special "Leisure Lifestyle Award for Outstanding Customized Service."

This year, EVA is launching four new livery themes, including the Bad Badtz-Maru Travel Fun Jet introduced in March and, now, the Joyful Dream. The two specially painted planes to come are the Celebration Flight in May and Friendship Bows in June. EVA now operates seven of the specially painted planes on routes within Asia, to Paris and, starting May 31, Chicago.
Building on its Hello Kitty Jet experience, EVA has designed more than 30 inflight service items and cabin amenities. Decorated with adorable Sanrio Family characters, passengers will have ample opportunities to take pictures and selfies, creating wonderful memories and sharing the fun with family and friends. More information about this and EVA's other Sanrio-Family aircraft, including flight schedules, is available at EVA Hello Kitty Jet and EVA Air Official Website.