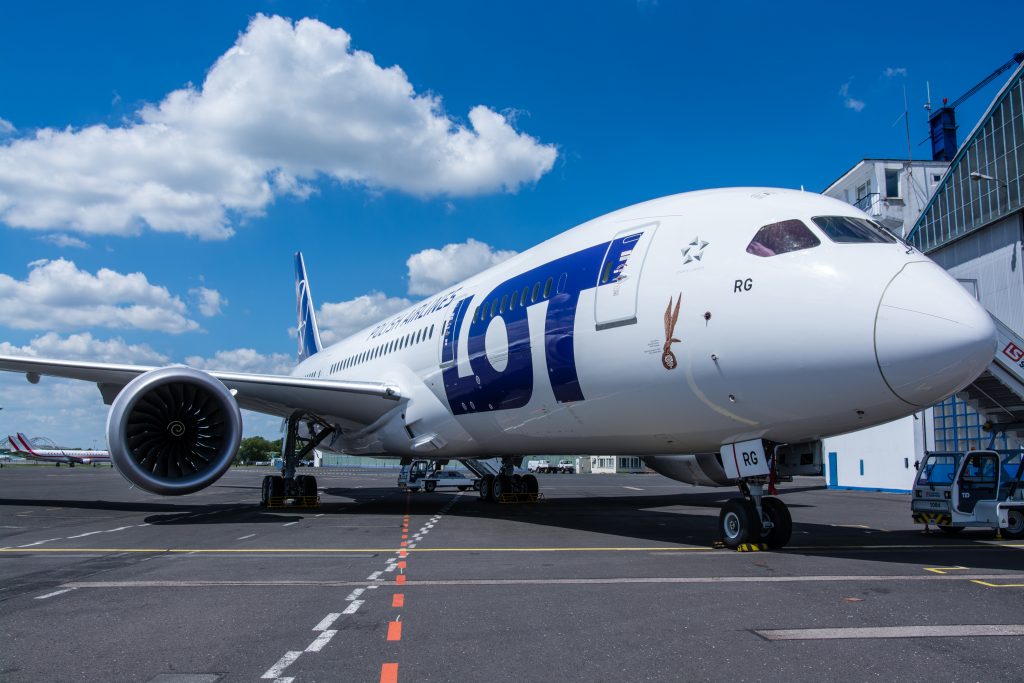 LOT presented its newest Boeing 787 Dreamliner – the 7th airplane to be added to the Polish carrier's fleet of the world's state-of-the-art wide-body aircraft. Starting from tomorrow the new Dreamliner will be operated on the most popular LOT routes, including flights to Tokyo, New York City and Seoul. The new Dreamliner serves to commemorate the Home Army's Silent and Unseen Parachutists "Cichociemni". 
The new Boeing 787 Dreamliner was added to LOT's fleet. It is the 7th such aircraft and the first of two Boeing 787-8s to be delivered to the Polish carrier in the 2017 summer season. LOT has presented in LOTAMS hangar its new aircraft bearing the Silent Unseen's symbol in partnership with the Foundation of the Silent and Unseen Home Army Parachutists.
"It is a special moment for the LOT Polish Airlines not just because our fleet has been expanded to include the new latest generation wide-bodied aircraft but also because today we can commemorate our Polish heroes in a symbolic way. Being the national carrier LOT is strongly linked to the Polish history and tradition – it is an honor to mark one of our flagship Dreamliners with the symbol of the Silent and Unseen Parachutists "Cichociemni", soldiers of the Home Army, who fought for Poland's independence during the World War II, " says Rafał Milczarski, LOT's CEO.
Starting from tomorrow the new machine will be operated regularly on LOT's all long- haul flights, that is, to New York City, Los Angeles, Newark, Toronto, Tokyo, China and Seoul, carrying passengers from all over the world onboard. Thanks to the new airplane LOT is able to implement assumptions underlying its growth strategy, among other things, supplementing frequencies on the most popular routes, including, increasing the number of weekly flights from Warsaw to Tokyo from 3 to 4 and from 3 to as many as 5 flights to Seoul per week. Another B787-8 aircraft is scheduled to be delivered to LOT in mid-July 2017.
"Boeing 787 Dreamliner remains to be the most modern and most technologically advanced long-haul aircraft in the world that allows to freely cover the distance of over 11,000 kilometers. Next year three larger Boeing 787-9s will be added to the fleet with the seating capacity for 294 passengers. Investments in our fleet enable us to grow and gain the leading position on the market in the Central and Eastern Europe in real terms," says Rafał Milczarski, LOT's CEO.
The new machine was marked with the symbol of the Home Army's Silent Unseen "Cichociemni" Parachutists. Cichociemni were heroes defending Poland during the World War II, soldiers of the Home Army and members of the resistance movement. They carried out 483 bridge operations in total, delivering among other things, 630 tons of war material to Poland. Their fight for Poland's independence and courage are invaluable in the contemporary history of Poland. A parachuting symbol in the shape of a diving eagle was placed on a fuselage of LOT's 7th Dreamliner.
"Today we are celebrating a special day to commemorate the history of the Silent and Unseen operatives. Thanks to a decision taken by LOT's CEO, Rafał Milczarski, one of Boeing 787 Dreamliners owned by the Polish fleet and marked with the Silent and Unseen Home Army Parachutists is already in Warsaw. As usually Polish airmen are true to their word and now we have that extraordinary aircraft right here in front of us. Today Cichociemni have returned to our social space in a unique way – each flight of that machine will remind us of and commemorate their determination and love for their homeland. Each flight will also be a homage paid to the heroic pilots of the bombers. We are grateful to Mr. Milczarski and particularly to Ms. Maria Koc, the Senate's Marshall, for her care and involvement in that project," said Bogdan Rowiński, President of the Foundation of Silent Unseen Home Army Parachutists.
The fleet's development is one of crucial elements of LOT's profitable growth strategy that was adopted last year. As of 2017 LOT has been implementing its assumptions: 3 out of 4 Boeing 737-800 NGs have already been delivered to LOT and 2 out of 6 new Boeing 737 MAX 8s which have been ordered are scheduled for delivery in November and December this year. In 2017 LOT's fleet will comprise 51 modern aircraft. By 2020 it is planned that LOT will have been operating its flights with approximately 70 aircraft, including 16 Dreamliners in both versions.
Warsaw, 12 June 2017