Moderator: Latest news team
Posts: 2964
Joined: 24 Jun 2006, 08:34
Location: Vl.Brabant
Contact:
---
Swissport contractors at Liverpool John Lennon airport have threatened a series of strikes surrounding the August bank holiday weekend.

Ryanair British pilots' union have voted to strike in a row over pay and conditions on 22-23 August, while the second strike will be from 02-04 September 2019.
André
ex Sabena #26567
---
The virus spreads: Ryanair pilots represented by the Forsa union vote to strike in Ireland.
André
ex Sabena #26567
---
Spain: Iberia ground staff at Bilbao Loiu Airport threatens series of nine-hour strikes from 14-16 August
.
---
Ryanair's Ireland-based pilots have announced they will join a strike by their UK counterparts on 22 & 23 August after mediation talks failed to end in an agreement.

Ryanair unions representing cabin crew in Spain announced plans to hold 10 days of strikes in September 2019 unless the Irish airline changes its plans to close several bases in the country.

Transavia France employees plan to strike from 16 August 2019, citing a deplorable internal climate.
André
ex Sabena #26567
---
Not only the employees, but also the pilots: Challenging the substance and the format of the agreement for the development pf Air France's low-cost subsidiary, which was signed in July between the management and the SNPL pilots union of Air France, the Transavia Pilots' Union (affiliated to the CFDT) filed a strike notice lasting from September 1st to October 15th. They called for a hard strike!
André
ex Sabena #26567
---
Ryanair has been granted an injunction to stop a 48-hour strike planned by its Irish-based pilots, as it awaits the outcome of a court action to prevent its UK-based pilots walking out.
André
ex Sabena #26567
---
Posts: 1240
Joined: 19 Mar 2017, 10:22
Location: Uccle/Ukkel,BE
Contact:
I'm Thibault Lapers, spotter in Belgium for now 3 years, but not yet across the world and a huuuuuge aviation geek ! Join me on Facebook & Twitter @TLspotting
---
Ryanair to face a strike by pilots in the UK, as a London court will allow a proposed strike over pay and conditions.
André
ex Sabena #26567
---
BALPA pilots strike unsuccessful in UK: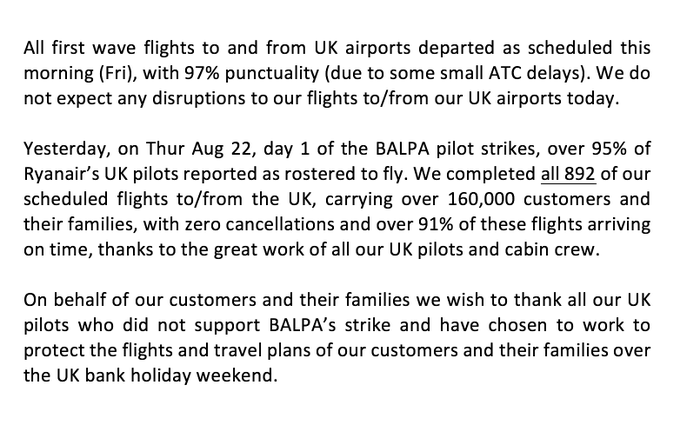 André
ex Sabena #26567
---
The same BALPA pilots have given British Airways notice that they will strike on September 9th, 10th and 27th.
André
ex Sabena #26567
---
---