Presidential elections were held in Gambia on 1 December 2016. Given that the results are disputed, the political situation remains uncertain and could degenerate with the approach of the handover scheduled for 18/19 January 2017. This includes a risk of closure of Banjul International Airport in the short term. The tourists who are on site must follow the information closely, stay in regular contact with their tour operator, avoid gatherings and demonstrations and avoid addressing sensitive political issues in public, according to the official advice of the Belgian Federal Public Service Foreign Affairs.

Outgoing President Yaya Jammeh and the Parliament declared the state of emergency this Tuesday night for a period of 90 days , less than 48 hours before the inauguration of his successor Adama Barrow, who fled to Senegal.
Therefore, the Dutch and Belgian tour operators TUI and Corendon, and probably many others, are organising a repatriation of their customers.
For Belgium, TUI is repatriating its customers with a special flight on 18 January and suspends all new flights to the country until 1 February.  The Brussels Airlines flight to Banjul SN203 of 18 January is still scheduled at 11:25.
For The Netherlands, as well TUI as Corendon let customers with a planned trip to Gambia rebook free of charge. TUI does so until January 31, Corendon until one month from now. Both airlines have advanced the flights to Banjul to pick up their customers. Corendon has 831 customers in The Gambia at the time.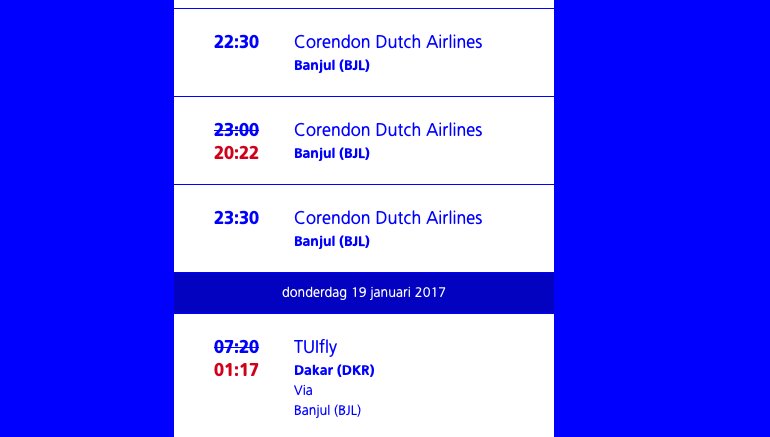 Their official comments below:
TUI:
We no longer fly to Gambia. Travellers with a departure date until January 31 can free rebook to another destination or cancel. Our contact center will automatically contact them.
Corendon:
– Customers who have booked a holiday to Gambia with a departure date within the next 30 days, have the opportunity to cancel their travel free of charge or to book to another destination.
– Corendon has cancelled all departures for Gambia until late January. The relevant customers are informed about it by us.
– About departures to Gambia from February 1, 2017, a decision will be taken later depending on the situation in The Gambia at the time.
Elsewhere, in the UK, Thomas Cook plans to fly back almost 1,000 UK tourists from Gambia, after Foreign Office advice