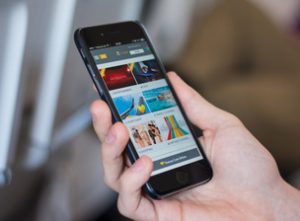 Starting this summer, customers of Thomas Cook Group Airlines can connect to Sunstream, a new entertainment system with their own personal device and enjoy movies, TV series, music and magazines in flight. As guests on board a quality leisure airline, they can book excursions tailored to their destination as well as customise and download their individualised tour guide and use it throughout the entire holiday. A chat function to stay in touch with friends and family on the ground and many other great features will be integrated this summer.
"This fantastic technology provides quality and convenient entertainment for customers who want to relax and get into the right mood for their holidays", explains Gareth Sutton, Director Product Thomas Cook Group Airlines. "We're working hard on creative ideas that make leisure flying fun, from our pre-order duty free service Airshoppen, to upgraded cabin interiors, and digital, personalised entertainment systems such as Sunstream on short and medium haul flights."
Via Sunstream, customers will also be able to order online the unique duty free service Airshoppen, which offers savings of up to 60% to high street prices and delivers products directly to the seat. The Airshoppen range includes more than 1,200 products and a price match guarantee.
To use Sunstream, customers can download a free app and turn their mobile devices on to flight mode. During the cruise part of the flight, they can activate Wifi on their device to connect the entertainment server on board. While destination information, the access to excursion bookings and retail content are free, the premium entertainment package with access to all other media content costs just £4/4EUR per user per flight or £15/15EUR for a family bundle. Payment can be done via credit card or direct debit.
Thomas Cook Group Airlines is gradually activating mobile entertainment across its fleet, addressing the current gap in inflight entertainment suffered by passengers on many other leisure airline and budget carriers. Currently, almost 70 percent of its 65-strong short and medium-haul fleet is offering the new system. Customers will be informed ahead of their voyage if mobile entertainment is available for their flight.
Specifications of the Sunstream app:
Languages*
German
English
Compatibility
Latest two versions of iOS (iOS 9 and iOS 10)
Latest two versions of Android (Version 6 and Version 7)
Mobile Browser version of Google Chrome**
Mobile Browser version of Safari**
Video Properties
Frame Ratio
16:9
Frame per seconds
30
Frame Size
1280×720
Bitrate
10000 Kbit/s CBR
Audio Properties
Audio Channels
2 – Stereo
Sampling Rate
48 kHz
Bitrate
128 Kbit/s CBR per channel
*French, Dutch, Danish, Swedish, Norwegian, Finnish, Spanish, Portugese, Italian and Russian to follow during the summer
**Mobile browsers will not playback videos due to Digital Rights Management (DRM) imposed by Hollywood Studios
Download:
iOS: http://bit.ly/SunstreamApple
Android: http://bit.ly/SunstreamGoogle