Crystal AirCruises welcomed the newest member of its expanding fleet, Crystal Skye, during an official handover ceremony held at Boeing Field in Seattle, Washington. The exquisitely outfitted Boeing 777-200LR was delivered to Crystal's CEO and president, Edie Rodriguez from Greenpoint Technologies. Crystal Skye is the largest privately owned tour jet in the world and is deployed for chartered service, accommodating some of the world's most discriminating groups and travelers. Crystal Skye will be christened in Las Vegas on August 12.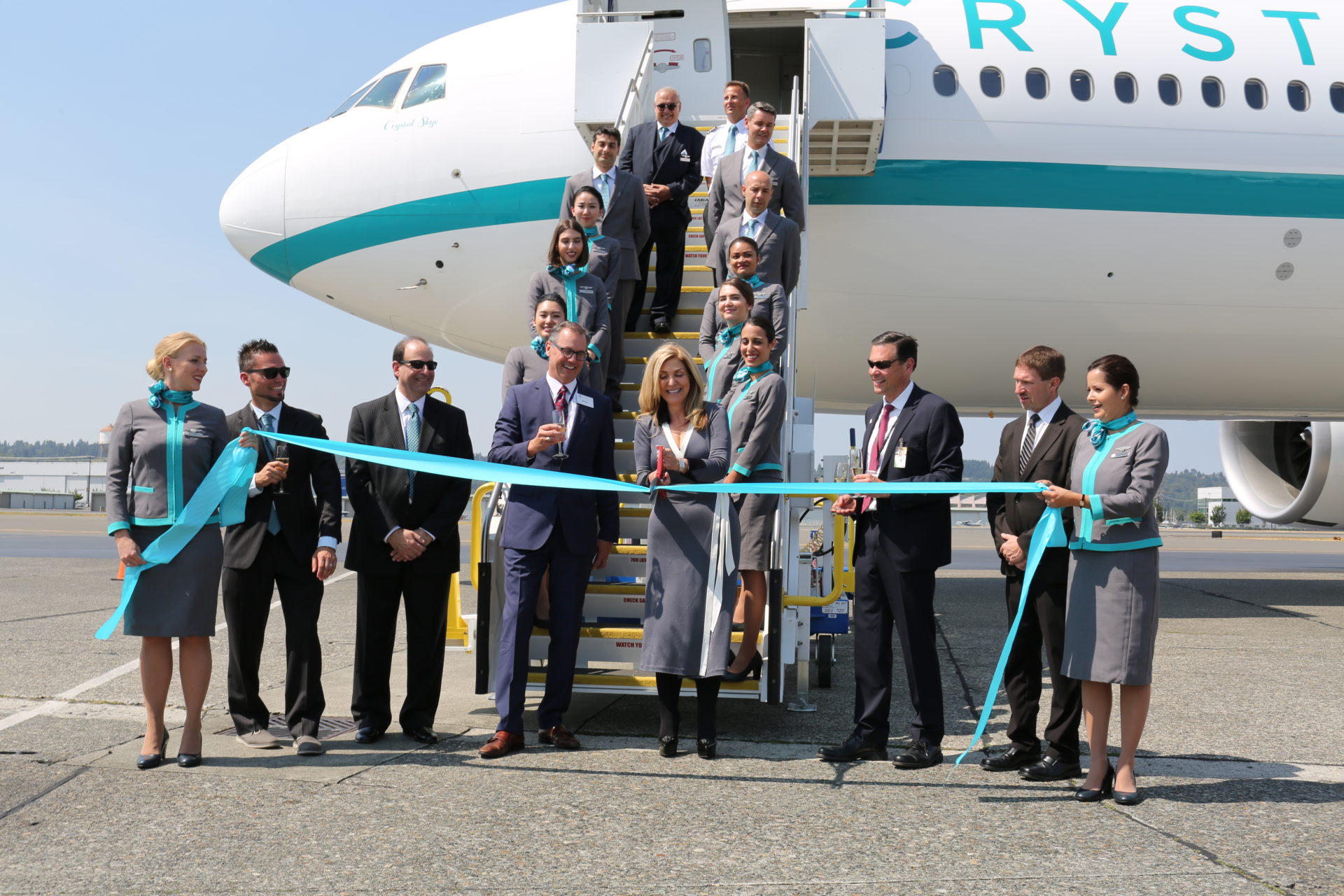 "We are ecstatic to welcome Crystal Skye to the family, as she marks the beginning of a new chapter and realm of luxury travel for guests who seek the unmatched Crystal Experience," says Rodriguez. "As we embark on new global adventures with Crystal Skye, we are inspired by the shared vision of our own experts and those at Greenpoint Technologies, who brought this sky-high dream to fruition."
With a spacious design for up to 88 guests, Crystal Skye is appointed with features rarely found in even the most luxurious private jets. She has the highest crew to passenger ratio of any twin-aisle aircraft and a non-stop range of 19.5 hours, allowing travelers to explore the far reaches of the earth while enjoying the personalized service for which Crystal is renowned worldwide. Bespoke Crystal Exclusive Class™ seats are designed for maximum personal space and ergonomic comfort, and convert to 180-degree lie-flat beds. The expansive social lounge with stand-up bar fosters friendly camaraderie among luxury travelers. Cuisine will be prepared by an executive chef, in two state-of-the-art galleys and paired with an elegant premium wine list from the Crystal SkyeCellar.
Room for 88 passengers and 20 crew on Crystal Skye. Yes, there's live TV aboard so you can always be tuned into @CNN. pic.twitter.com/1dedqROgjt

— Jon Ostrower (@jonostrower) August 1, 2017
Crystal collaborated with Greenpoint Technologies for the extremely specialized development of Crystal Skye, as the company is renowned for its innovation and leadership in the creation of superior aircraft design. Greenpoint Technologies worked alongside Crystal's own experts to conceive the standard of excellence and luxury required to ensure the unparalleled guest experience aboard a Crystal vessel, then brought the vision to life. The interior installation of Crystal Skye began in August 2016 at Greenpoint's Moses Lake facility in Washington, focusing on exclusive features such as a 24-seat lounge with a central bar, sofas, custom coved ceilings, the largest wine cellar in the sky and ample space to socialize. Stone veneers, colored LED lighting and other premium details adorn the extraordinary interior.
Bret Neely, Executive Vice President at Greenpoint Technologies says, "Our goal for this program was to create a luxurious interior showcasing the elegant brand Crystal has established with their cruise ships, yachts, and riverboats. Greenpoint is a company built on Teamwork. Both internally and externally with our customers. It was amazing to see the combined core team come together to focus on Crystal's guest experience, resulting in the beautiful and functional interior we see today."
News: Crystal Skye joins #CrystalAirCruises fleet. Outfitted by @GreenpointTech #PaxEx #IFE #luxury @crystalcruises https://t.co/1pqEFoO1o0 pic.twitter.com/8NVkvzu7pN

— Alexander Preston (@inflight_editor) August 2, 2017
Crystal AirCruises Takes Delivery of the Super Luxurious Crystal Skye https://t.co/j4mEiOq0QY pic.twitter.com/Slu1xjnSaJ

— Airways Magazine (@airwaysmagazine) August 2, 2017