In 2016, TSA officers screened 738,318,264 passengers (more than 2 million per day), which is more than 43,255,172 more passengers than for the same time frame in 2015. In addition to screening more than 738 million passengers, TSA officers also screened 466 million checked bags and 24.2 million airport employees!
3,391 firearms were discovered in carry-on bags at checkpoints across the country, averaging more than nine firearms per day. Of those, 2,815 (83 percent) were loaded. Firearms were intercepted at a total of 238 airports; 2 more airports than last year. There was a 28 percent increase in firearm discoveries from 2015's total of 2,653. Pictured are just some of the firearms discovered in 2016.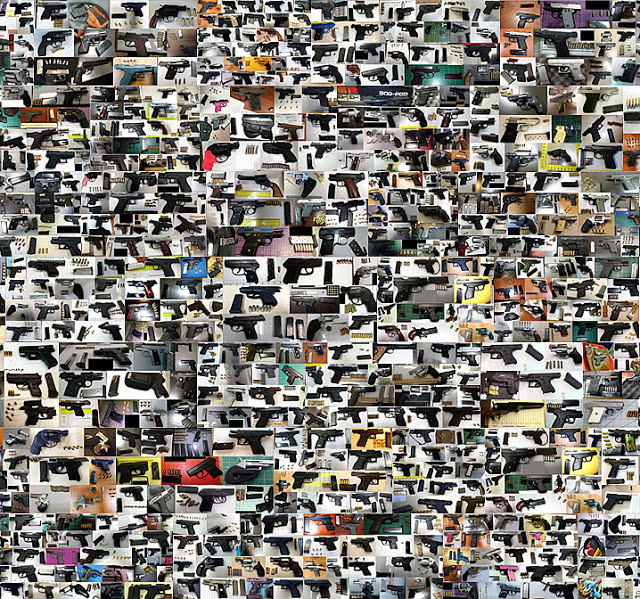 Top 10 airports for firearms discoveries:
Hartsfield-Jackson Atlanta International Airport (ATL):198
Dallas/Fort Worth International (DFW): 192
George Bush Intercontinental Airport – Houston (IAH):128
Phoenix Sky Harbor International (PHX):101
Denver International (DEN): 98
Orlando International Airport (MCO):86
Nashville International (BNA):80
Tampa International (TPA):79
Austin-Bergstrom International Airport (AUS):78
Salt Lake City International (SLC):75
 
In addition to firearms discovered last year, there were many hazardous items passengers attempted to travel with. Pictured above are a few instances from last year where traveler's attempted to bring black powder (gun powder) on the aircraft.
Officers also find inert items that appear very realistic. The problem with these types of items is that we don't know if they are real, toys or replicas until TSA explosives experts are called upon. Inert items can lead to disruption, closed terminals and checkpoints, which often result in canceled or delayed flights. Pictured here are just a few examples of times our officers discovered inert grenades in carry-on and checked bags last year.
There were many instances last year when travelers attempted to hide items, or the items they packed were disguised to look like other items. TSA officers regularly find sword canes, credit card knives, belt buckle knives, comb/brush knives, knives hidden in shoes, knives hidden in thermoses and knives hidden under the bag lining near the handle mechanism. Here are a few instances that stood out:
These are a few examples of cane swords that were discovered last year in carry-on property.
From left to right, top to bottom, these are just a few examples of the concealed items that were discovered in carry-on bags last year: Pen knife, belt buckle knife, pen gun, lipstick knife, key knives, comb knife, flashlight knife, lipstick stun gun, knife hidden in pill bottle and throwing star hidden in cell phone case.
Our officers discover thousands upon thousands of sharp items in carry-on bags every year. These are just a few of the thousands of sharp items discovered last year in carry-on bags.
The year also provided the need for travelers to surrender a few odd items. In case you missed it last month, be sure to check out our video rundown of TSA's Top 10 Most Unusual Finds of 2016!
As you can see from this post, some travelers pack the strangest items. Make sure you're items are allowed by using the "Can I Bring My…" tool to enter the item you want to pack. It will tell you whether you can pack it in your carry-on or checked bag. You may also refer to our prohibited items list. If you still can't find the answer, reach out to our @AskTSA team via Twitter or Facebook Messenger and they'll get back to you right away with an answer. You can even send them a photograph of the item in question.
You can travel with your firearms in checked baggage, but they must first be declared to the airline.
You can go here for more details on how to properly travel with your firearms. 
If you're grabbing a bag, suitcase, briefcase, jacket or other item you haven't used in a while, be sure to give it the onceover so you don't accidentally take something prohibited to the checkpoint. Many people who have brought guns, ammunition, knives and other prohibited item say that they did so unknowingly.
Firearm possession laws vary by state and locality. Travelers should familiarize themselves with state and local firearm laws for each point of travel prior to departure.
Thanks for reading this year's run down of the more notable items TSA officers discovered in 2016. Keep in mind that far more was discovered than those listed in this report. When bag searches are needed, the line slows down. If you haven't read them yet, make sure you check out our year in review posts for 2011, 2012, 2013, 2014 and 2015. Also, in case you missed it, be sure to check out our video rundown of TSA's Top 10 Most Unusual Finds of 2016!