54.4 million more than in 2015
In 2016, 972.7 million passengers travelled by air in the European Union (EU), up by 5.9% compared with 2015 and by 29.1% compared with 2009. Over this period, air passenger transport has steadily risen in the EU.
In 2016, intra-EU transport represented almost half (47.0%) of total air passenger transport in the EU and extra-EU transport over a third (35.6%), while national transport accounted for fewer than 1 in every 5 passengers (17.3%).
On the EU territory in 2016, six people were killed in commercial air transport accidents with EU aircraft. These figures come from an article issued by Eurostat, the statistical office of the European Union.
Main statistical findings
Development of air passenger transport at EU level
In the course of 2015 and 2016, the upward trend already observed in passenger transport by air for previous years was confirmed at EU-28 level, an increase of 4.7 % was recorded between 2014 and 2015 and the figures for 2016 indicate a year-on-year rise of 5.9 % compared with 2015 – see Table 1.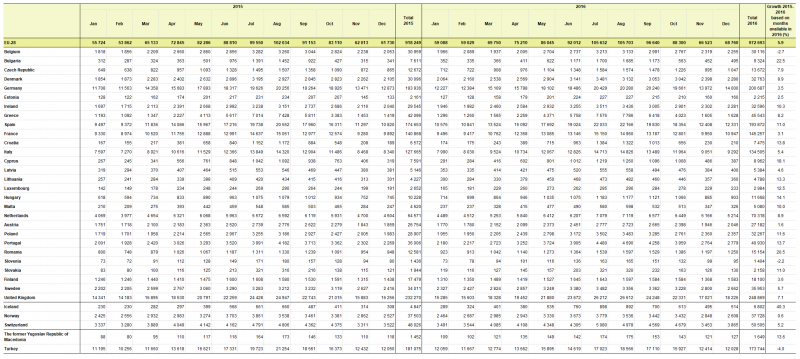 In 2016, international intra-EU transport represented around 47 % of all passengers carried at EU28 level, followed by extra-EU transport (around 36 %) and national transport (around 17 %) – see Figure 1.
Figure 2 shows that all the months of 2015 displayed an increase on the previous year (ranging from +2.9 % in April to +5.9 % in March). All the months of 2016 showed rises compared with the same period of 2015, the largest rise taking place in December (+11.4 % compared with the corresponding month of 2015).

Air passenger transport at country level
Analysing passenger transport at country level generally confirms the upward trend observed in 2015 and 2016 at EU-28 level, although transport development varies significantly depending on the country considered. For 2016, 26 out of the 28 Member States and all extra-EU reporting countries (except Turkey) showed an increase in passenger volumes compared with 2015. Particularly remarkable is the growth observed for Bulgaria (+23 %), Romania (+20 %) and Cyprus (+18 %) among the EU Member States. At the other end of the scale, a decrease was observed in passenger transport for Belgium (-3 %) and for Slovenia (-2 %).
Outside the EU-28, the level of the growth differs across countries: on the one hand, the highest year-on-year increases were registered in Iceland (+40 %) and the former Yugoslav Republic of Macedonia (+14 %) while, on the other hand, a decrease was observed for Turkey (-4 %).