2 earthquakes, larger than 4 in the scale of magnitude rocked the southern part of Iceland, at the crater of Katla.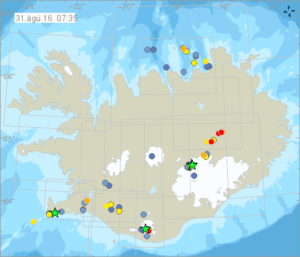 Iceland raised the alarm after Katla, its largest volcano was hit by the 2 biggest earthquakes since 1977. Katla is a very active volcano, it has not erupted violently for 98 years, although there may have been small eruptions that did not break the ice cover, including ones in 1955, 1999 and 2011.
The volcanic eruption of the Eyjafjallajokull in 2010 closed down most of Europe's airspace, cancelling thousands of flights. According to volcano experts, the possible eruption of Katla is more dangerous than Eyjafjallajokull.