After the Solar Impulse prototype's 8 world records, when it became the first solar airplane ever to fly through the night, between two continents, and across the United States, it is time for Bertrand Piccard and André Borschberg to move on to the final phase of the adventure: the 2015 round-the-world flight.
What better way to demonstrate the importance of the pioneering, innovatory spirit than by achieving "impossible" things with renewable energy and highlighting new solutions for environmental problems?
The route: Si2 will take-off from Abu Dhabi, capital of the United Arab Emirate, in late February or early March and return by late July or early August 2015. The route includes stops in Muscat, Oman; Ahmedabad and Varanasi, India; Mandalay, Myanmar; and Chongqing and Nanjing, China. After crossing the Pacific Ocean via Hawaii, Si2 will fly across the Continental U.S.A. stopping in three locations – Phoenix, and New York City at JFK. A location in the Midwest will be decided dependent on weather conditions. After crossing the Atlantic, the final legs include a stop-over in Southern Europe or North Africa before arriving back in Abu Dhabi. Solar Impulse unveiled the flight path in Abu Dhabi alongside partner representatives. This included main partners Solvay, Omega, Schindler and ABB. They were also joined by official partners Altran, Bayer, Google, Swiss Re Corporate Solutions, Swisscom and Moe?t Hennessy alongside Solar Impulse's host partner Masdar, Abu Dhabi's renewable energy company.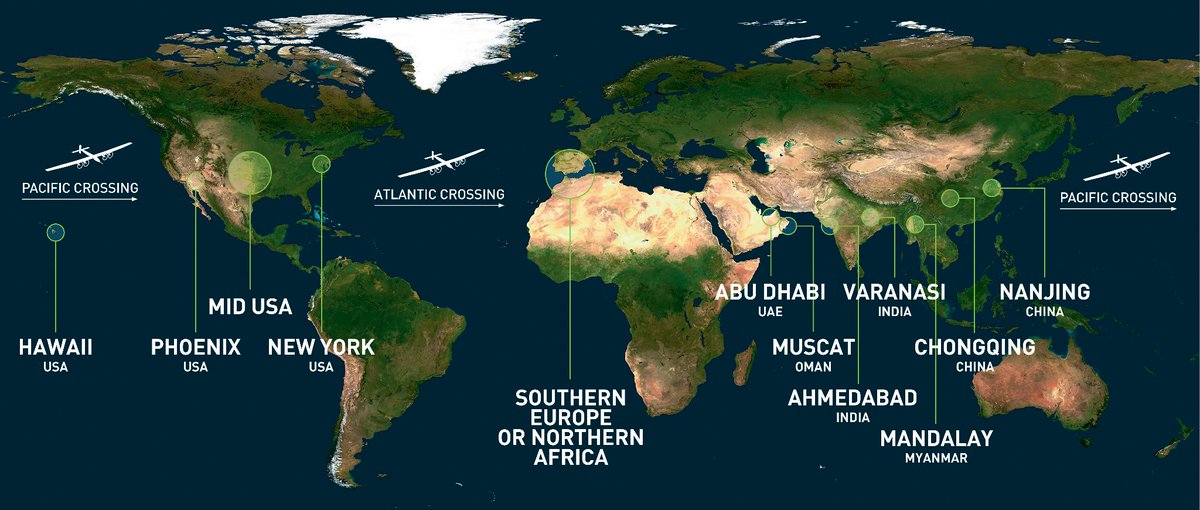 DATA: AROUND THE WORLD
An overview of the First Round-The-World Solar Flight, in numbers:
2 pilots, Bertrand Piccard and André Borschberg, flying one after the other in the single-seater cockpit
1 airplane: Solar Impulse 2
Zero fuel on board
A 35,000km (22,000 miles) journey
500 flying hours approx.
10 legs approx., some lasting more than 5 days and nights
A 5-month mission (March-August 2015)
A 60 people support team
Follow this great adventure on Luchtzak at http://www.luchtzak.be/forums/viewtopic.php?f=7&t=55428&sid=d038e792fee74face02576f74acb47f7