On 20 November, the FlightRadar24.com aircraft tracking website showed something strange and unusual: the Brussels Airlines Sukhoi Superjet 100 registered EI-FWD (operated by Cityjet) was allegedly carrying out Ryanair flight FR692 from Alicante to Glasgow Prestwick.
Other similar flights were reported in the previous days, which led some websites (including flightlevel.be) to conclude that Cityjet was operating flights for Ryanair with a Superjet 100 in Brussels Airlines colours.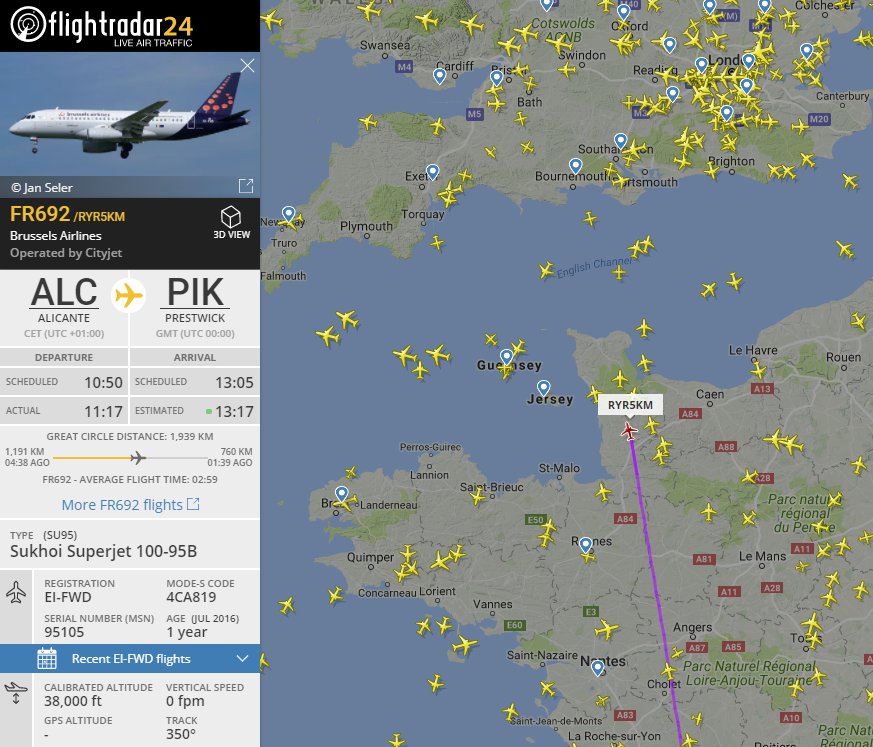 Flightradar24 corrected the information on Twitter by explaining the bug.
The aircraft in the screenshot is actually a Ryanair Boeing 737-800 aircraft (EI-EKR) with transponder code 4CAA19, that on some flights is using the transponder code 4CA819 (with only one different character) which belongs to a Brussels Airlines Sukhoi Superjet (EI-FWD).
Here is a list of the eight Ryanair flights (so far!) erroneously reported as operated by Cityjet aircraft EI-FWD:
09 November: FR9283 Faro – London Stansted
10 November: FR7032 Dublin – Faro
14 November: FR4052 Manchester – Faro
15 November: FR9283 Faro – London Stansted
18 November: FR9087 Gothenburg – Alicante
19 November: FR8027 Murcia – London Stansted
20 November: FR8382 London Stansted – Alicante
20 November: FR692 Alicante – Glasgow Prestwick
Source: Flightradar24