Do you remember the famous pictures and movies of spotters on Maho Beach, Saint Martin ? Not enjoying the sea and the sun, but waiting for another plane to land ? Here is a video of the last KLM Boeing 747 flight to Saint Martin!
Runway 10 at Princess Juliana International Airport (SXM) is so short (and dangerous) that planes fly around 100 feet above spotters and sunbathers before touching down on the runway.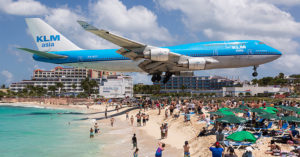 Last week the famous KLM Boeing 747 landing has come to an end, KLM will replace the Boeing 747 with a smaller Airbus A330. Below is a video of the last 747 flight. Jet blast can be very dangerous, yet hundreds of tourists visit the beach every day. (Pictures of a car blown away by jet blast at Glasgow airport)
Another youtube-movie, here is the comment of the publisher:
This is simply the coolest beach in the world. Maho Beach sits directly adjacent to Princess Juliana International Airport, one of the smallest international airports in the world. Experience the jet forces of a 747 Jumbo Jet taking off just 50 metres away from you, and the sight of an Airbus landing just a few metres above the beach. Watch people and their bags being blown across the beach and into the sea…you can't experience this anywhere else in the world. Just amazing!
Forum topic: http://www.luchtzak.be/forums/viewtopic.php?t=60099&p=341956
Drawing created by Bartel Van Goethem