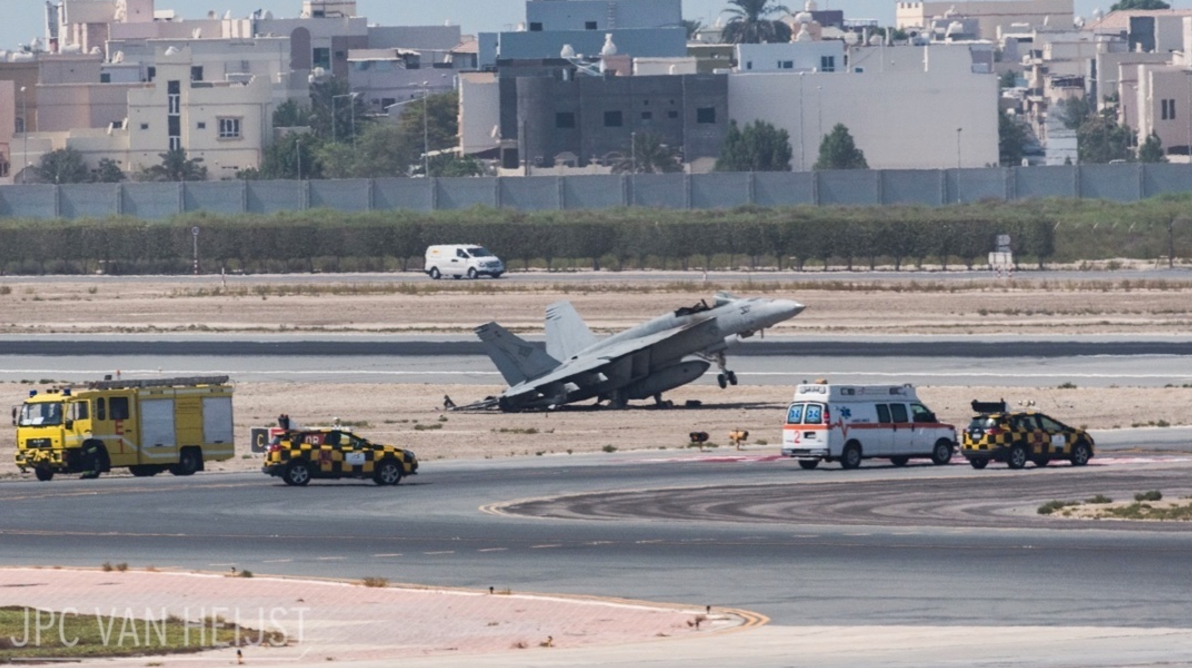 Photo by JPC van Heijst
A U.S. F-18 fighter jet suffering an engine problem crash landed at Bahrain International Airport (BAH) and its pilot ejected from the aircraft after it ran off the runway, authorities said. The pilot escaped unharmed.
The crash disrupted flights to and from the island nation off the coast of Saudi Arabia that's home to the U.S. Navy's 5th Fleet. Images on social media showed the grey fighter jet's nose tipped into the air but largely intact.
The F-18 took off from the USS Nimitz, an aircraft carrier now in the Persian Gulf, said Cmdr. Bill Urban, a fleet spokesman. While in flight, the plane suffered an engine malfunction, forcing the pilot to divert, Urban said.
The pilot initially tried to land at Sheikh Isa Air Base in Bahrain, but instead had to divert to the island's commercial airport, Urban said.
"Due to the malfunction, the aircraft could not be stopped on the runway and the pilot ejected from the aircraft as it departed the runway,"
the commander said in a statement.
Bahrain airport closed because one fighter jet crashed on runway pic.twitter.com/xMRFU1jQ44

— Rashid Noor (@rnbhatti) August 12, 2017
Dozens of flights were diverted after the crash at around 2pm local time today (12pm GMT).
Gulf Air, Air India Express and Fly Dubai passenger were all affected.