An American Airlines Boeing 767-300, registration N345AN performing flight AA-383 from Chicago O'Hare,IL to Miami,FL (USA) with 161 passengers and 9 crew, was accelerating for takeoff from O'Hare's runway 28R at about 14:50L (19:50Z) when the crew rejected takeoff at high speed reporting "stopping on the runway", tower acknowledged with "Fire", subsequently adding fire from the right hand wing, the crew requested the trucks.
The aircraft slowed and came to a stop with the right hand engine (CF6) ablaze, a large black plume of smoke rising above the aircraft. The crew initiated an emergency evacuation via slides. 7 passengers and one flight attendant received minor injuries in the evacuation and were taken to hospitals. The aircraft received substantial damage, the fuselage skin melted aft of the right hand wing, the outboard part of the right hand wing melted and is down on the ground, the inner part substantially burned.
http://avherald.com/h?article=49ffa115&opt=0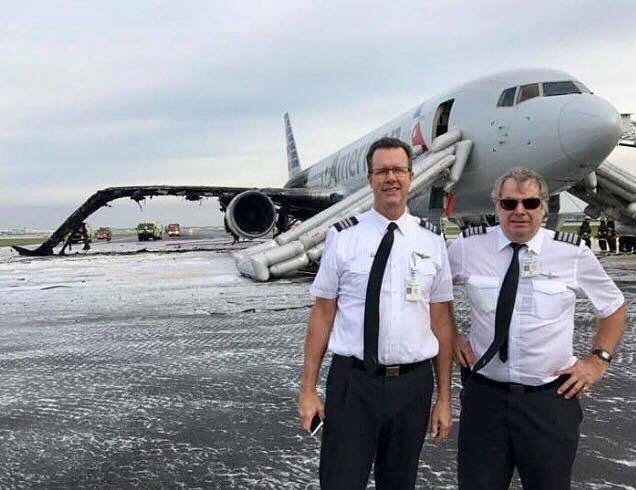 A Fedex Federal Express McDonnell Douglas MD-10, registration N370FE performing freight flight FX-910 from Memphis,TN to Fort Lauderdale,FL (USA) with 2 crew, landed on Fort Lauderdale's runway 10L at 17:50L (21:50Z).
Tower reported the left hand engine (CF6) appeared on fire. The aircraft came to a stop about 2000 meters/6580 feet down the runway at and beyond the left hand edge with the left main gear collapsed and the left hand wing on a large fire. The airport closed all runways while emergency services responded to put the fire out. There were no injuries, the aircraft received substantial damage.
http://avherald.com/h?article=49ffaff0&opt=0
Little joke aside: