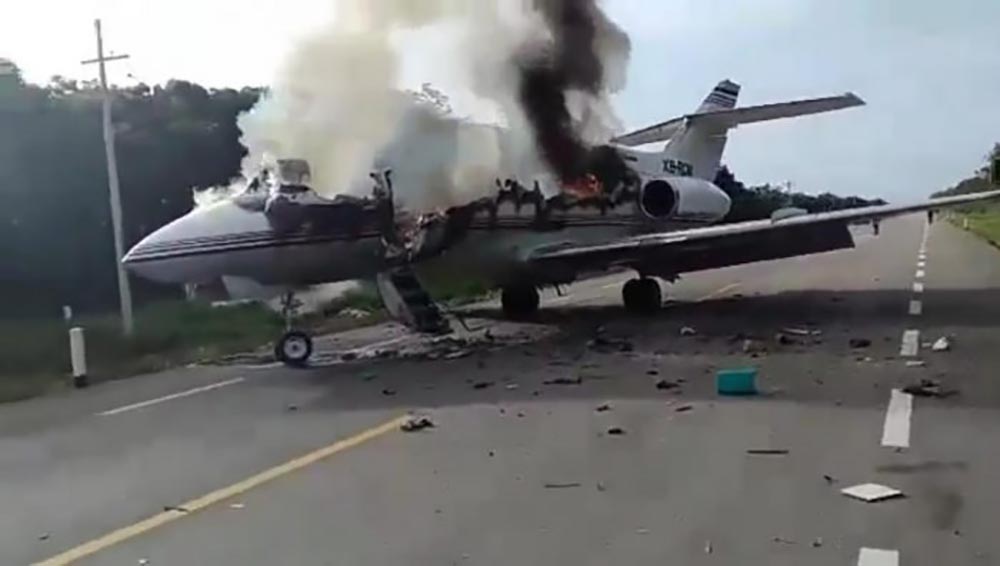 A shooting incident between the Mexican military and drug traffickers occurred this Sunday morning after a jet loaded with drugs landed on the Carrillo-Mérida road in Quintana Roo.
The British Aerospace BAe-125-700A twin jet registered XB-RCM made an emergency landing on the Carrillo-Mérida road in Quintana Roo, Yucatan, around 06:00 local time this morning. A fire, probably ignited by the drug runners, erupted and consumed the fuselage.
The aircraft, according to military sources consulted by Mexican newspaper Millenio, was closely followed as it took off at 05:00 from a runway south of Maracaibo, in Venezuela, then flew over the Caribbean to Mexico. It had 390 kg of cocaine on board, worth some $4.9 million.
Air Force officials said a military T-6C Texan plane was sent to intercept the narco plane and ordered it to land before it made the forced landing on the road.
The crew fled into the forest before the military reached the scene shortly before 08;00, but authorities said they recovered the drugs nearby when they stopped a lorry that had been loaded up with the plane's cargo.
Sources: airlive, Daily Star, Oppo
Related articles