Emirates Airlines statement
Emirates can confirm that today, 3rd August 2016, flight EK521 travelling from Trivandrum International Airport in Thiruvananthapuram, India to Dubai has been involved in an operational incident upon landing at Dubai International Airport. There were 282 passengers and 18 crew on board.

The Boeing 777 aircraft, departed at 10.19am from Trivandrum International Airport and was scheduled to land at 12.50pm at Dubai International Airport.

We can confirm that there are no fatalities among our passengers and crew.

We are expecting a 8-hour network wide delay, more information will be available on the Emirates website and social media channels. The following flights out of Dubai on the 3rd of August are cancelled:

EK572/573: Dubai-Kolkata-Dubai DXB/CCU/DXB
EK2809/2810: Dubai-Medina-Dubai DXB/MED/DXB
EK843/844: Dubai-Doha-Dubai DXB/DOH/DXB
EK083/084: Dubai-Geneva-Dubai DXB/GVA/DXB
EK979/980: Dubai-Tehran-Dubai DXB-IKA/DXB
EK864/865: Dubai-Muscat-Dubai DXB/MCT/DXB
EK849/850: Dubai-Doha-Dubai DXB/DOH/DXB
EK630/631: Dubai-Multan-Dubai DXB/MUX/DXB
EK881/882: Dubai-Doha-Dubai DXB/DOH/DXB
EK839/840: Dubai-Bahrain-Dubai DXB/BAH/DXB
EK825/826: Dubai-Dammam-Dubai DXB/DMM/DXB
EK947/948: Dubai-Basra-Dubai DXB/BSR/DXB
EK977/978: Dubai-Tehran-Dubai DXB/IKA/DXB
EK602/603: Dubai-Karachi-Dubai DXB/KHI/DXB
EK875/876: Dubai-Kuwait-Dubai DXB/KWI/DXB
EK903/904: Dubai-Amman-Dubai DXB/AMM/DXB
EK817/818: Dubai-Riyadh-Dubai DXB/RUH/DXB
EK857/858: Dubai-Kuwait-Dubai DXB/KWI/DXB
EK508/509: Dubai-Mumbai-Dubai DXB/BOM/DXB
EK833/834: Dubai-Bahrain-Dubai DXB/BAH/DXB
EK386/387: Dubai-Hong Kong-Dubai DXB/HKG/DXB

For re-bookings, commercial queries and further schedule updates, visitwww.emirates.com or contact the local Emirates sales offices. Numbers can be found here: https://www.emirates.com/english/help/contact-emirates/

Our main priority remains with those involved and offering support to concerned family and friends. Dedicated telephone lines are now active for friends family members of affected passengers:
UAE – 8002111
UK – 00442034508853
US – 0018113502081

The nationalities of passengers and crew on board are:

226 – India
24 – UK
11 – UAE
6 – US
6 – Saudi Arabia
5 – Turkey
4 – Ireland
2 – Australia
2 – Brazil
2 – Germany
2 – Malaysia
2 – Thailand
1 – Croatia
1 – Egypt
1 – Bosnia & Herzegovina
1 – Lebanon
1 – Philippines
1 – South Africa
1 – Switzerland
1 – Tunisia
The aircraft involved is registered A6-EMW, MSN 29067, a Boeing 777-300 delivered 13 years ago.
The moment #EK521 came to a halt at DXB after landing from India. It appears to show one engine parted with aircraft⚠ pic.twitter.com/kSd4PtTGKe
— Flight Alerts ⚠ (@FlightAlerts777) 3 augustus 2016
http://www.luchtzak.be/forums/viewtopic.php?p=338076#p338076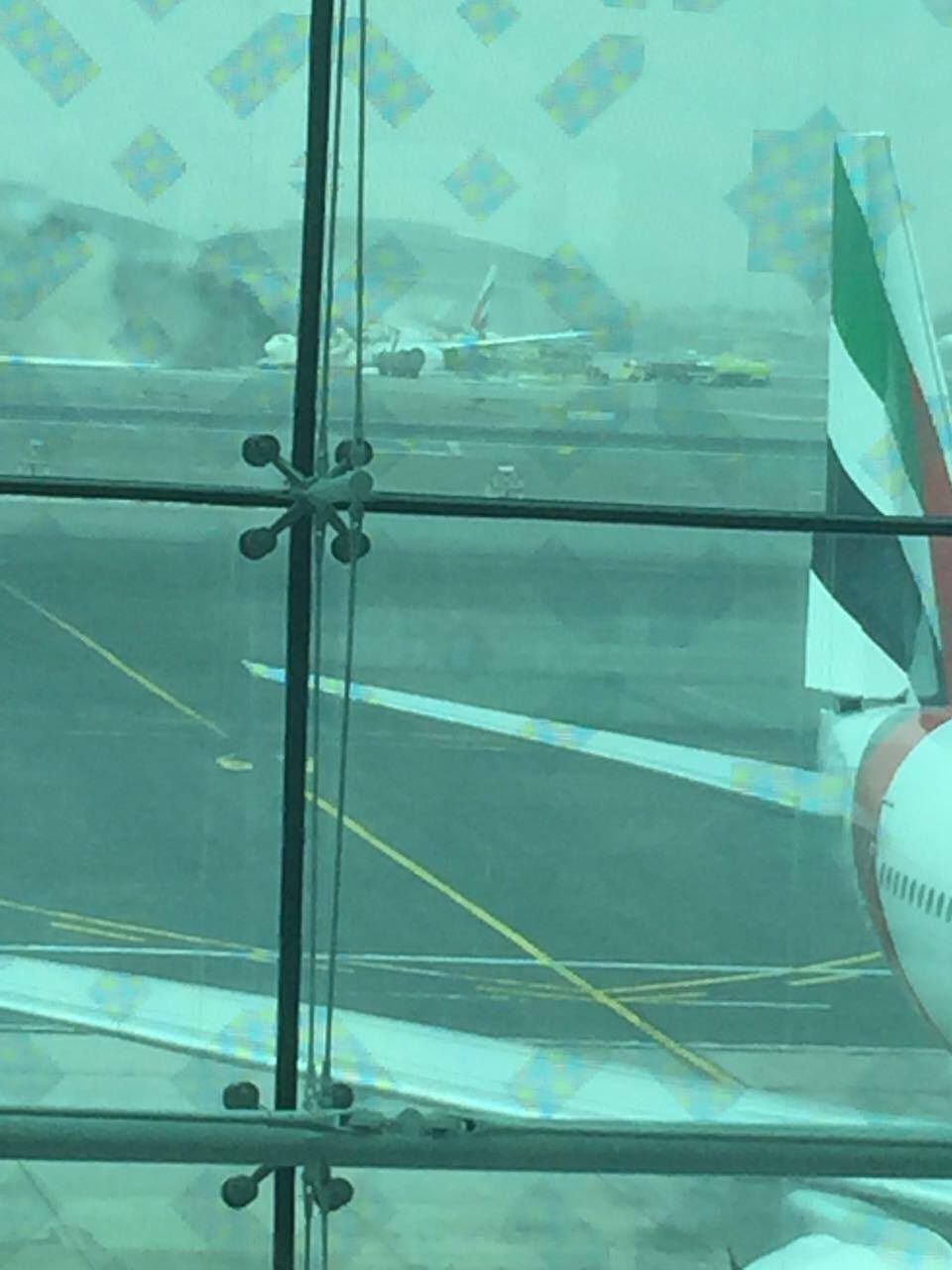 Yesterday, another Emirates Boeing 777-300 flying from Dubai to Male (Maldives) made an emergency landing at Bombay after technical problems.
Dubai airport is closed until further notice.
More news, videos and pictures in pour forum: http://www.luchtzak.be/forums/viewtopic.php?f=7&t=59039