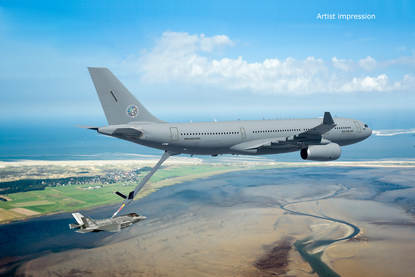 On Thursday, February 16, Belgian Defence Minister Steven Vandeput signed a declaration of intent for his department to join a programme to purchase supply aeroplanes. The Multi-Role Tanker Transport (MRTT), which will be able to refuel all types of combat aircraft, will also offer the possibility of combining this air-to-air refuelling capacity with passenger and freight transport.
Minister Vandeput signed this statement at the NATO meeting of all Defence Ministers at NATO Headquarters in Brussels on 15 and 16 February. At this meeting, their Norwegian and German counterparts also expressed their intention to join the Multinational Multi-Role Tanker Transport Fleet programme. This programme was launched in July 2016 by the Netherlands and Luxembourg, which have already ordered two aircraft.
With this new agreement, other NATO countries can also join the programme. The fleet can be extended to eight aircraft. Defence has budgeted some 300 million to invest in the MRTT programme between 2024 and 2027. Belgian participation is close to 1,000 hours of MRTT flight per year.
During the meeting, other aspects were also discussed. France has thus decided to accede to the Renegade agreement. In March 2015, the Defence Ministers of the Netherlands, Belgium and Luxembourg agreed that they would carry out, as of 1 January 2017, surveillance of civil aircraft constituting a terrorist threat. The accession of France will also make possible the interception by Belgian and Dutch aircraft of a Renegade plane flying over this territory. It will also give France enough time to send its own fighter planes.