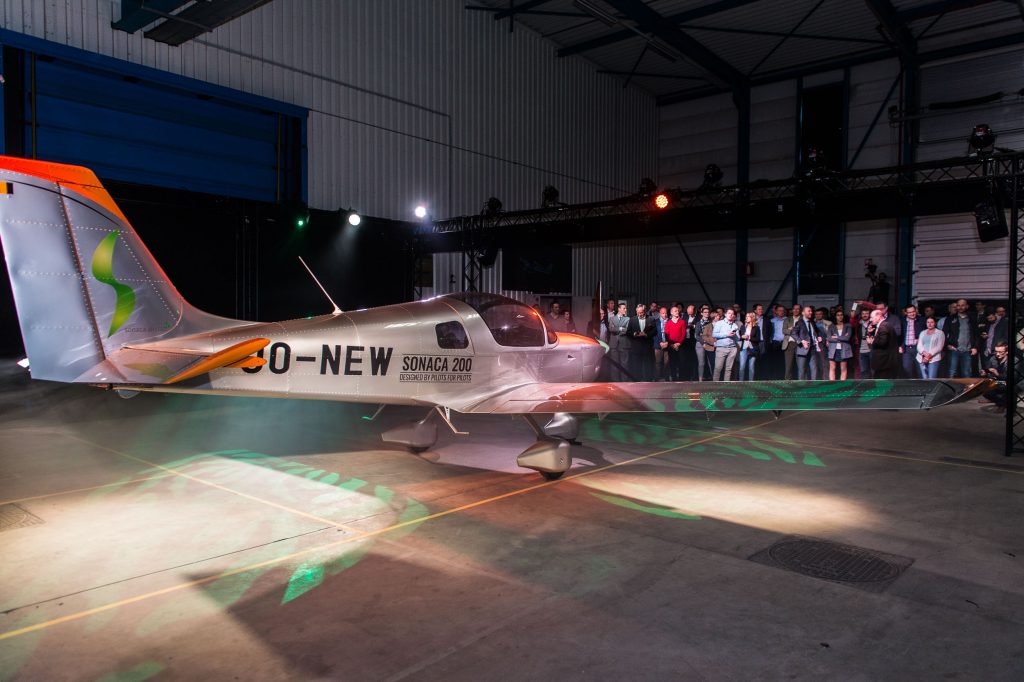 • The Sonaca 200 Rollout took place on April 3, 2017 at the Sonaca site in Gosselies (Belgium)
• Sonaca Aircraft unveiled the new version of the Sonaca 200 in which 80% of the structure has been redesigned compared to the initial "Amateur Construction" version.
• The single-engine two-seater is on schedule to obtain European certification which is planned for the end of September
During the Rollout which took place on April 3 in Gosselies, Belgium, Sonaca Aircraft presented the final version of the Sonaca 200, its two-seater single-engine aircraft specially designed and adapted for pilot training and leisure flights. This is the second model assembled in Belgium by Sonaca Aircraft as part of the certification program.
Certification static tests
The first aircraft assembled in Gosselies was intended for static tests. The aircraft was used to test the resistance of the seats, seat belts (harnesses), engine cradle, the nose gear strut as well as the wings. "We have just completed the most critical test of the static certification campaign, which is the wing loading, ultimate and failure limit" explained Carl Mengdehl, Engineering & Certification, Sonaca Aircraft. The wing static test showed:
1. Wing resistance up to 11g and a secure failure mode (as the control surfaces remain operational at this load);
2. Calculation forecasts by numerical simulation that are extremely faithful and close to test values.
"The excellent test results, which have been acknowledged by the certification authorities, have validated our calculation methods as well as Sonaca Aircraft's engineering skills" said Carl Mengdehl.
En route to European certification
The success of the static test program allows Sonaca Aircraft to start flight tests. "After some final adjustments on the aircraft and the first engine commissioning and taxiing/braking tests, the aircraft will make its first flight on around April 20 followed by the flight envelope opening tests. It will then fly for the South of France (Avignon) where it will continue the flight test campaign" added Pierre Van Wetter, Sonaca Aircraft Pilot and Chief Sales Manager.
Sonaca 200 production activities are scheduled to be launched in June 2017.
Luchtzak.be will visit Sonaca on 25 April and report with more pictures.