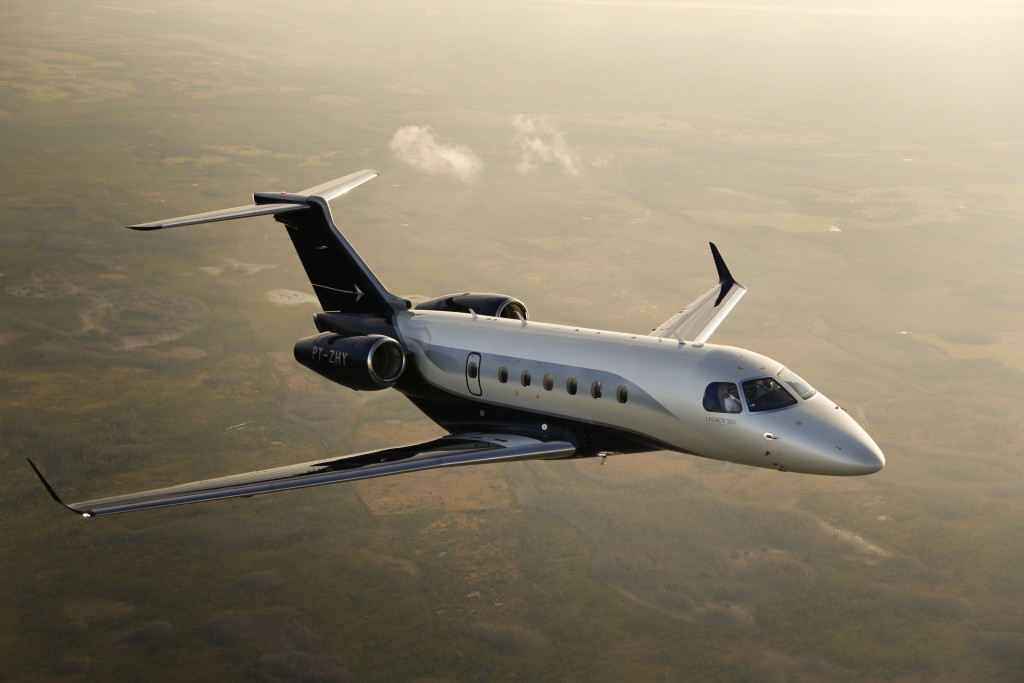 Embraer Executive Jets today announced that the Legacy 500, its new midsize business jet that just entered the market, has already set four new world speed records for its class, this year.
"These speed records validate the Legacy 500's game-changing performance. Having achieved or exceeded each of its design goals for certification, this revolutionary aircraft is now demonstrating all of its operational capabilities, including oceanic missions," said Marco Túlio Pellegrini, President & CEO, Embraer Executive Jets. "The Legacy 500 is indeed the best-in-class midsize jet, which delivers an impressive combination of comfort, advanced technology, speed and range; all at a low operating cost."
The first two records were set for "Speed over a Recognized Course" on a round-trip flight from Oakland, California to Lihue, Hawaii, with six passengers on board, covering 2,135 nm (3,954 km). The flight from Oakland to Lihue, on March 7, was completed in 5 hours and 49 minutes, achieving an average ground speed of 420 mph (676 km/h). The return flight took only 4 hours and 11 minutes, at an average ground speed of 586 mph (943km/h).
The third speed record set by the Legacy 500 was in route to Friedrichshafen, Germany, from Bangor, Maine, United States. The 3,210 nm (5,945 km) flight was completed in 6 hours and 50 minutes, with three occupants onboard.
The fourth speed record was set from Düsseldorf, Germany to Dubai, United Arab Emirates, spanning a distance of 3,268 nm (6,052 km), the longest Legacy 500 flight to date. The flight duration was 7 hours and 3 minutes. With 1,900 lb of fuel reserves after landing, the average hourly fuel consumption was only 1,590 lb.
Once the National Aeronautic Association (NAA) has confirmed each flight as a U.S. record, the figures will be sent to the Federation Aeronautique Internationale in Switzerland for recognition as world records. In all four speed record flights, the Legacy 500 completed the mission with NBAA IFR fuel reserves.
?Geneva, Switzerland, May 18, 2015