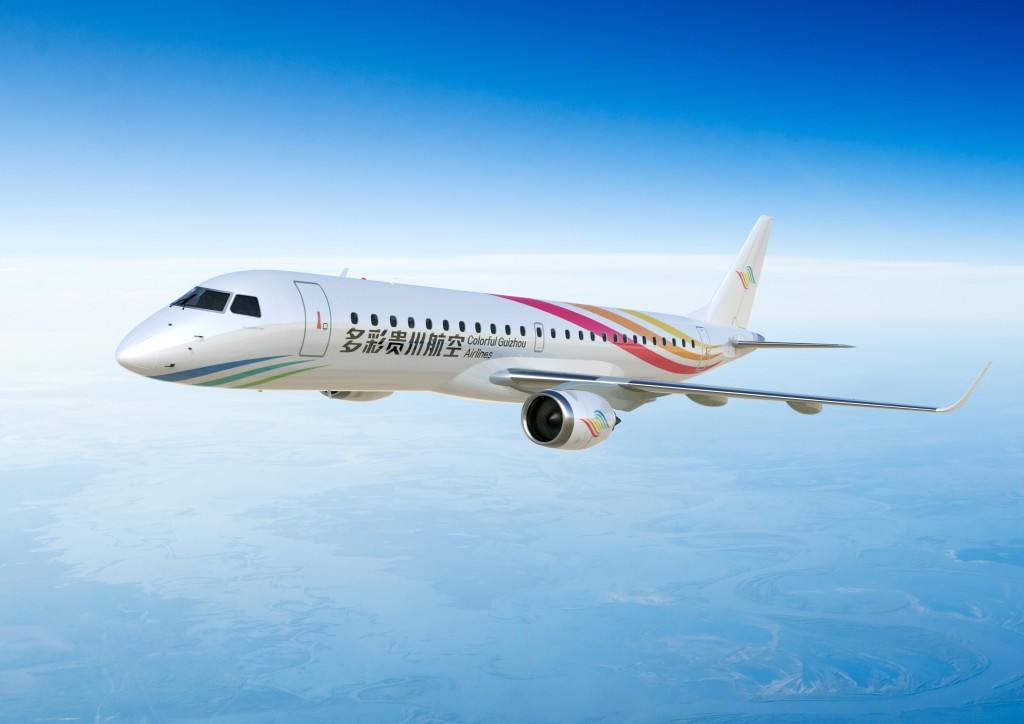 Embraer S.A. announced today at the 51st International Paris Air Show that it has concluded an agreement for 17 E190s with Colorful Guizhou Airlines, the first locally-owned airline in China's Guizhou Province. The contract is for seven firm orders, which will be included in Embraer's 2015 second-quarter backlog, and ten options and has an estimated value of USD 834 million at current list price if all options are exercised. The first aircraft is scheduled for delivery in 2015.
"With around 80% market share in the segment in China, the E190 has shown to be the best aircraft in the category, offering efficiency with low operating costs and an excellent level of comfort for passengers," said Paulo Cesar Silva, President & CEO, Embraer Commercial Aviation. ".Over the years, the E190s have proven to be effective tools in building regional connectivity and promoting economic development. I'm confident Colorful Guizhou Airlines will bring those same benefits to its home province with its new E190s."
Colorful Guizhou Airlines is Embraer's fifth E-Jet customer in China and the first in the southwest of the country.
"We're glad to establish a partnership with Embraer, a company that has a leading role in global regional aviation," said Zhai Yan, who is both Chairman of the Guizhou Industrial Investment (Group) Co., LTD and the Chairman of Colorful Guizhou Airlines. "Colorful Guizhou Airlines will be a combination of a regional airline and a low cost trunk carrier. It will target regional cities in Guizhou but will also bring new access to all of China and the global market.  The selection of the E190 and our cooperation with Embraer is sure to accelerate the development of the aviation industry and the economy of Guizhou."
Colorful Guizhou Airlines plans to inaugurate service this year. Established by the Guizhou Industrial Investment (Group) Co., LTD, it will target operating to cities in Guizhou and neighboring provinces.  Its entrance marks the end of the absence of a locally-owned airline in Guizhou and the start of improvements to regional aviation in western China.
Paris, France, June 15, 2015