Chengdu Airlines cooperates with Daxing Airport to complete phase-2 flight test missions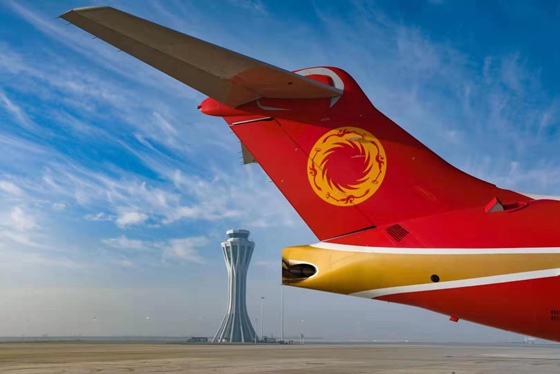 A China-made regional jet ARJ21 with a painting of "Solar Divine Bird", the emblem of Chengdu Airlines, departed from Chengdu on August 26th, 2019 and landed at Beijing Daxing International Airport (hereinafter referred to as "Daxing Airport") after a flight of 2 hours and 11 minutes, carrying out some of the phase-2 flight test missions at Daxing Airport. This ARJ21 aircraft took off again from Daxing Airport against the rising sun in the next morning, completed one flight for flight test, and successfully completed all the missions for flight test. This is the first time for ARJ21 aircraft to participate in flight test missions at a newly-built airport, which demonstrates Daxing Airport's ability to support China-made aircraft and is of great significance in the development history of China's commercial aircraft and civil aviation.
It is reported that for a newly-built airport like Daxing Airport, an airport operating licence can only be obtained after the procedures such as calibration flight, flight test and industrial acceptance, and flight test is an important prerequisite for the approval of flight procedures and the acceptance by relevant industries, which is of great significance to the initial operation of the airport. Through two days of flight, and in coordination with Daxing Airport, ARJ21 aircraft conducted supplementary certification demonstration of operation under low visibility such as Category ? (CAT ?) Precision Approach and takeoff with a Runway Visual Range (RVR) of 400 meters, test of Advanced Surface Movement Guidance and Control System (A-SMGCS), and drill of ground support process including deicing, which makes Daxing Airport get prepared for initial operation and subsequent actual operation.
Chengdu Airlines, as the world's first customer of ARJ21 aircraft, now has a fleet of 12 ARJ21 aircraft. Since its first commercial flight on June 28th, 2016, ARJ21 aircraft has carried more than 470,000 passengers in Chengdu Airlines, serving more than 20 cities. An airline network taking Chengdu as the main operating base, and Changsha and Harbin as the overnight base and covering the major cities throughout the country has been formed. Especially in northeast China, a trunk and regional airline network radiating the region has been formed, and large-scale commercial operation has been initially achieved.
Chengdu Airlines has attached great importance to this flight test. Mr Tang Jin, Chairman of Chengdu Airlines, and Mr Zha Guangyi, President of Chengdu Airlines, have led flight test teams to communicate and coordinate with Civil Aviation Administration of China (CAAC), Daxing Airport, and Commercial Aircraft Corporation of China, Ltd. (COMAC) for many times; Mr Zha Guangyi has also personally served as a leader of a support group and the pilot in command of the flight test; and more than 20 staff from 11 departments including the flight support group, maintenance support group, cabin support group and ground support group of Chengdu Airlines have participated in the collaborative work to steadily advance all work and go all out to support the flight test.
Last Updated (Beijing Time):2019-09-03
Source: News Center of COMAC