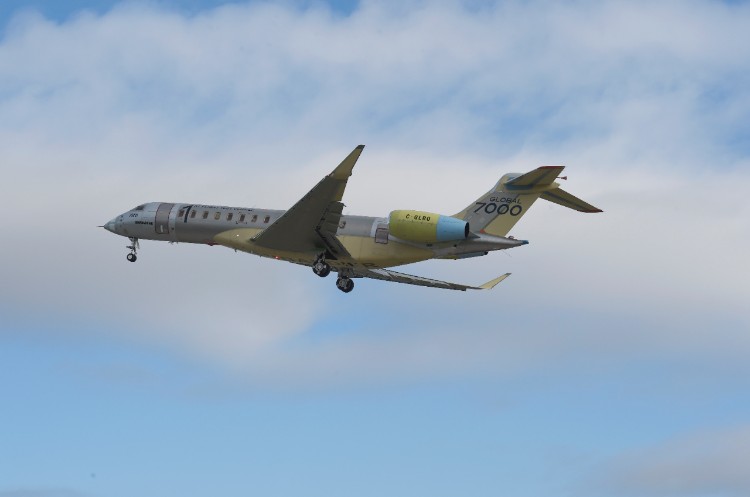 A Bombardier Global 7000 flight-test aircraft made an emergency landing on 15 August when the right GE Passport engine experienced an in-flight flameout, according to an incident report issued by the National Transportation Safety Board of Canada.
The ultra-long-range business jet – the second flight-test article with the registration C-GBLB – was flying at 41,000ft when the incident occurred at 17:38 local time,156nm (290km) from the Bombardier flight-test centre at Wichita airport, Kansas.
The NTSB says the flameout was preceded by "high vibration and high inter-turbine temperature readings". The flightcrew declared an emergency and carried out a single-engine landing in Wichita, without further event, it says.
Bombardier is now reviewing the data "and troubleshooting the cause of the problem", says the NTSB.
Bombardier subsequently issued the following statement on 18 August and amended it on 21 August:
Safety is our top priority. Our test pilots, following an occurrence this week, followed standard procedures and returned to base uneventfully.

Bombardier and GE have determined that the root cause of last week's reported occurrence was an isolated event.

The Global 7000 aircraft program's flight and ground test campaigns continue on track for entry-into-service in the second half of 2018 and GE's Passport engine received its Federal Aviation Association (FAA) type certification in early 2016.

The first six customer aircraft are now in production and final assembly line activities are ramping up.
August 18, 2017 Montréal Business Aircraft,  Other News
Sources: FlightGlobal, Canadian NTSB, Bombardier