The 21st century jetliner will operate from airBaltic's base in Riga, Latvia flying short and long haul destination flights
Bombardier's second CS300 flight test vehicle configured with a full interior will follow airBaltic operational practices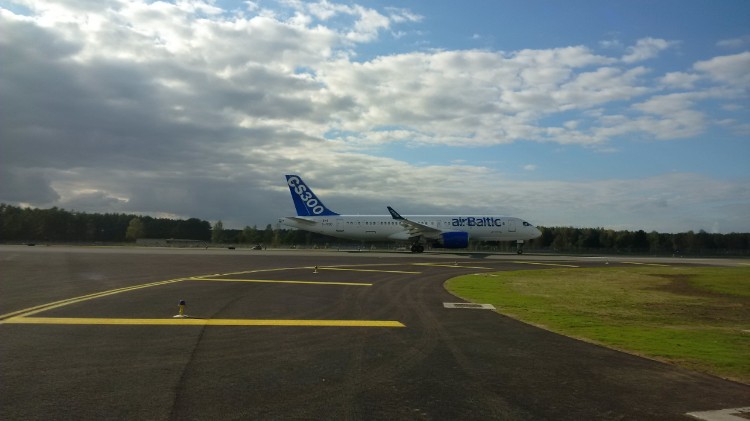 Bombardier Commercial Aircraft announced today that its CS300 jetliner, the second CS300 flight test vehicle, has embarked on a series of European and Middle Eastern route-proving flights alongside first operator airBaltic of Latvia. The flights – which will operate from the airline's base in Riga include stops in Vilnius, Lithuania, Tallinn, Estonia and Abu Dhabi, United Arab Emirates – will use airBaltic air and ground operational practices.
"It's exciting for the airBaltic team to welcome the CS300 to its home base in Riga for the first time to see the aircraft simulate operations in our route system that covers much of Europe – all in advance of our first delivery later this fall," said Martin Gauss, Chief Executive Officer, airBaltic. "The CS300 aircraft has outstanding performance, admirable efficiency and an impressive cabin that offers maximum comfort and we are looking forward to introducing this fine aircraft to our passengers and airports in our network."
"Because of the 99 per cent commonality between the CS100 and CS300 aircraft and the diverse routes that award-winning airline airBaltic operates, we are expecting to see a perfect blend of performance, outstanding reliability and operational ground support," said Rob Dewar, Vice President, C Series, Bombardier Commercial Aircraft. "Our teams are working closely together as we ramp up activities for a real indication of how the CS300 will operate in the network and we are confident that its entry-into-service with airBaltic later this year will be impressive."
With a firm order for 20 CS300 airliners – which will eventually join airBaltic's 12 Q400 turboprops – the airline will gradually transition to an all-Bombardier fleet. The route-proving flights provide a very good indication of how the aircraft will perform in typical day-to-day airline operations by observing airfield performance, airport turnaround times and on-ground operations at various airports.
September 27, 2016 Montréal Commercial Aircraft,  Press Release