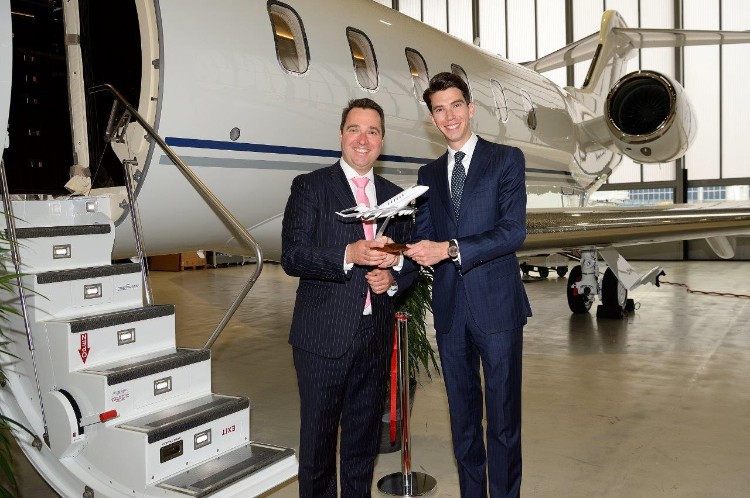 Bombardier's Challenger 350 aircraft is the best-selling business jet platform of the last decade
The Challenger 350 business jet offers exceptional passenger comfort through its industry-leading cabin and renowned smooth ride
Bombardier Business Aircraft announced today the addition of a new Challenger 350 aircraft to TAG Aviation Europe's growing charter fleet. With its outstanding performance and continental range, the Challenger 350 is ideally suited for executive charters and premium business travel in the European market. Based in Geneva, the Challenger 350 is the first to be delivered in Switzerland and began commercial charter flight operations in early May.
"The Challenger 350 is an exciting addition to our continuously expanding charter fleet. We work hard to ensure that our offer always matches our customers' needs," said Florent Sériès, Vice President Sales and Marketing, TAG Aviation Europe. "The Challenger 350 business jet's powerful performance and impressively wide cabin design, combined with class-leading comfort, make it the perfect aircraft for typical European charters. I am certain it will provide our customers with an experience that far exceeds their expectations."
"We are delighted to see our Challenger 350 aircraft join TAG Aviation's growing fleet and to bring the world's best-selling super-midsize business jet to Switzerland," said Christophe Degoumois, Vice President, Sales, Europe, Russia, CIS and Israel. "The Challenger 350 aircraft was designed to provide our customers with an exceptional experience. Offering cutting-edge technology and the most elegant cabin, the Challenger 350 is the perfect choice for the European market."
With an unrivalled class-defining performance and the lowest direct operating costs in its class, the Challenger 350 aircraft can reach a maximum range of 5,926 km* and a maximum operating speed of Mach 0.83 (882 km/h). The Challenger 350 jet offers a superior inflight experience with the very latest cabin management system that makes it ideal for both business and leisure travel, accommodating up to 9 passengers in a standard configuration. The Challenger 350 dominates the super-midsize segment and combines performance and reliability to perfection, boasting impressive speed, climb and range capabilities to meet the ever growing needs of customers.
TAG Aviation Europe has an unsurpassed worldwide fleet of business jets for charter in Europe comprised of approximately 60 jets that range from a four-seat entry-level small cabin aircraft to a state-of-the-art Boeing 757. With the aircraft capacity to accommodate any jet charter requirement wherever in the world, TAG guarantees to find clients the exacting aircraft for every flight.
May 22, 2017 Geneva Business Aircraft,  Press Release