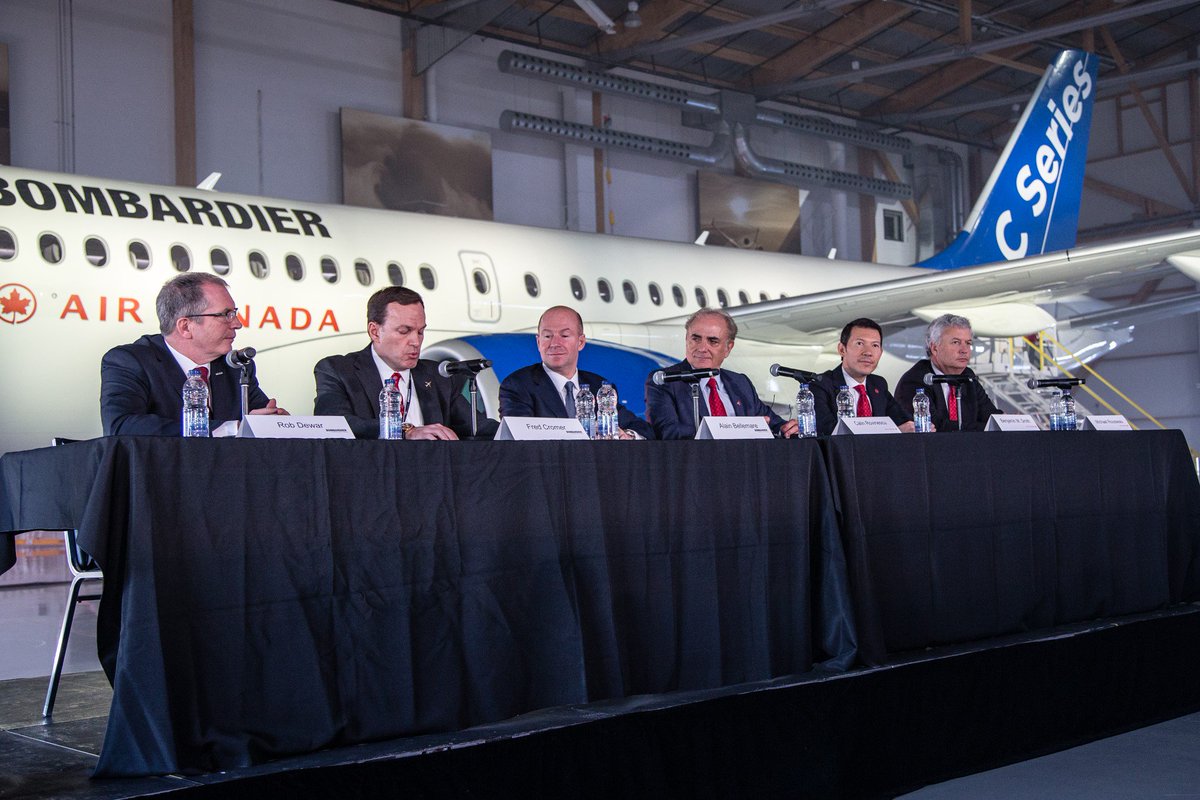 Bombardier has received a significant vote of confidence in its C Series this Wednesday with Air Canada's decision to acquire 45 CS300 130-seat aircraft. This is the first order in nearly 18 months for this new family of aircraft that represents a good part of the future of the Quebec manufacturer.
The carrier has announced the signing of a letter of agreement for 45 firm orders and 30 options. Deliveries are to begin in late 2019 and be spread out until 2022. Some orders could be converted into smaller CS100 aeroplanes. At current prices the CS300, the value of the firm orders would amount to 3.8 billion US$.
The first 25 CS300 of the Air Canada order will replace some of the 45 Embraer E190 aircraft of the current fleet; the others will be replaced by Boeing 737 MAX aircraft. The other 10 CS300s will enable Air Canada to expand its network.
The order is the largest to date for the C Series. It is also the third by a major airline (after Swiss and Korean Air) and the first from a major North American carrier.
"We were one of the launch customers of the (regional jet) Bombardier CRJ and today's announcement reflects our ongoing support for the Canadian aerospace industry," said the CEO of Air Canada, Calin Rovinescu, in a statement.
Dave Ritchie, vice president for Canada of the International Association of Machinists and Aerospace Workers (IAMAW), it is the "contract long expected by Bombardier."
"This is an example of a Canadian company that takes responsibility by acquiring a high quality product," he said in a statement.
The analyst Benoit Poirier of Desjardins Capital Markets, said the order could ensure the long term viability of the C Series.
Official Bombardier press release:
Air Canada and Bombardier sign a landmark order for up to 75 Bombardier C Series aircraft
Bombardier and Air Canada execute letter of intent for 45 firm CS300 aircraft and options for 30 more CS300 aircraft
Air Canada to become the first North American mainline, international network carrier for the C Series aircraft
Bombardier Commercial Aircraft and Air Canada announced today that the parties have signed a Letter of Intent (LOI) for the sale and purchase of 45 CS300 aircraft with options for an additional 30 CS300 aircraft, which also includes conversion rights to CS100 aircraft.
Air Canada will become the first North American mainline, international network carrier for the   C Series family of aircraft.
Based on the list price of the CS300 aircraft, a firm order for 45 would be valued at approximately $3.8 billion US.
At a press conference that was held today in Saint-Laurent, Québec, Calin Rovinescu, President and Chief Executive Officer, Air Canada, along with members of his leadership team comprised of Benjamin Smith, President, Passenger Airlines and Michael Rousseau, Executive Vice-President and Chief Financial Officer were hosted by Alain Bellemare, President and Chief Executive Officer, Bombardier Inc. Alongside Mr. Bellemare to celebrate the signature, which opens a new chapter in the partnership between the two companies, were his colleagues from Bombardier Commercial Aircraft, Fred Cromer, President and Rob Dewar, Vice President, C Series Aircraft Program and members of their leadership teams
"We've been carefully assessing the capabilities of Bombardier's C Series aircraft and its progress for some time and today we are very pleased to announce an agreement to acquire the CS300 for our mainline fleet," said Mr. Rovinescu. "The C Series will be a key element of our on-going  fleet renewal, which will result in Air Canada operating one of the world's youngest and most fuel efficient airline fleets. With its optimal mainline performance range, superior economics, and greater seating capacity, the Canadian-built CS300 aircraft will allow us to compete more effectively, providing increased point-to-point service to domestic and transborder markets further afield, as well as feeding our network."
"We're thrilled to welcome Air Canada as our first mainline, international carrier located in North America. A landmark order from a marquee and iconic customer like Air Canada is a very significant strategic marker for the C Series aircraft program and we're looking forward to further strengthening a relationship that spans 30 years," said Mr. Cromer. "The C Series aircraft has proven and exceeded its performance targets and can readily be used as a coast-to-coast mainline connector or to open direct flights to under-served destinations. Performance and exceptionally low operating costs are ultimately what make this plane a success and Air Canada is recognizing that the C Series aircraft was designed in line with evolving market requirements."
"Our recent focus has been to add a large North American international network carrier to complement our orders in both Europe and Asia, and with Air Canada we are achieving our goal of creating a strong global footprint for the C Series aircraft," said Mr.Bellemare. "We are bolstered and energized by Air Canada's confidence in the C Series aircraft program and very assured that the carrier's commitment –  which is one of the largest to date for this aircraft –  will be the catalyst for future orders in North America and around the world. We have the best aircraft in the 100- to 150-seat class segment and the momentum continues to build as we introduce the C Series to potential customers."
February 17, 2016 Montréal Commercial Aircraft,  Press Release