The recently-delivered aircraft strengthen ALE's commitment and leadership in executive aviation
The new Learjet 75 business jets are added to ALE's MexJet fleet, which flies 15 thousand hours a year
The Learjet 75 aircraft offers the ultimate combination of performance, design and legendary Learjet heritage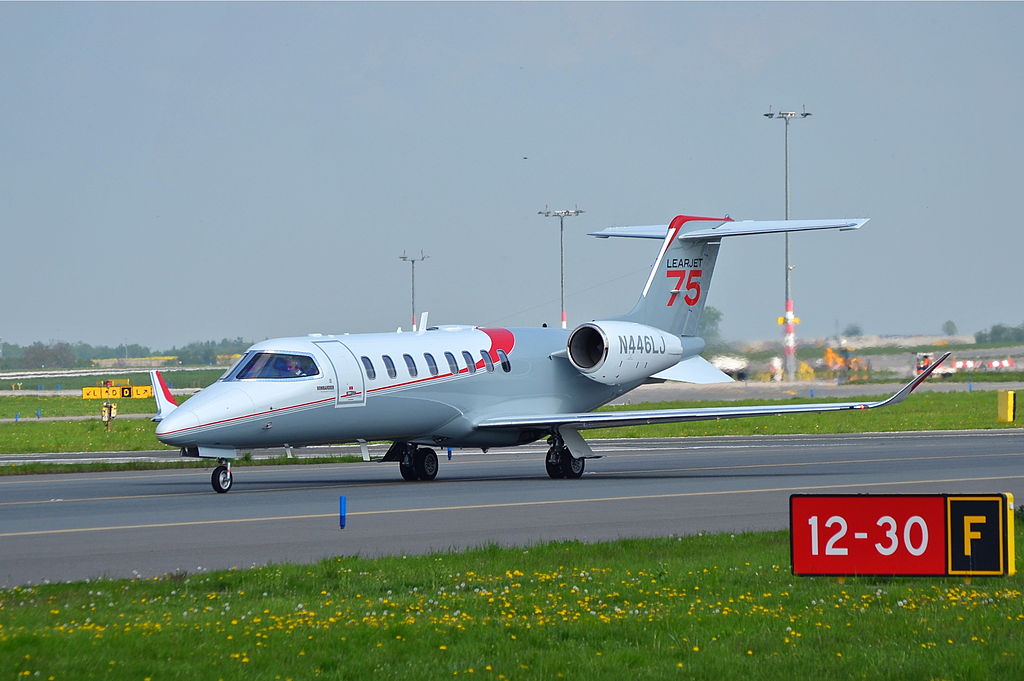 Aerolíneas Ejecutivas (ALE) introduced its new fleet of 6 Learjet 75 business aircraft with Canadian aircraft manufacturer, Bombardier. The event took place at ALE's hangar and facilities at the Toluca International Airport. The aircraft are currently available for charter and will be operated through ALE's MexJet fleet.
With the addition of the Learjet 75 aircraft, Aerolíneas Ejecutivas – a company with 47 years of experience providing first-rate services – reaffirms its commitment to Mexico and to its clients by offering the latest aircraft products and by following the highest safety standards.
"We are proud to add these six business aircraft to the MexJet fleet," said Alejandro Alonso, CEO of Aerolíneas Ejecutivas. "This allows us to offer the latest technology to further improve our safety standards and our overall services, as well as maintain our company at the forefront and assert our leadership when it comes to taking business leaders to their destinations."
"We made this major investment with long-term financing to continue to offer our clients the most efficient and time-saving business tools for companies and their executives," said Arturo Ortega, Chairman of Aerolíneas Ejecutivas.
"Bombardier is honored that ALE has selected the Learjet 75 aircraft to expand its fleet," said Eric Martel, President, Bombardier Business Aircraft. "We are convinced that the Learjet 75 aircraft, with its legendary performance and innovative design, is the ideal business jet for ALE's customers in Mexico. Learjet is already a business aviation leader in Mexico and this vote of confidence from ALE is further proof of our products' leadership and strength in this market."
Clients of Aerolíneas Ejecutivas' MexJet program will now have access to the Learjet 75 aircraft in ALE's fleet. The aircraft will be available year-round, offering point-to-point services, multiple routes and one-way trips.
Additionally, Aerolíneas Ejecutivas holds international certifications, such as IS-BAO and WYVERN, and top certifications granted by the International Business Aviation Council (IBAC) and Wyvern Consulting Ltd., respectively, for complying with the highest safety, quality and service standards. Aerolíneas Ejecutivas is also the first Mexican airline to have received the ARGUS GOLD PLUS certification granted by ARGUS International Inc. for its high safety, quality and service standards.
The Learjet 75 aircraft offers enhanced performance through an engine thrust increase with an improved Honeywell engine, offering superior takeoff field length performance over its predecessor. The new avionics system contributes to achieving weight savings and the new canted winglets improve aerodynamic efficiency.
The Learjet 75 aircraft's new interior includes improved comfort and styling of the seats, a spacious galley for optimized catering, work and storage space, and a generous baggage suite. The cabin management system features individual touchscreen monitors with full audio and video control. The advanced connectivity options of the Learjet 75 aircraft ensures the highest levels of convenience.
A breakthrough in business aviation, the Bombardier Vision flight deck is designed to deliver a completely new cockpit experience. By combining the best in technological advancements with superior design aesthetics, it provides pilots flying Bombardier's Learjet 75 aircraft with an unprecedented level of control and comfort. The Bombardier Vision flight deck for Learjet 75 aircraft features the fully integrated Garmin G5000 digital avionics suite, designed with leading edge technology and one of the most intuitive crew interfaces available.
With a maximum range in excess of 2,000 nautical miles at a cruise speed of up to Mach 0.75, the Learjet 75 aircraft can fly four passengers and two crew non-stop from Toluca to Toronto and from Houston to San Juan.
Mexico, Federal District, April 28, 2015