Sharklet equipped A320 for optimum high altitude airport performance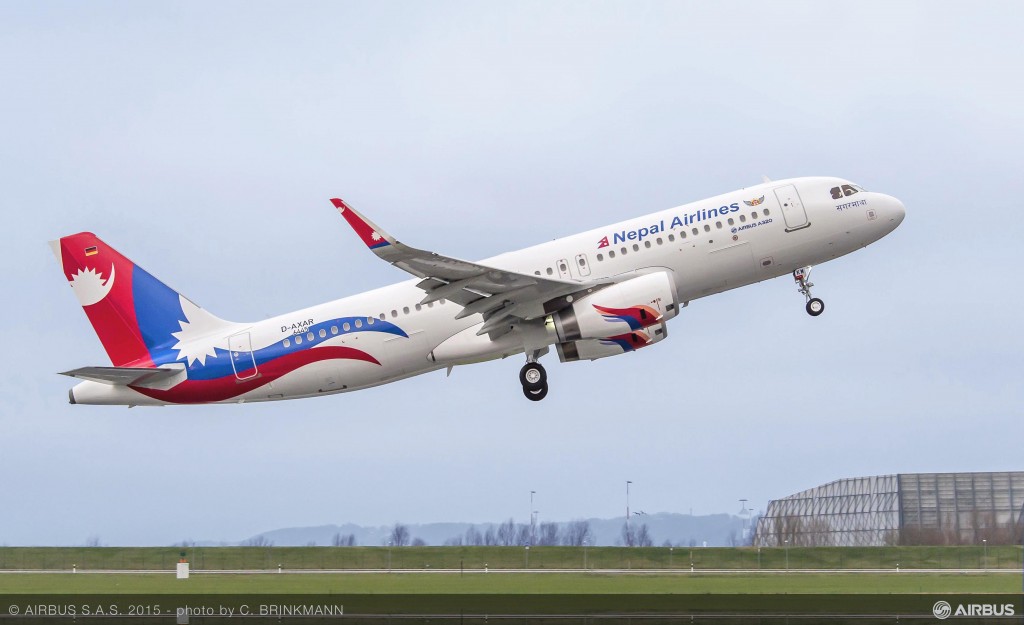 Nepal's national flag carrier, Nepal Airlines Corporation (NAC) has taken delivery of the first Airbus A320 aircraft sporting a new striking company livery and equipped with Sharklet fuel saving wing tip devices as the airline moves to an all Airbus jet fleet. Following a handover in Hamburg, the aircraft was welcomed at a ceremony attended by government and airline officials at its home base on arrival in Kathmandu.
With its home base in Kathmandu, the A320 was chosen for NAC's single aisle fleet for its unrivalled economics, performance and capability demanded by high altitude airports. The aircraft has Required Navigation Performance (RNP) capability built-in, which enables the aircraft to fly precisely along predefined routes using state-of-the-art on-board navigation systems.
"Aviation is our window to the world and the world's window to explorers, trekkers, cultural and ecological visitors to our 'Naturally' beautiful Nepal," said Madan Kharel, Managing Director, Nepal Airlines Corporation. "Our new A320 with Sharklets will help us to expand air services in the region, to increase capacity and to capitalise in the growth of high value tourism by offering our visitors world class comfort and service levels."
"For a landlocked nation like Nepal, aviation is a lifeline to the rest of the world. Few examples can better illustrate the importance of aviation as a force for economic development," said John Leahy, Chief Operating Officer Customers. "We are delighted to welcome Nepal Airlines to our family of A320 operators – the world's most flexible, productive and comfortable single aisle aircraft on the market."
The A320 was also chosen for its unbeatable operating economics and flexibility that enables it to be deployed on a wide variety of regional routes. Nepal Airlines' A320 will seat 8 business and 150 economy class passengers in high comfort with the widest seats available in any single-aisle aircraft. In addition, Sharklet wing tip devices will deliver up to an additional four percent fuel burn savings.
Nepal Airlines currently flies to four international destinations and 25 spectacular domestic locations in the heart of the Himalayas.
The A320 Family is recognised as the benchmark single-aisle aircraft family. Over 11,500 of these aircraft have been sold to more than 400 customers and operators worldwide, making it the world's best-selling commercial jetliner ever.