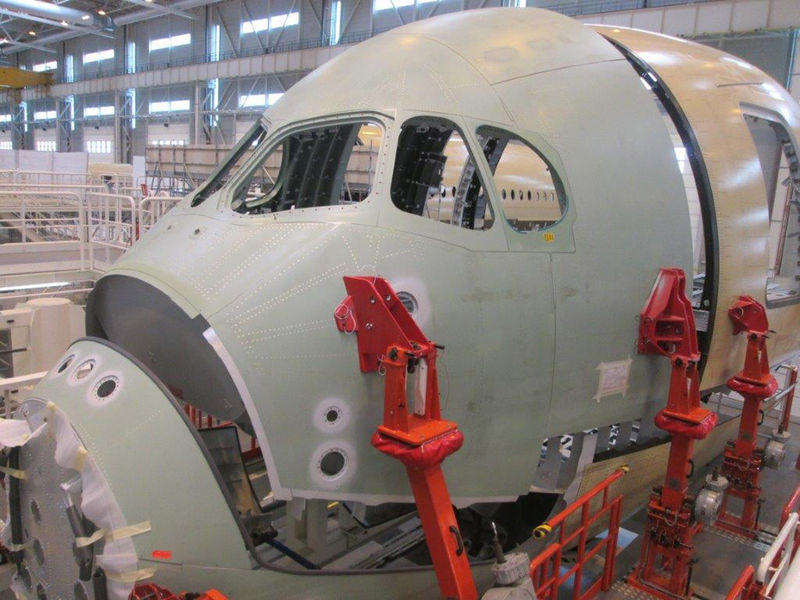 Manufacturing of the first A350 XWB for Thai Airways International (THAI) is advancing well, with major components progressing towards the start of final assembly in October 2015. First delivery of Airbus' latest generation widebody airliner to THAI is scheduled in mid-2016.
THAI will acquire a total of 12 A350 XWB aircraft, with four on direct order and eight on lease. The airline will be able to operate these aircraft on long-haul services to Europe and in Asia.
The 'forward fuselage' was manufactured and assembled by Premium Aerotec in Augsburg, Germany, and delivered to Airbus in Hamburg, Germany for equipping (including brackets, tubes, pipes, systems). This section will then be flown from Hamburg to Saint-Nazaire, France, on board Airbus' Beluga transport aircraft.
The 'nose fuselage' section, manufactured by Stelia Aerospace, has been delivered to Airbus in Saint-Nazaire for assembly & equipping.
These two sections ('nose fuselage' and 'forward fuselage') will be joined up to form the front fuselage, which will subsequently be shipped from Saint-Nazaire to the A350 XWB Final Assembly Line in Toulouse.
The A350 XWB is Airbus' all-new mid-size long range aircraft family and the newest member of Airbus' leading widebody family. The A350 XWB is the world's most modern and efficient aircraft family, setting new standards in terms of flight experience for passengers, operational efficiency and cost-effectiveness for airlines. The A350 XWB had received 780 Firm orders from 40 customers at the end of May 2015.
18 June 2015 Press Release