· First converted A320 / A321 aircraft available to customers in 2018
· ST Aerospace becomes majority shareholder of EFW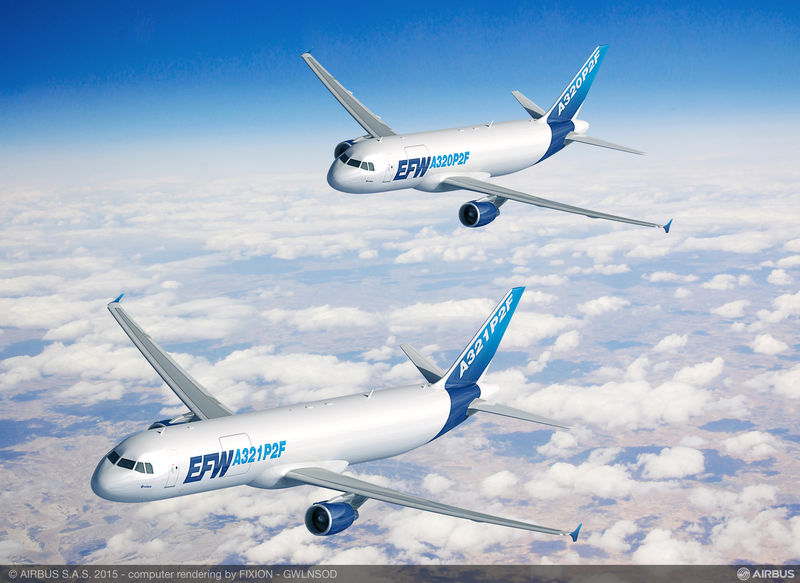 Airbus has signed an agreement with Singapore-based ST Aerospace to offer passenger-to-freighter (P2F) conversion solutions for its A320 / A321 aircraft. The agreement was signed today at the Paris Air Show in Le Bourget by Harald Wilhelm, Chief Financial Officer of Airbus Group and Airbus, Serh Ghee Lim, President of ST Aerospace, Andreas Sperl, CEO of EFW and Tom Williams, Airbus Chief Operating Officer.
Airbus foresees a significant market demand of more than 600 aircraft over the next 20 years for P2F aircraft conversions in the small freighter segment. The A320P2F, with eleven main-deck container positions, will be capable of carrying 21 metric tonnes of payload over 2,100nm, while the A321P2F with 14 main-deck positions will be able to carry up to 27 tonnes over 1,900nm. The first converted A321P2F will be delivered in 2018.
The A320/A321 P2F converted aircraft will be marketed and managed by Elbe Flugzeugwerke (EFW). Airbus currently holds a majority stake at the Dresden-based freighter conversion specialist together with its partner and co-owner, ST Aerospace. In order to implement the new business line for A320 / A321 P2F aircraft, ST Aerospace will provide its specially developed conversion technology and will obtain another 20 percent of EFW's shares, thus increasing its stake in EFW to 55 percent. Subsequently, Airbus Group will become a minority partner in EFW, reducing its shareholding to 45 percent.
Harald Wilhelm, Airbus Group Chief Financial Officer said: "This freighter conversion agreement is a great new step for our highly successful A320 family programme, boosting the longevity of the aircraft and enhancing value for aircraft owners and investors." He added: "It will also provide new business opportunities to EFW with ST Aerospace being the ideal partner for this initiative, given its strong engineering development capabilities on our existing cooperation for A330 conversions."
Serh Ghee Lim, President of ST Aerospace said: "As a centre of excellence for freighter conversions with strong engineering capabilities across multiple aircraft platforms, ST Aerospace is pleased to include this new collaboration which will extend our conversion portfolio and enhance our value-added proposition to customers worldwide." He continued: "The A320P2F and the A321P2F will be excellent workhorses which would offer aircraft operators great value and efficiency."
Tom Williams, Airbus Chief Operating Officer said: "The A320/A321 P2F is the only Airbus-supported A320 Family freighter conversion programme, and as such will take full benefit of our inherent design knowledge of the aircraft, our engineering know-how, as well as the extensive operational experience from the thousands of Airbus single-aisle aircraft in service today." He added: "We are therefore confident this will be the best solution for freight operators and we're pleased to collaborate with EFW and ST Aerospace to make this happen."
The management team in Dresden will continue to be headed by President and CEO Andreas Sperl and will ensure sustainable growth of the Airbus P2F freighter family while strengthening EFW´s position as a global Airbus conversions supplier. In addition, the operation will secure value-adding jobs in the Dresden region.
Together with the larger A330F and A330P2F, the A320P2F and A321P2F will further complement the Airbus Freighter Family concept. Airlines will thus benefit from the flight-crew and operational commonality through Cross-Crew-Qualification and Mixed-Fleet-Flying across their Airbus freighter and passenger operations, leveraging on same cockpit and systems philosophies.
17 June 2015 Press Release