• Building on KAL-ASD's experience with manufacturing Sharklets for the A320 Family
• Contributing to making the A330neo the most cost-efficient widebody in its size category
Korean Air Aerospace Division (KAL-ASD), the aerospace manufacturing division of the Korean Air Group, has been selected by Airbus to supply new Sharklet wingtip devices including a wingspan extension for the A330neo – the new variant of the best-selling A330 Family of widebody aircraft.
Under the terms of the agreement, KAL-ASD will manufacture the new composite wingtip devices at its Busan facility in South Korea, and supply them to the A330 Family final assembly line in Toulouse. Inspired by the curved wingtips on the A350 XWB, the A330neo's devices will increase overall wingspan from 60.3m of today's A330ceo to 64m while conferring increased lift with reduced drag.
Along with the A330neo's latest generation Rolls-Royce Trent 7000 engines, these new wingtips plus other aerodynamic enhancements and new cabin features will enable the aircraft to achieve an overall 14% reduction in fuel burn per seat compared with A330ceos in service today. The application of these incremental innovations will not only make the A330neo the most cost-efficient widebody in its size category, but will also allow operators to benefit from a range increase of up to 400 nautical miles while giving operators all the  operational commonality advantages of the Airbus Family. Deliveries of the A330neo will start in Q4 2017.
KAL-ASD is a long-term industrial partner of Airbus, with a relationship dating back more than 25 years. Today KAL-ASD manufactures and supplies parts for various Airbus programmes including the Sharklets for the best-selling A320 Family, fuselage skin panels and floor assemblies for the A330 Family and the composite cargo doors for the A350 XWB.
The A330 Family, which has now attracted more than 1,500 orders, is serving over 100 operators worldwide who continue to benefit from numerous on-going product enhancements. This family is part of the world's most modern and comprehensive widebody product line, which also includes the larger A350 XWB and double deck A380. Together, the various family members and type variants efficiently cover all airline widebody requirements for regional, medium and long-haul operations, seating from 250 to over 500 passengers and sharing unique levels of operational commonality.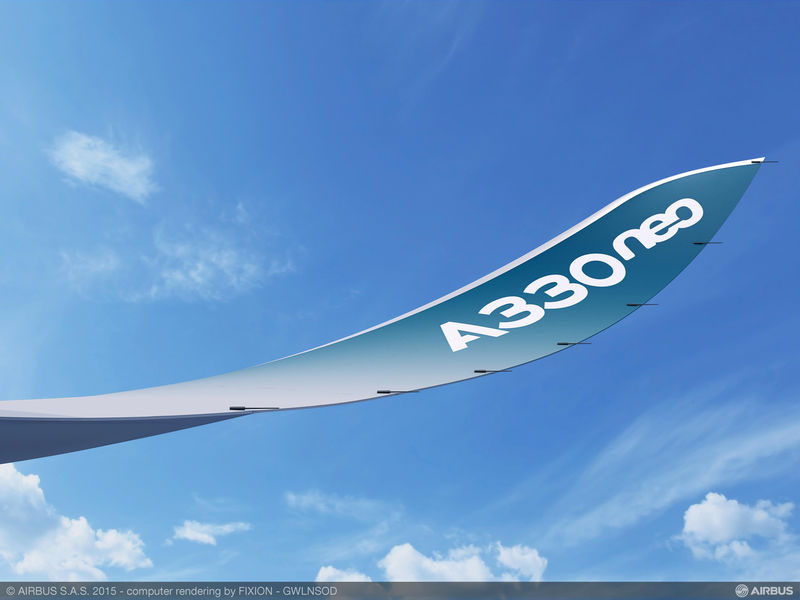 23 April 2015 Press Release