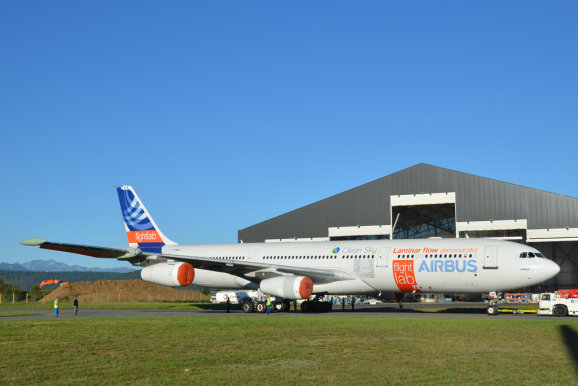 Within the framework of the EU research program Clean Sky, Airbus is researching the potential of laminar profiles for airliners.
In Tarbes (Tarbes–Lourdes–Pyrénées Airport, France) the test aircraft, an A340-300 (MSN1- F-WWAI), passes through the last ground tests before the start of the flight test.
At the end of August, a very special aircraft celebrated its second roll-out in Tarbes: the nearly 26-year-old A340-300 prototype, serial number MSN001. Within the framework of the project BLADE (Breakthrouh Laminar Aircraft Demonstrator in Europe), the Airbus's own test aircraft received completely new outer wings with laminar profile over the past year. They are now to be tested during flight tests, about 150 flight test hours are planned in this and coming year. Last week Airbus presented the aircraft and the new wings in Tarbes for the first time the specialist press.
Laminar profiles are shaped in such a way that the air flows parallel and uniformly over the top of the wings over as long a distance as possible.
Important for this are extremely smooth and precisely finished surfaces without rivets or other disturbing factors. This is intended to reduce the flow resistance, which in turn reduces both kerosene consumption and CO 2 emissions. Airbus expects fuel savings of up to five percent for short-haul aircraft. The findings from BLADE are to be incorporated into the blade development for future Airbus narrow-bore aircraft.
Laminar profiles have been used for a long time in the glider factory. However, the technology has not yet been developed for larger aircraft, flight tests on a larger scale are still pending.
The A340 has been equipped with numerous sensors and cameras for the flight tests that begin in the second half of September.
Follow the first flights on Flighradar24: https://www.flightradar24.com/data/aircraft/f-wwai