For example why is Brussels Airlines not flying to Brest with a 50 seater three times a day ?
Brest not a smal market, but not a big market. The airport is linked to Paris Cdg, 3 times a day and since March 2019, there is 3 weekly service to Amsterdam opeated by Air France HOP. Currently, It's probably enough
Rennes or Montpellier (where i have lived from 1988 to 2002, my mom & my brother still leaving there), could a better choice.
Montpellier was several times linked to Brussels, in the past. By Air France from late 80s to eraly 90s, then by Air Littoral (airline based at Montpellier) in 90s. In late 2000s, Ryanair started service to CRL, but ended service, in 2019. Brussels Airlines opened a seasonal service to Montpellier, in 2014, in competition with FR but they didn't resume service. TUIfly BE planned also to start service to CRL, but flights to CRL are also operated from Béziers and Nimes, by Ryanair, which are less than 1hrs by drive, from Montpellier.
MPL is linked to CDG (4 flights a day wirh AF), AMS (from 1 to 2 flights a day with KLM) & Heathrow (during the summer, 4 weekly flights with British Airways). To reach many Africans destinations, MPL is also linked to Casablanca (3 times a week by Royal Air Maroc) and Algiers (2 times a week, with Air Algérie)
Rennes was linked to Brussels, for a short time, with Air France HOP, in 2018 & 2019, but the route was suspended. RNS is linked to Amsterdam (1 flight a day with AF HOP), Cdg (3 flights a day with AF HOP) and Madrid (2 weekly service with Iberia Express). RNS airport was very under used, during longtime. Since few years, the airport is growing fast.
RNS is the 10th biggest city in France, by population. Montpellier is the 7th
Probably, they is a gap to fill for SN from RNS or MPL ? However MPL & RNS are located near some bigs airports (Marseille for MPL (1h50 by drive), NTE for Rennes (1h30 by drive), which is sometimes hard for MPL & RNS to attract airlines.
SN A319 at Montpellier, in July 2014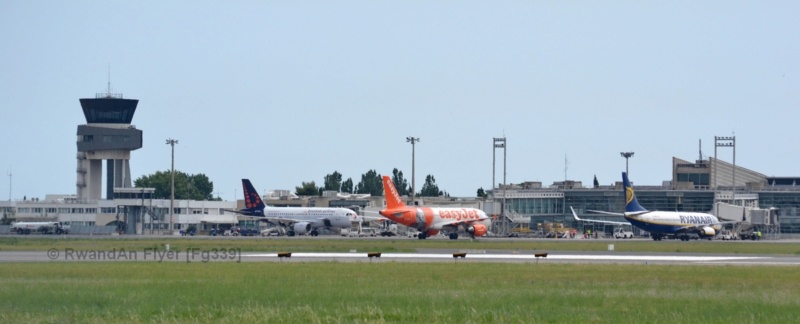 Montpellier Airport Timetables Summer 1990. BRU is served by Air France. 5 weekly service, with a Fokker 28