Moderator: Latest news team
---
Oops! It's Wednesday, 18 September, of course!

KLM announcement, Amstelveen, 16 September 2019

Announced work interruption on Wednesday, September 18

FNV has announced that part of the ground staff will interrupt work on Wednesday, September 18, a.s from 1 p.m. to 5 p.m. KLM does not consider this a good decision, not for its customers, not for its employees and not for KLM's reputation. KLM has made a fair final offer on wages and is prepared to continue to discuss substantive matters with the unions. In this final offer, KLM offers a structural wage increase of 7% with a collective agreement term of 2 years and 9 months. KLM has also made an alternative wage offer with a structural wage increase of 8.5% with an adjustment of the profit-sharing scheme. Striking does not change this final bid and for every 10 million euros that the work break costs, the average KLM employee pays 150 euros from his profit sharing.
André
ex Sabena #26567
---
The pilots just called off the planned 27 September strike. But BA management already cancelled all flights. Will the company reinstate them?
André
ex Sabena #26567
---
Ryanair communication: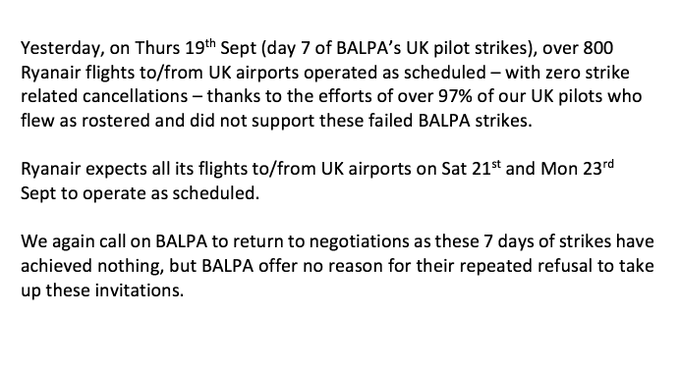 André
ex Sabena #26567
---
Ryanair pilots based in the UK have cancelled five days of strikes set for this month, as unions and the low-cost airline gear up for further talks.
André
ex Sabena #26567
---
Alitalia pilots and flight attendants are preparing to strike on Wednesday, October 9th, but the disruption is expected to start from Tuesday evening. 200 flights (mainly domestic) have already been cancelled.

The strike called by the unions over the lack of clarity in the bailout of the airline. Methinks that the strike is unlikely to clarify the issue.
André
ex Sabena #26567
---
Italian air traffic controllers and air transport sector strikes confirmed by some trade unions for Wednesday 25 October.
André
ex Sabena #26567
---