We had a great week in Krakow, with mostly good, warm weather. It is a place I would definitely visit again. Our holiday ended on 12th September, and the week seemed to have flown by! We caught the train from Krakow main railway station to the Airport.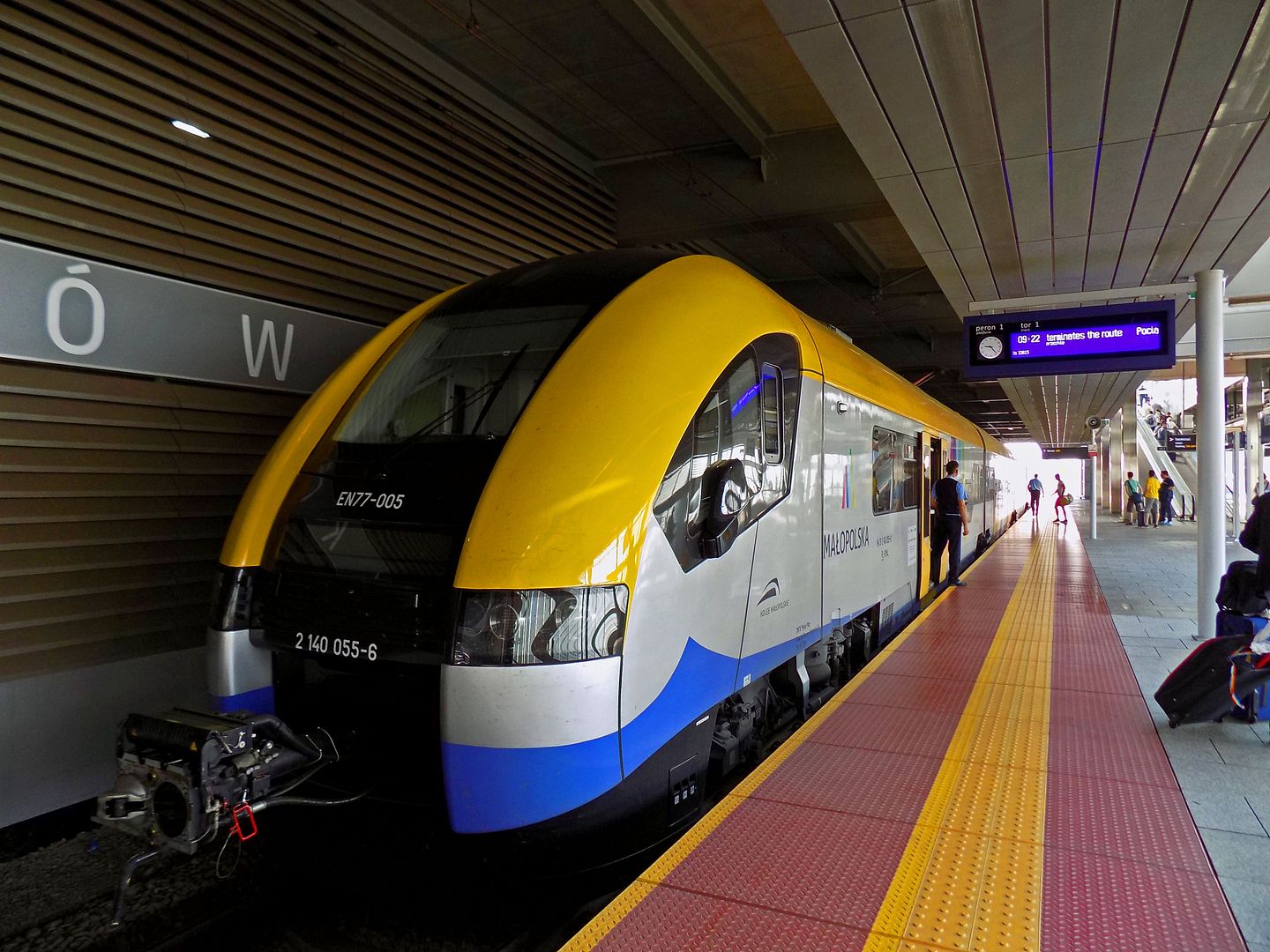 The train from Krakow at its final stop in Krakow Airport.
We had to wait a while to check in, I had pre-reserved seats 19A and 19B as I knew I would not be able to check in online the day before as I would have no access to a printer. There seemed to be no logic to the check in times, as some flights which were due to depart after ours were already checking in when we arrived and we had to wait quite a while for ours. Once we had located the right check in desks, we had to wait a while to actually drop off our bags. I had noticed a few LOT flights on the departures board, and I hoped that this time I might actually see and photograph/video the aircraft, but no such luck!
We went through the security check, having to remove camera and camcorder from their bags, unlike the other airports I have used over the years, and we even had to put our watches in the tray to go through the scanner.
After security we found ourselves in the departures area. I was not impressed. We followed the signs for the toilets, and joined a long queue. It turned out there was only ONE toilet in that particular area of the departure lounge. As it was dinnertime we tried (miserably) to get a hot meal - the restaurant was already full and there was a long queue for a seat. We eventually bought pretzels and left half of them because of the huge amount of salt on them, making them very unpleasant.
We wanted to buy some cherry vodka and chocolates in the duty free, as we had tasted cherry vodka during our Trabant tour and enjoyed it. The duty free was cramped and narrow, and there was a long queue through the shop making it difficult to find what you wanted, and we hoped that we would get served in time to board our flight. We did get served, and then we decided to make our way to gate 16, where our flight was to depart from (the gate information had been provided before the check in time!)
Viewing in KRK is practically impossible so I never managed to get any photos because I hardly saw anything.
Just as we approached our gate we realised that we would have to go through passport control. Other airports have the passport control near the security checks, not just before the gates! We were held up in the queue because the Commissar on the desk took ages checking a child passport, and our flight was called while we were in the queue. The first boarding call was made at 13:05.
Once the Commissar had checked our passports and boarding cards, we were bussed to the aircraft - A320 G-EUUH.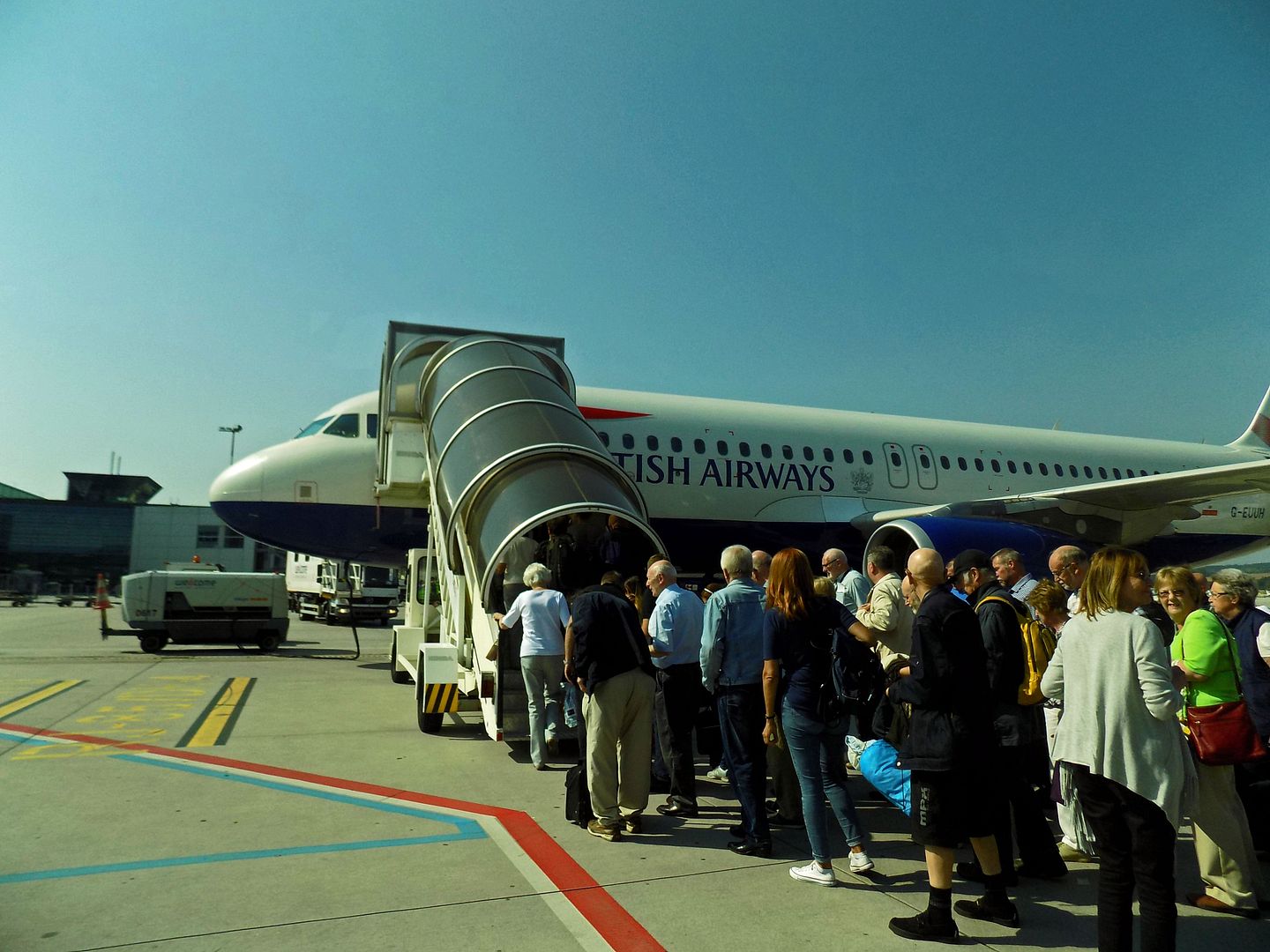 People boarding the aircraft.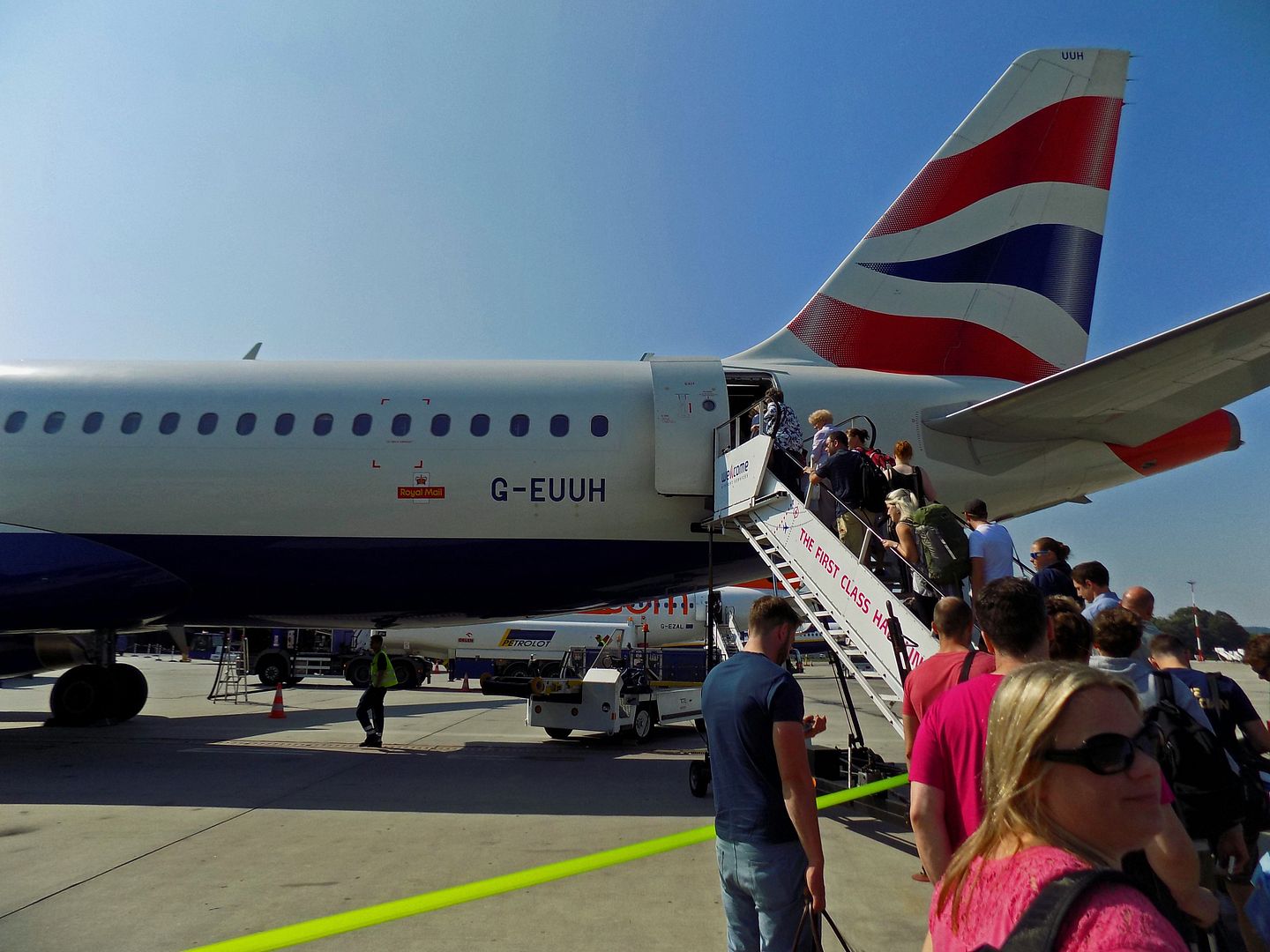 Boarding the aircraft. We boarded through the rear stairs.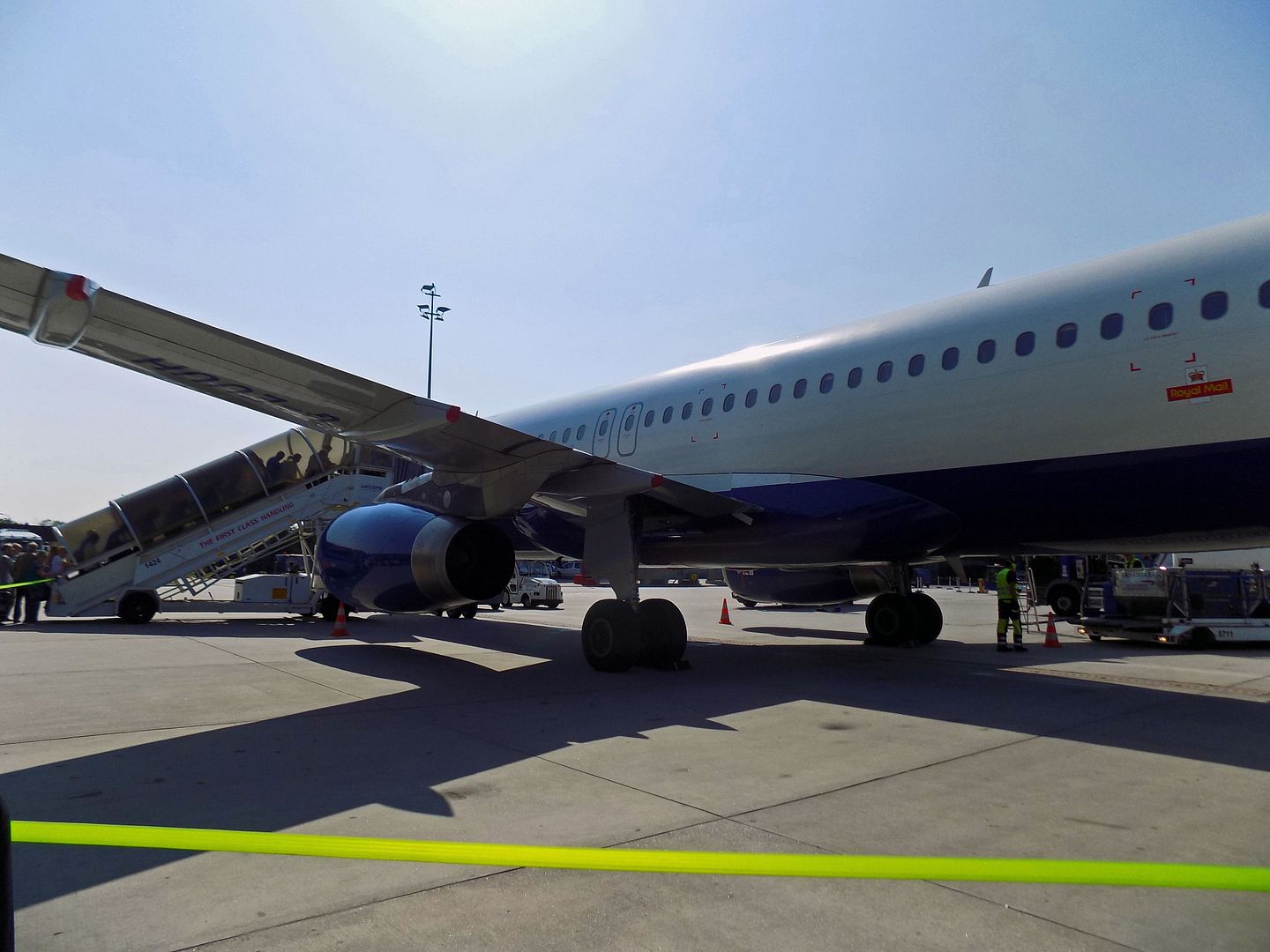 View of the aircraft.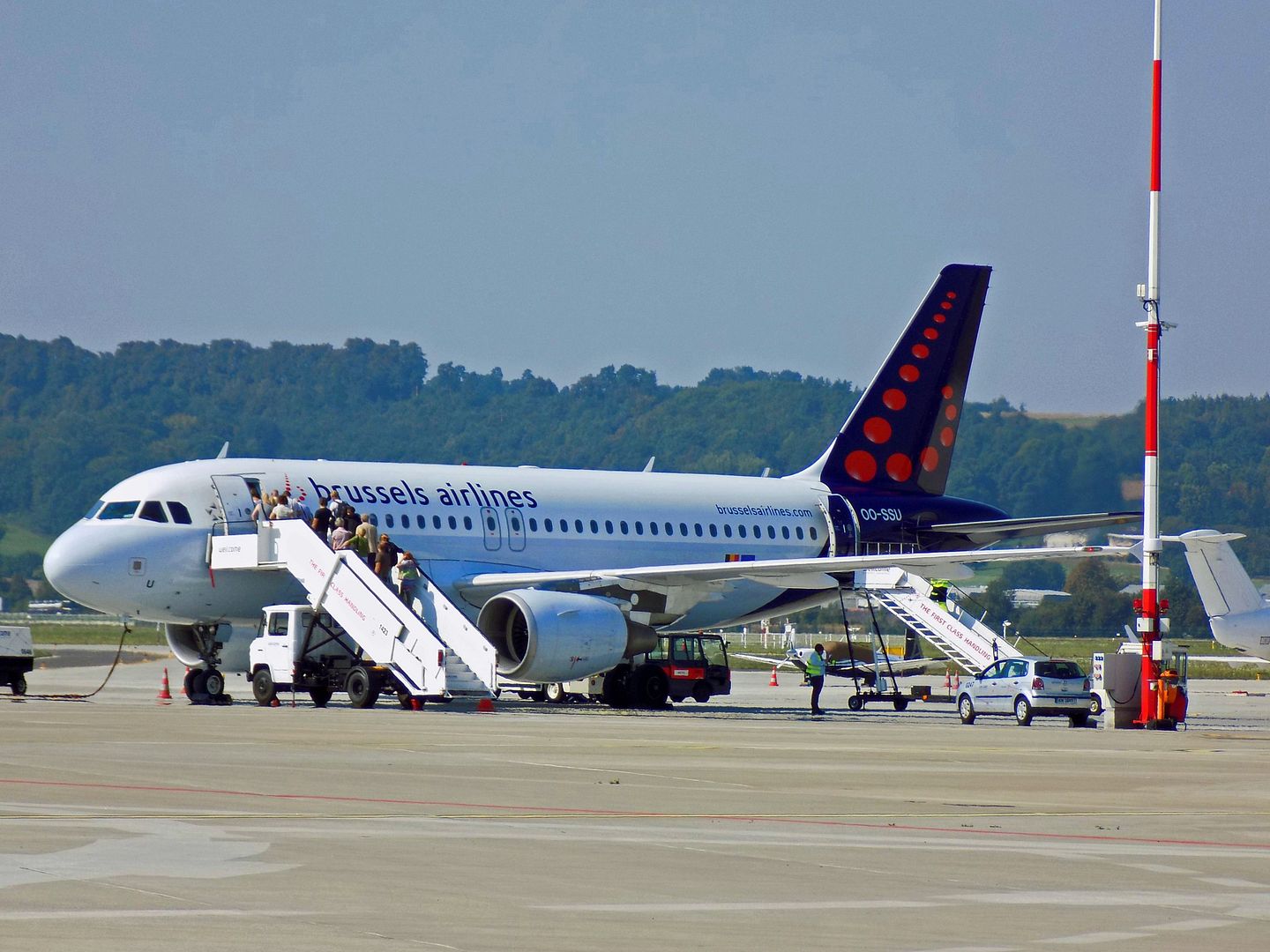 Not far away, a familiar friend was also being boarded

OO-SSU.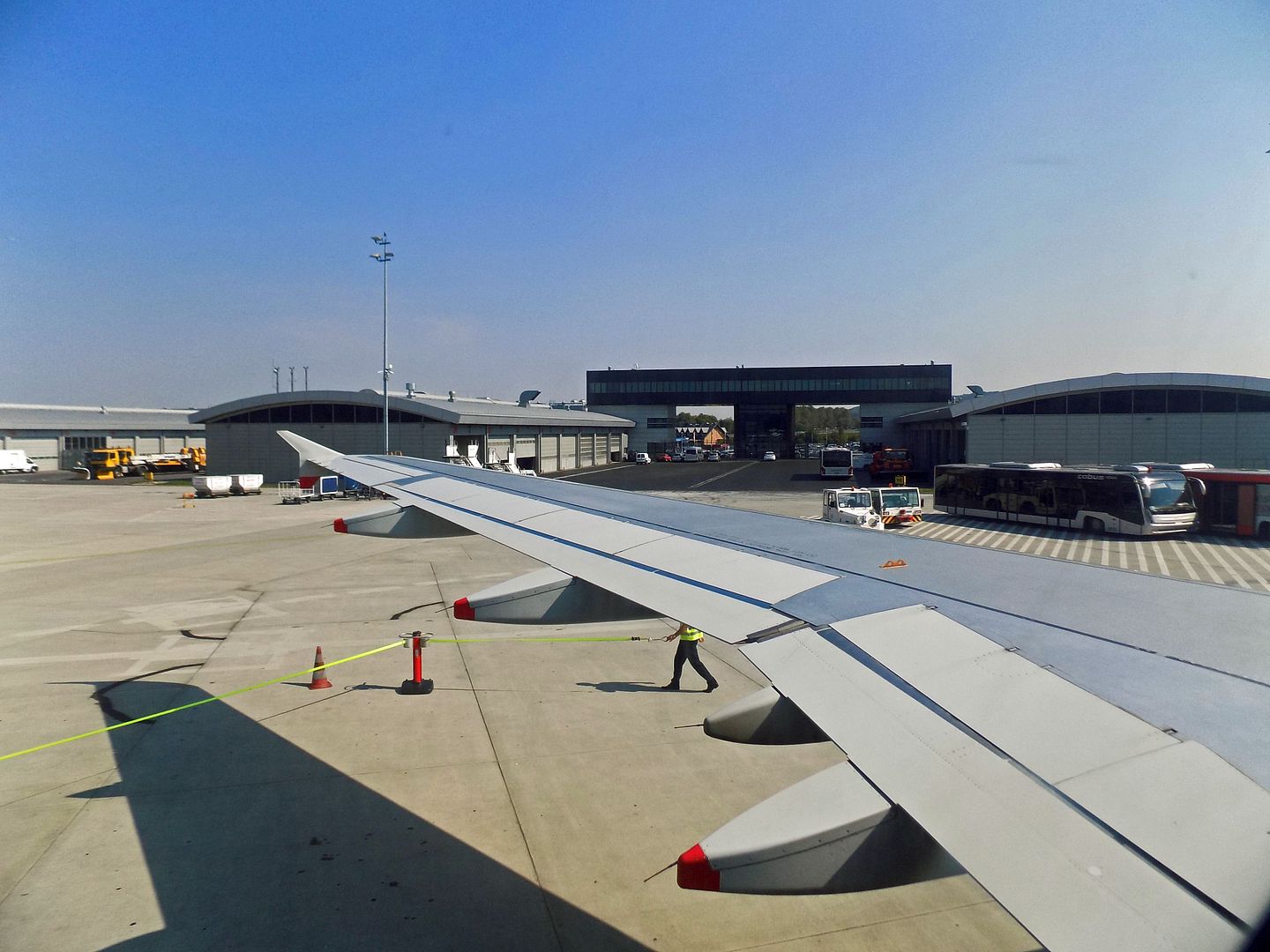 The view from my seat. At first we couldn't fasten our seatbelts because the aircraft was still being refuelled.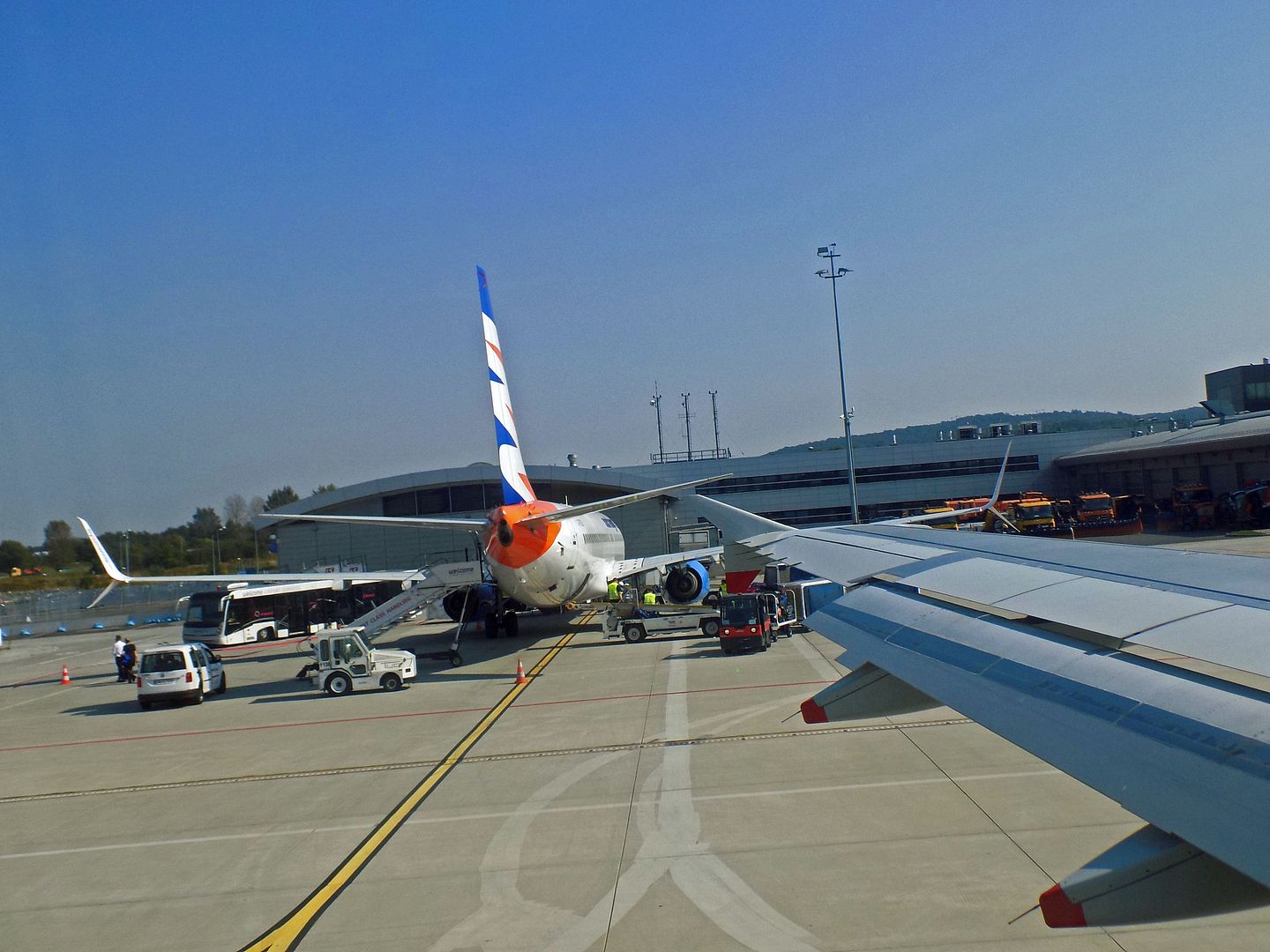 Not sure who they are.
We pushed back at 13:37. the captain said we would have a "short taxi" to the runway, smooth conditions were expected along the way and the flight would take about two hours. The "short taxi" seemed to go on for ever!
We finally took off at 13:52 and had a smooth climb through blue, clear skies. There was some slight haze near Krakow but nothing serious.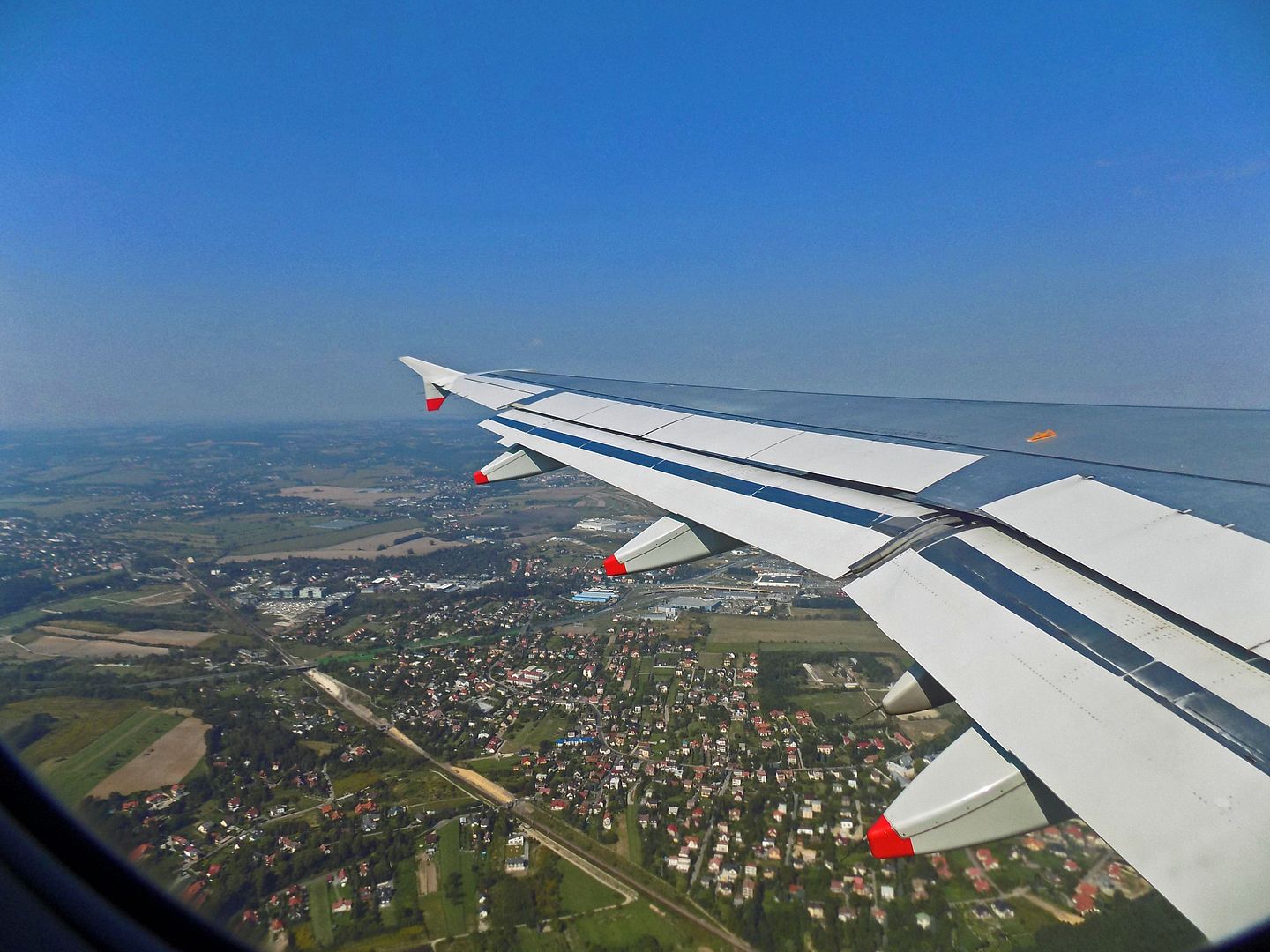 Shortly after take off.
Our route took us over Prague and the Czech Republic, over Germany and Holland. According to Airshow we flew at 36,000, 546 mph with a 25 mph tail wind.
I was hungry and it was nice when we were offered a snack - either salad or pastrami, cheese and gherkin sandwich. I adore pastrami and cheese so I opted for the sandwich!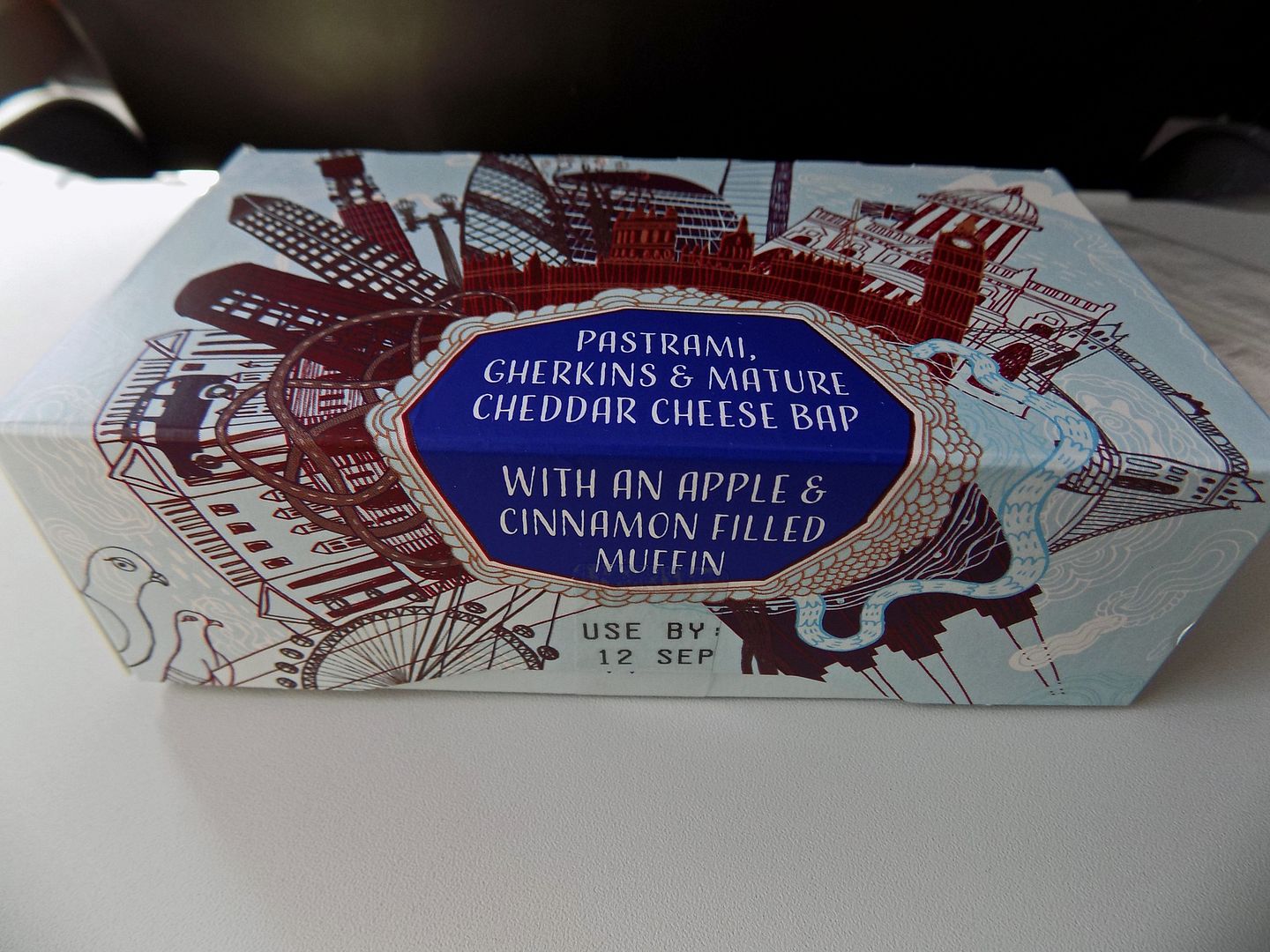 The box containing the sandwich and an apple and cinnamon muffin!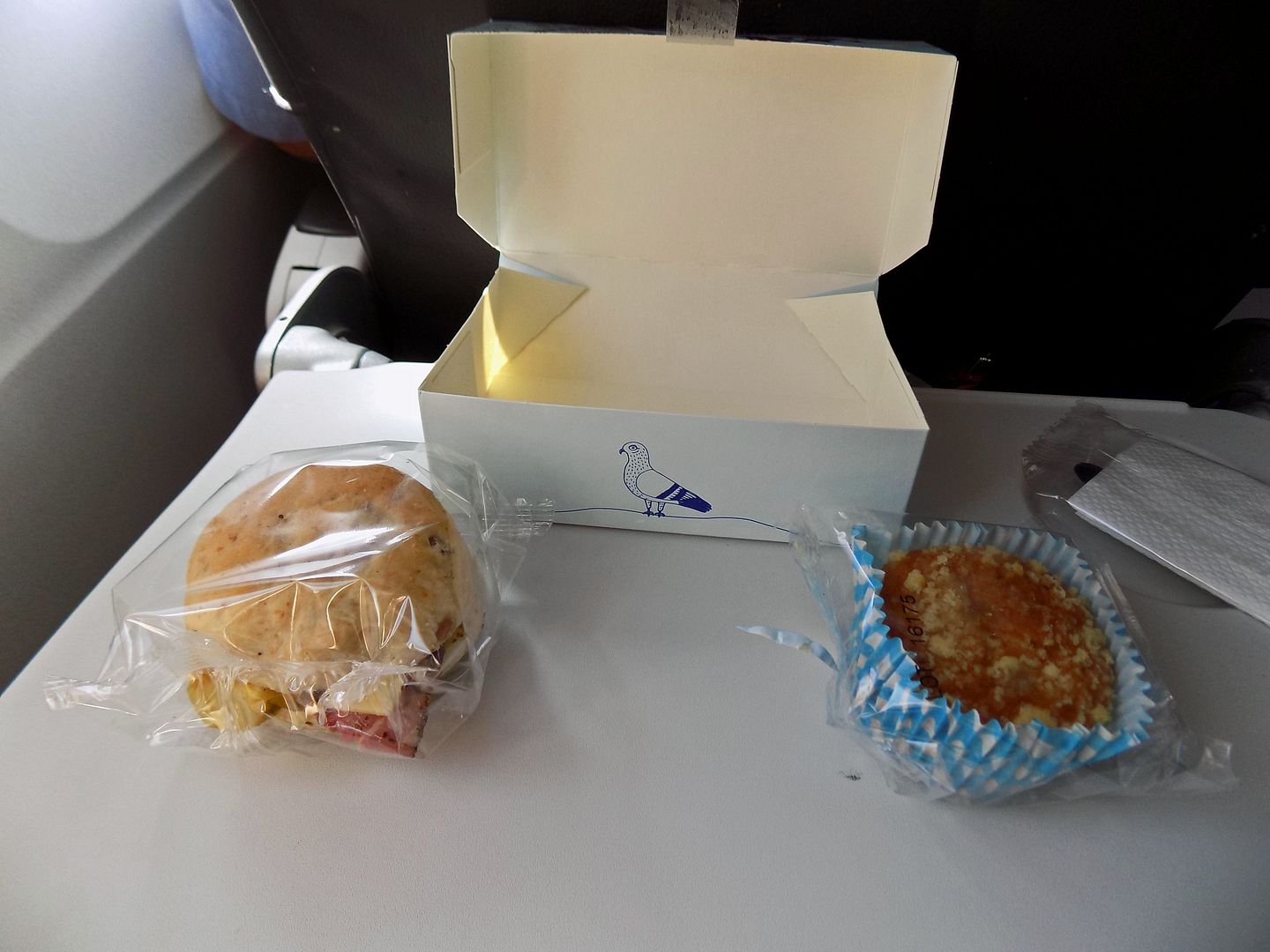 The sandwich and the muffin - small but perfect tasting

We crossed Germany and flew south of Dresden and Jena, then over Dortmund and into the Netherlands.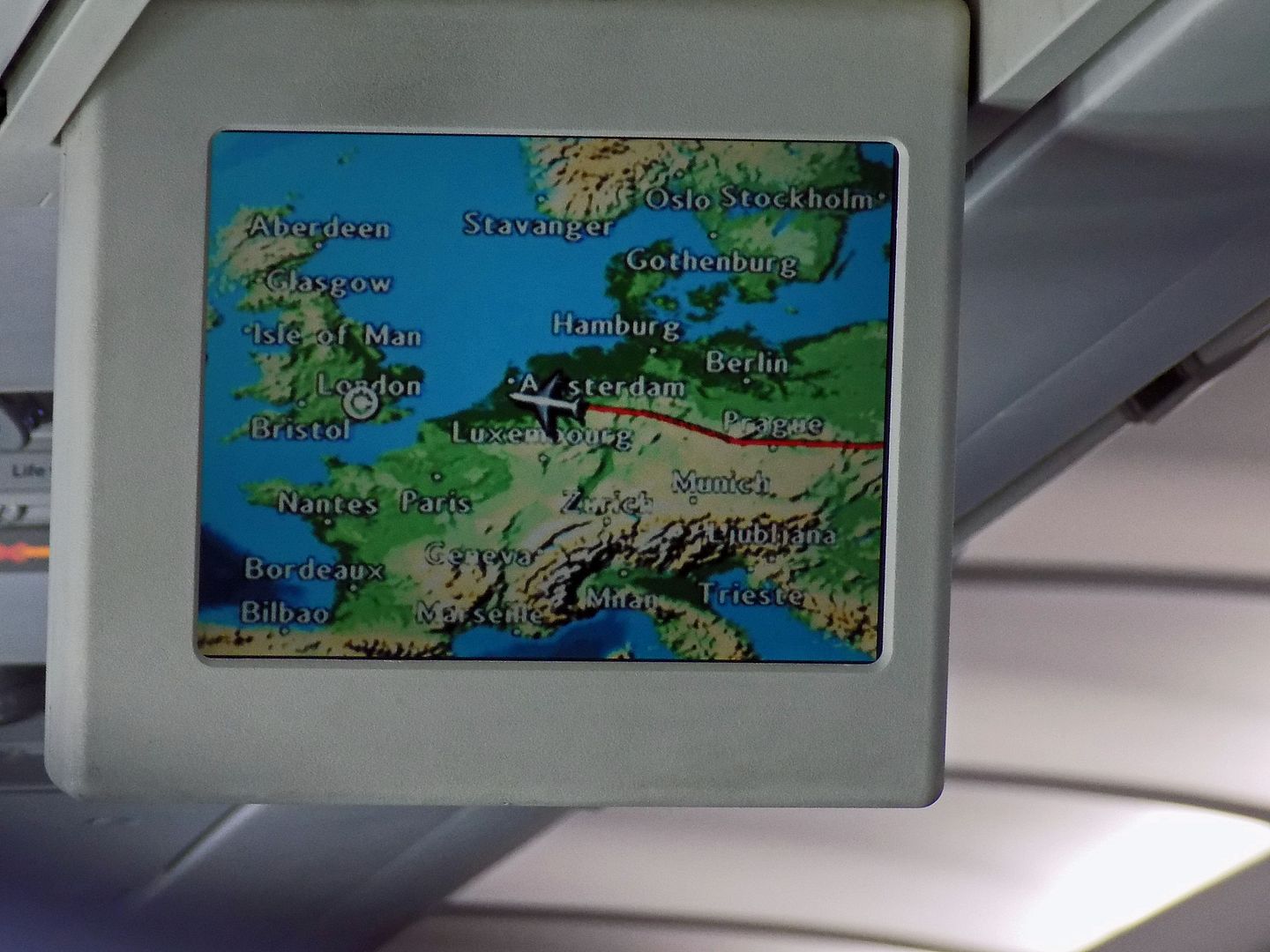 A scene from Airshow.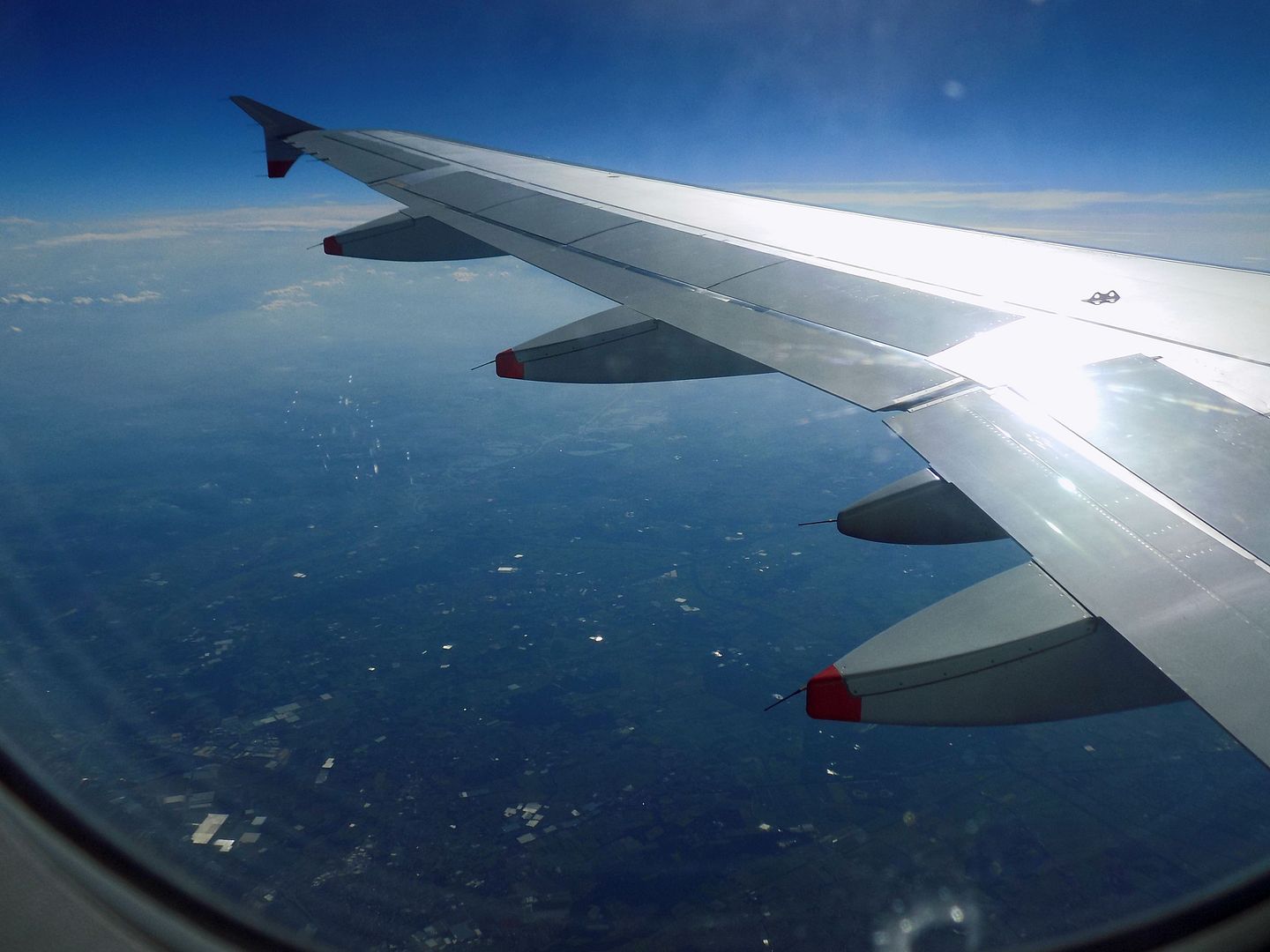 Over the Continent.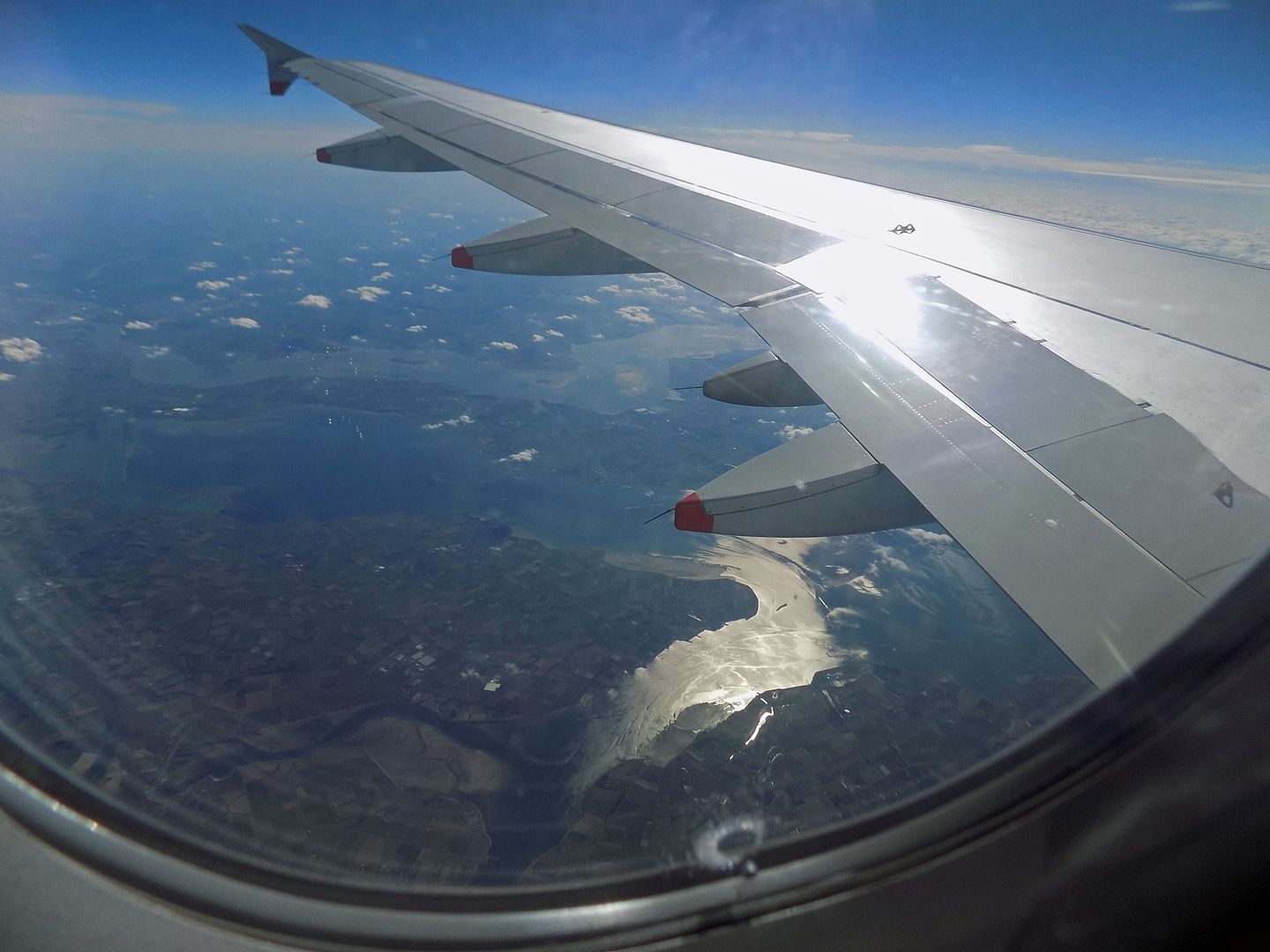 Somewhere over the Netherlands.
As we flew towards south east England we passed my favourite stretch of coastline in the world!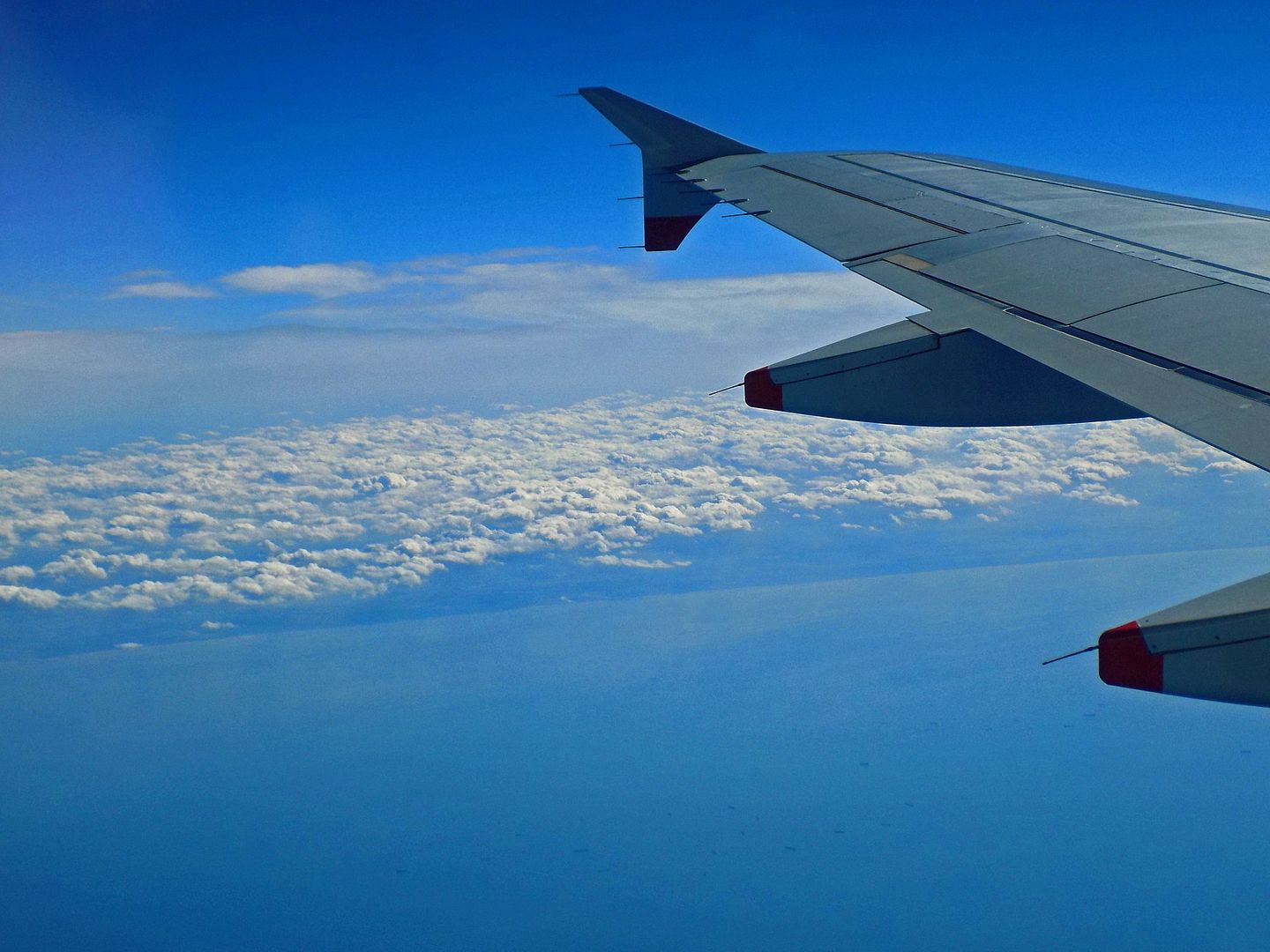 Cloud and my favourite coastline.
The cloud increased as we crossed the sea but had cleared again when we crossed into England.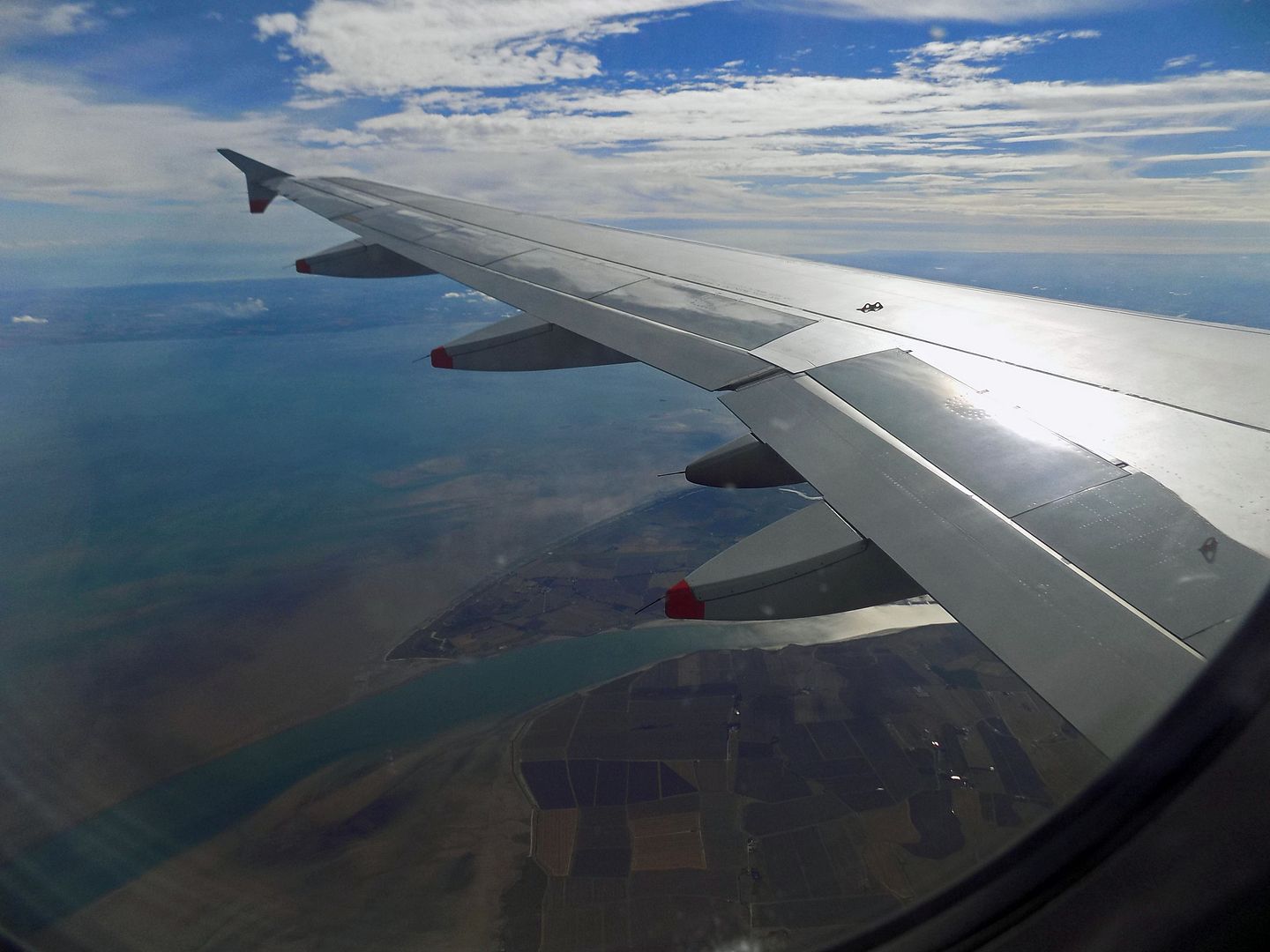 Over south east England.
We had to circle near London for a while, the Captain explained, because the LHR runway use changed at 15:00, the time we would be due to land, so that would cause a slight delay.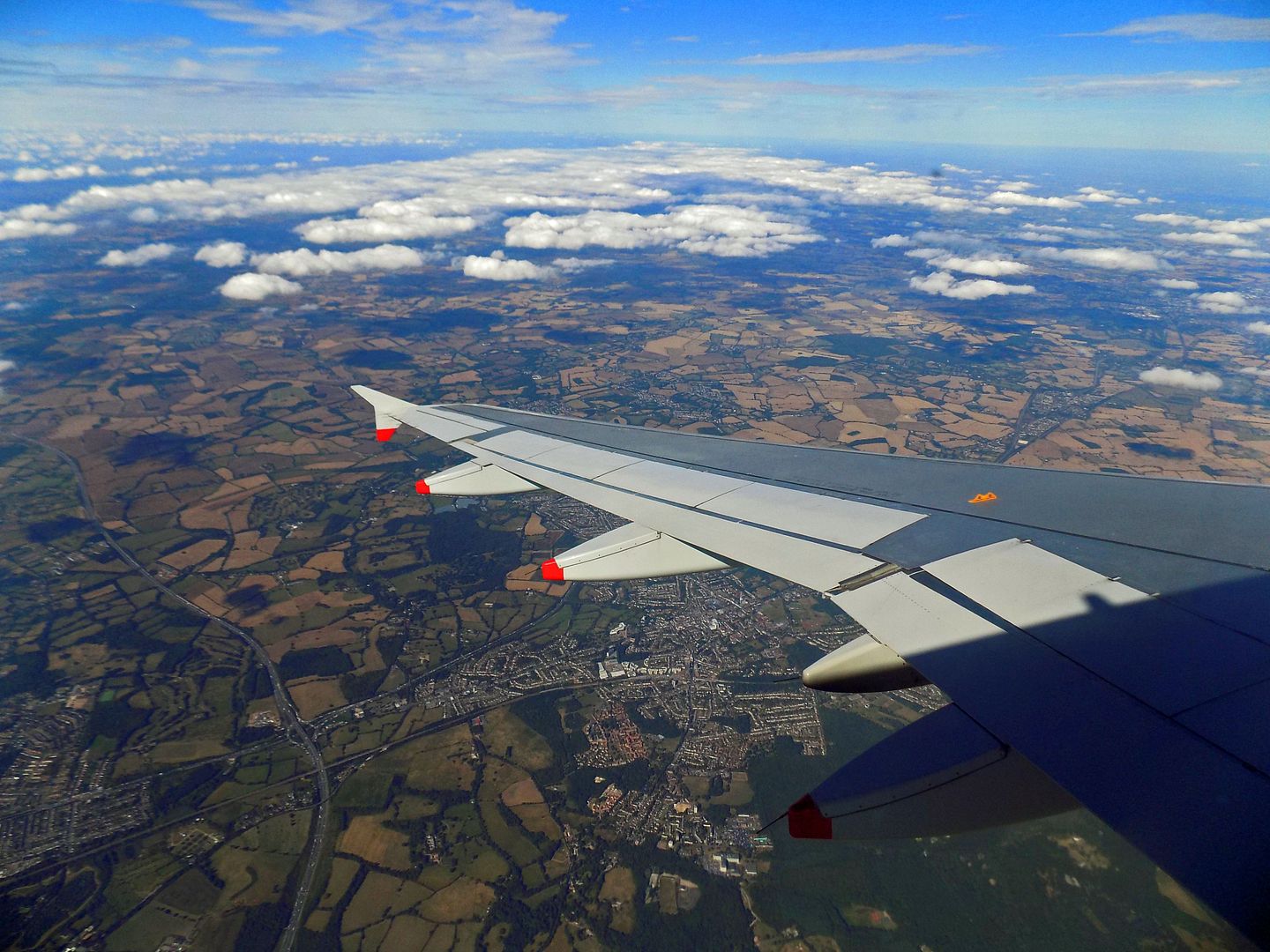 Nice clear views as we circled near London.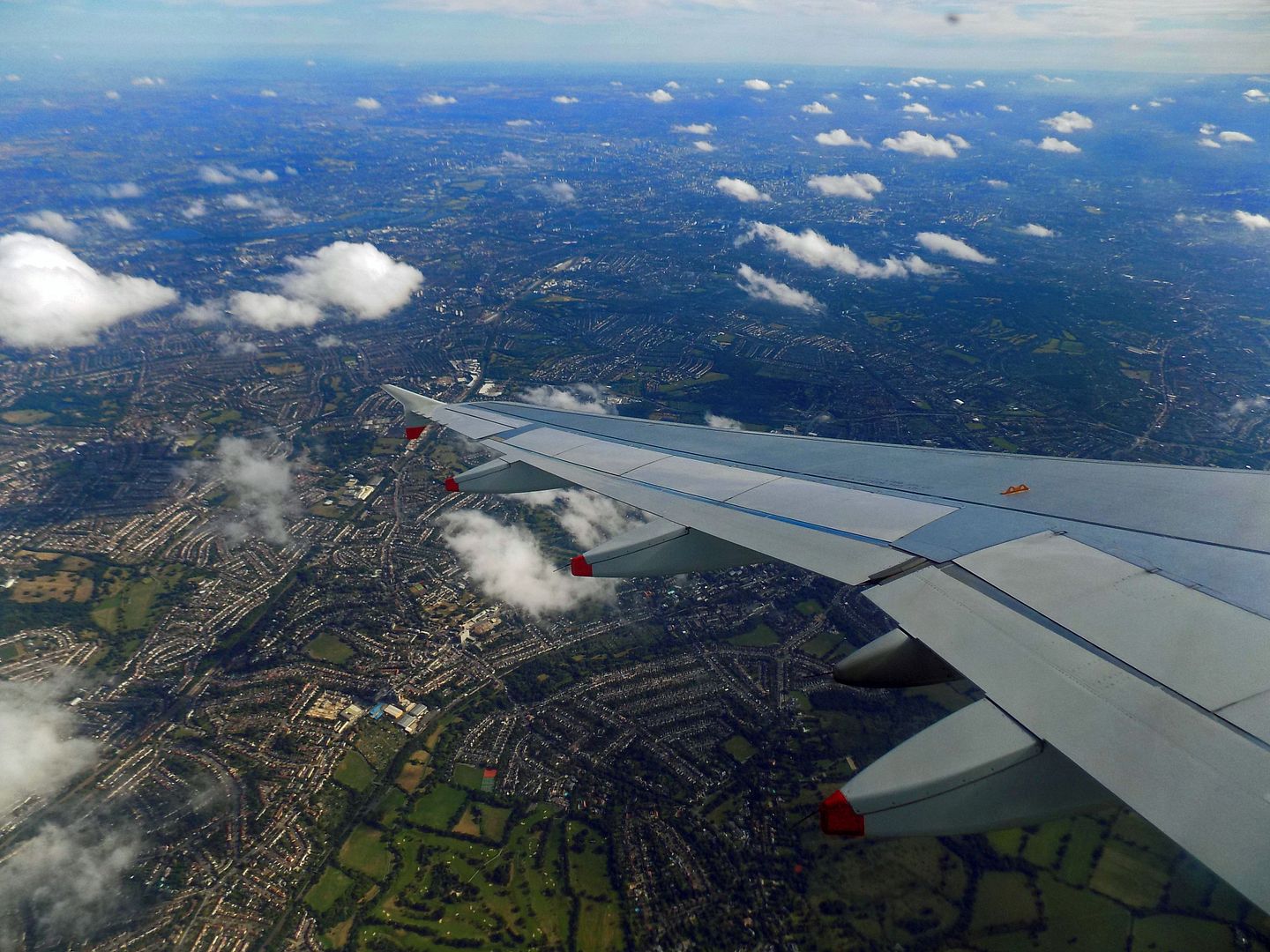 Circling over the London suburbs.
We landed at LHR at 15:04, which was good, and taxied back to Terminal Five.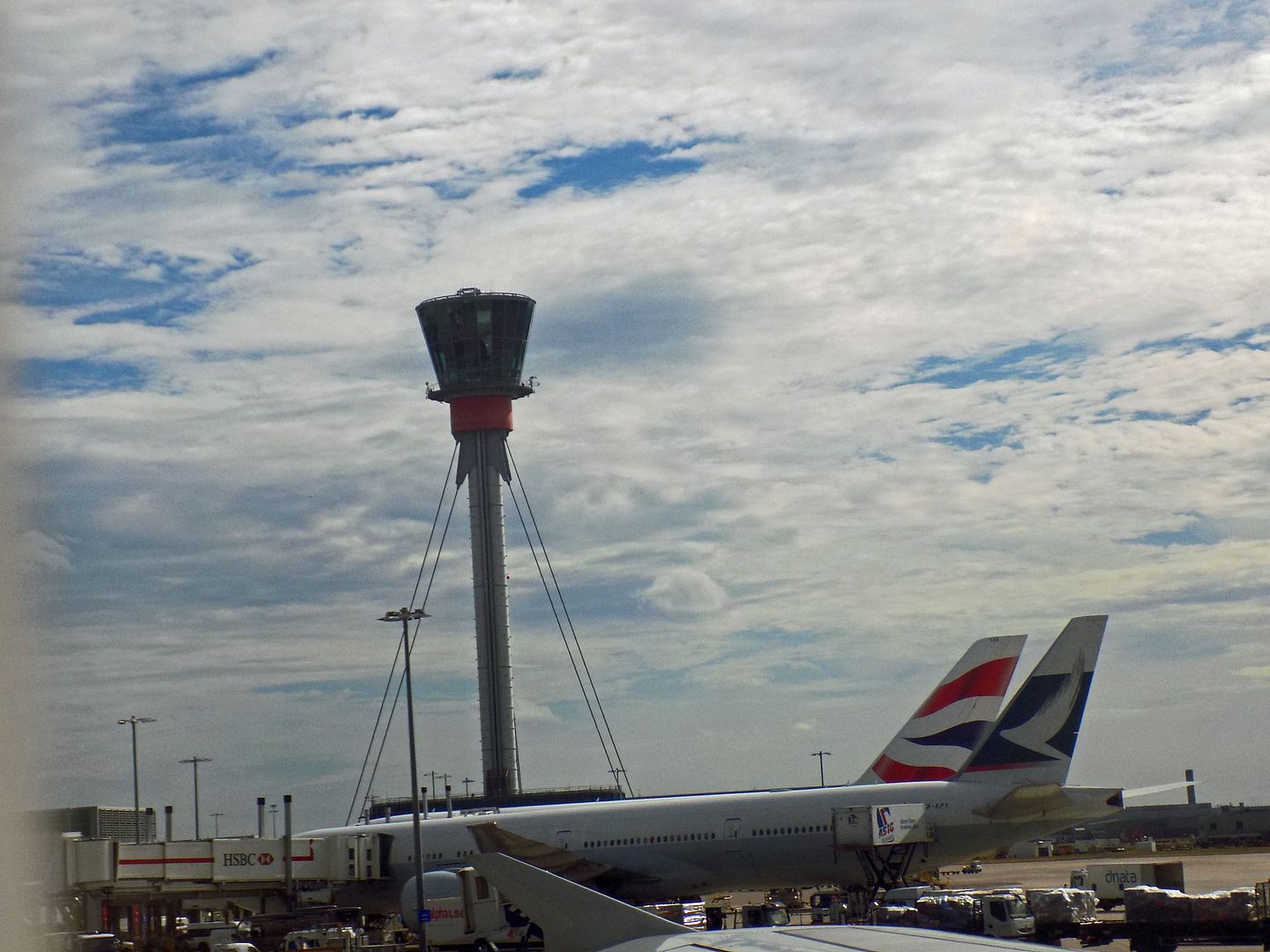 Cathay Pacific 777.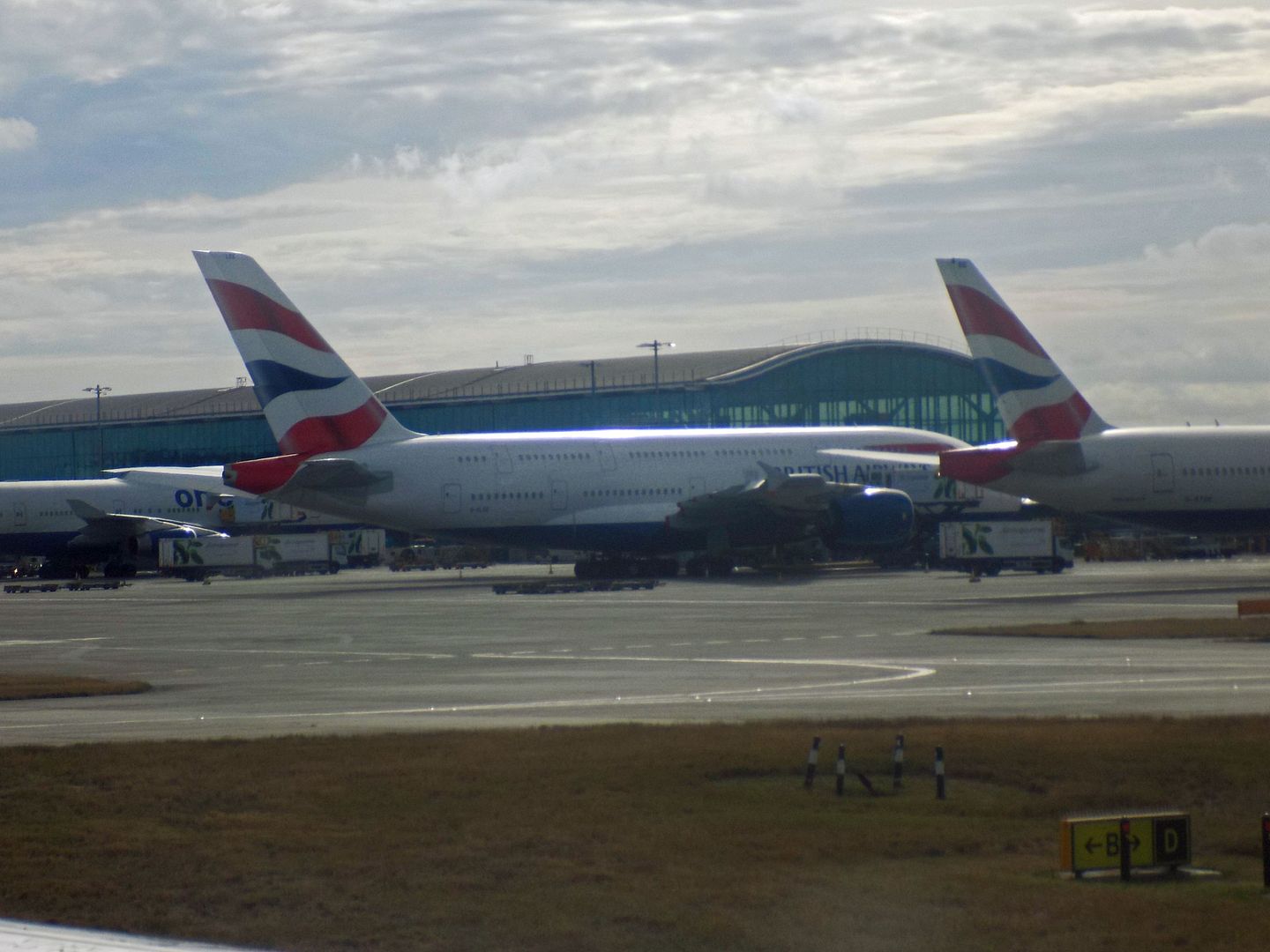 British Airways A380.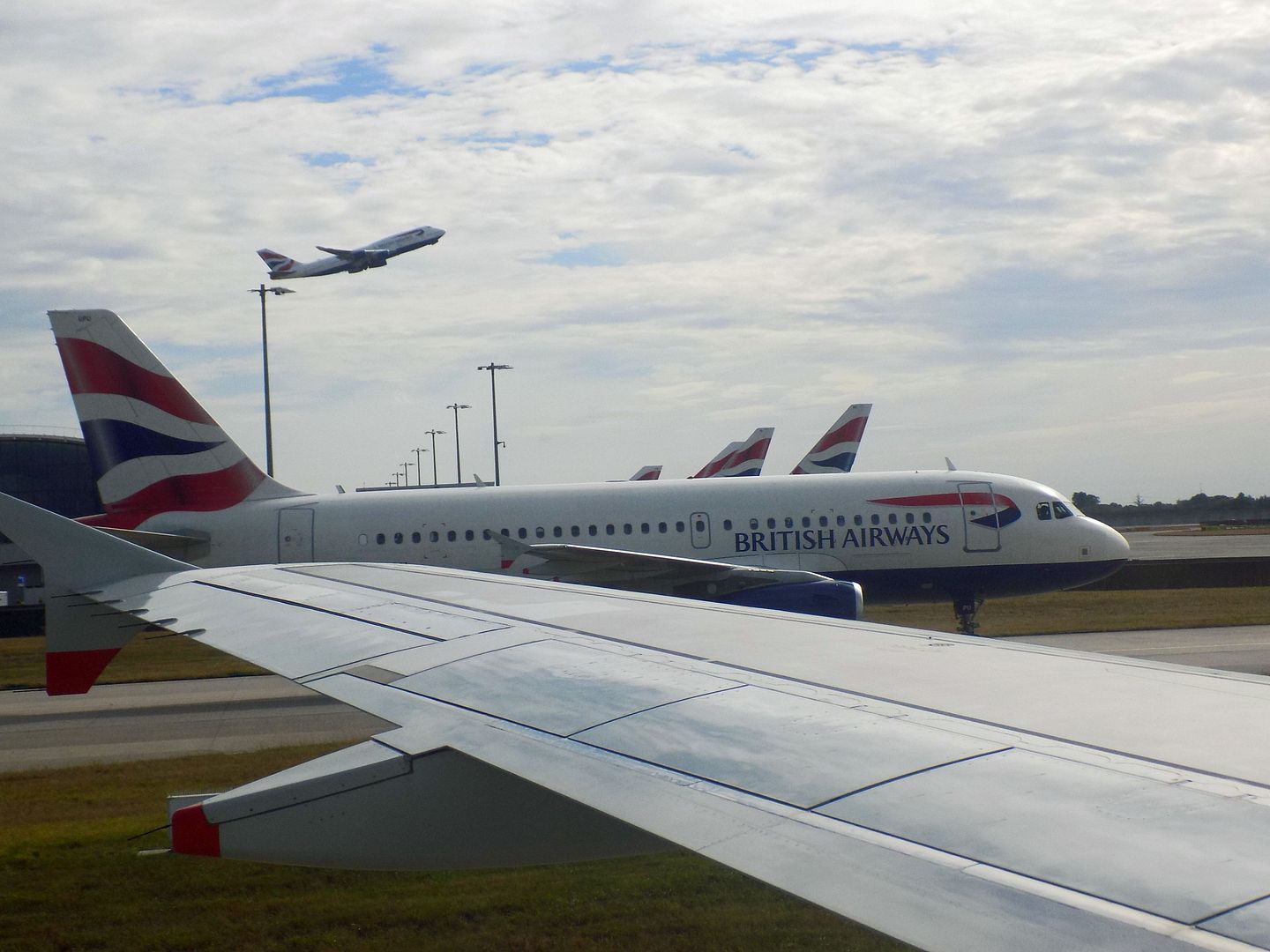 BA A319, 747 taking off in background.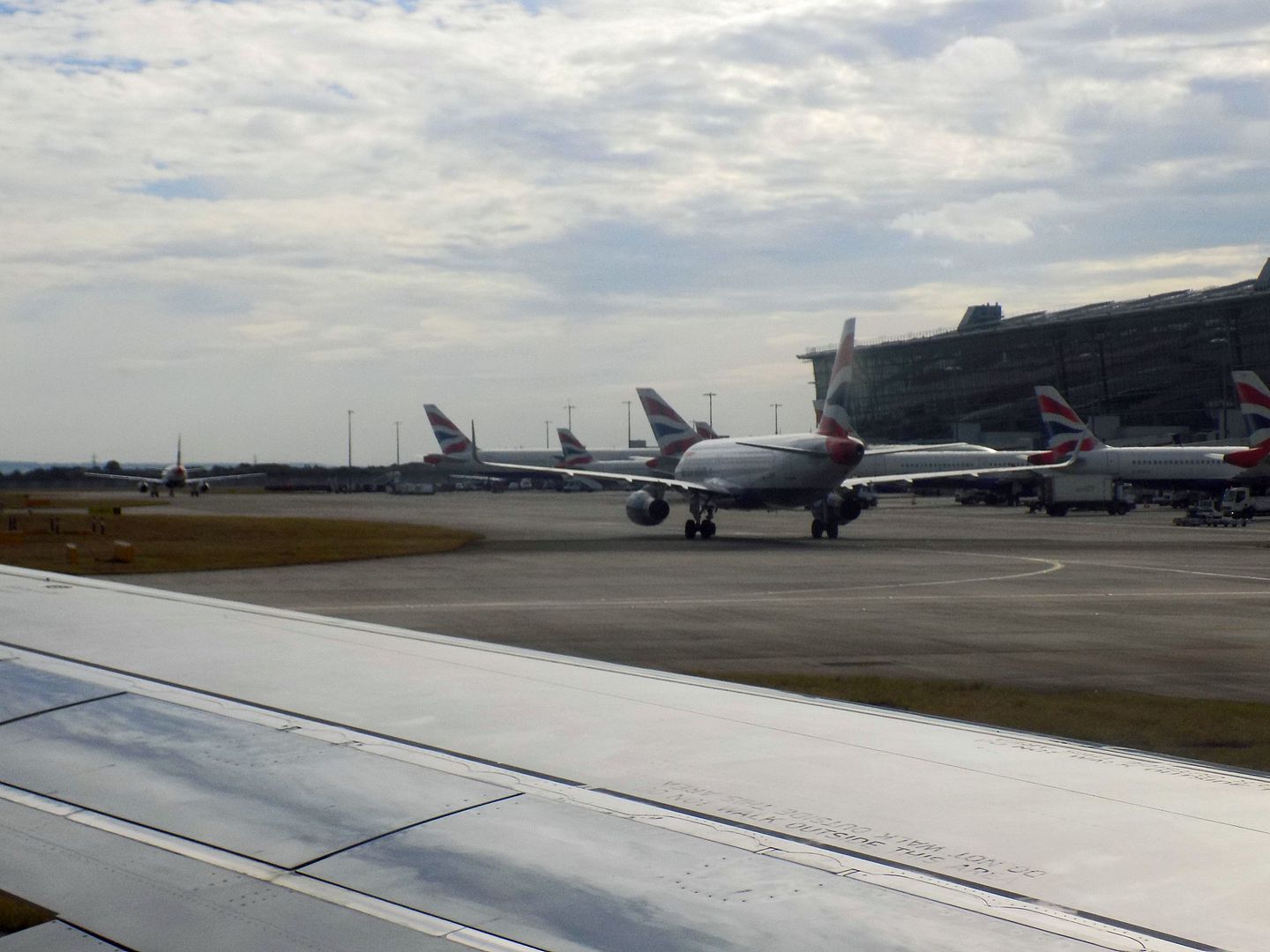 Busy LHR!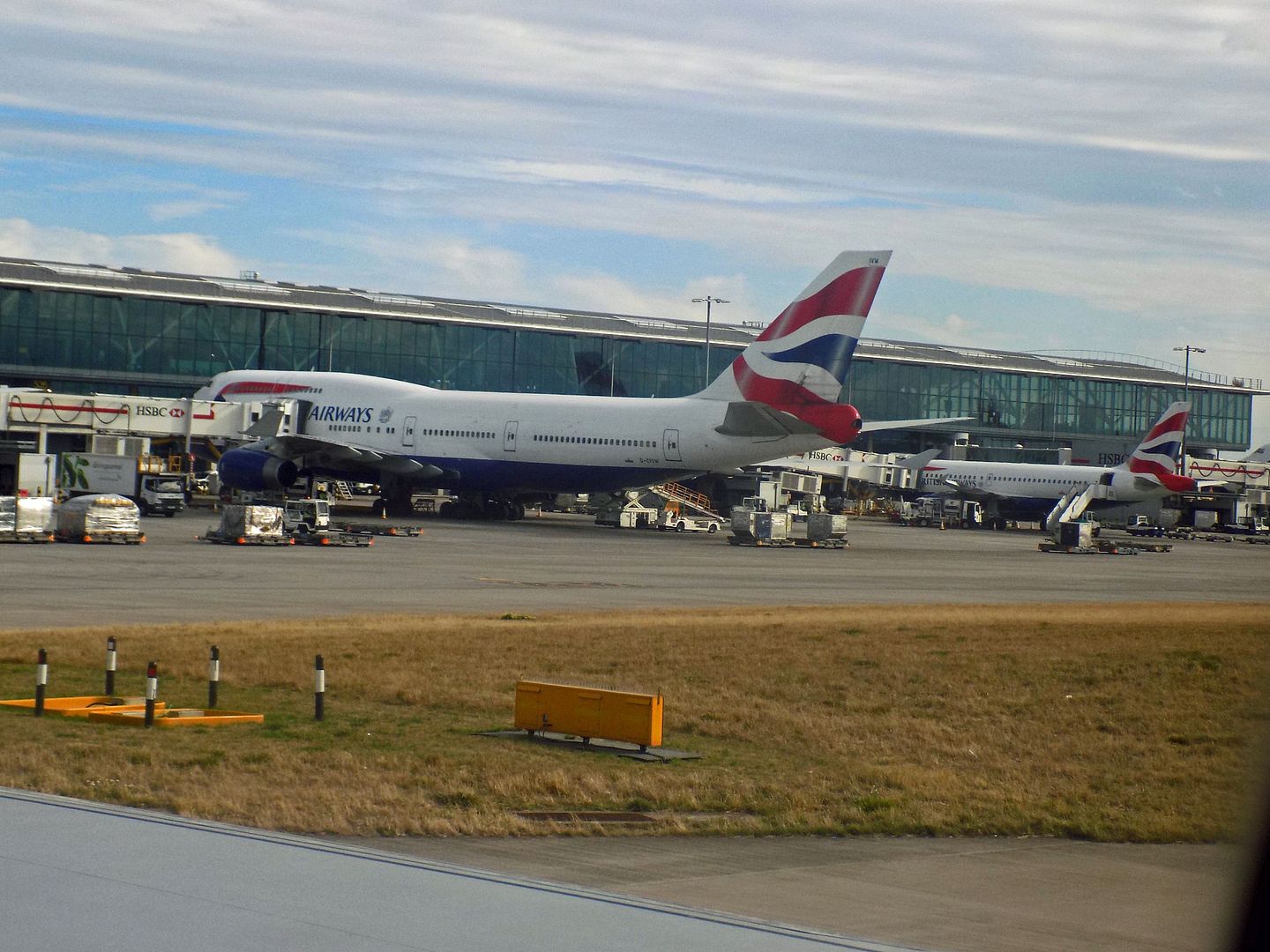 BA 747.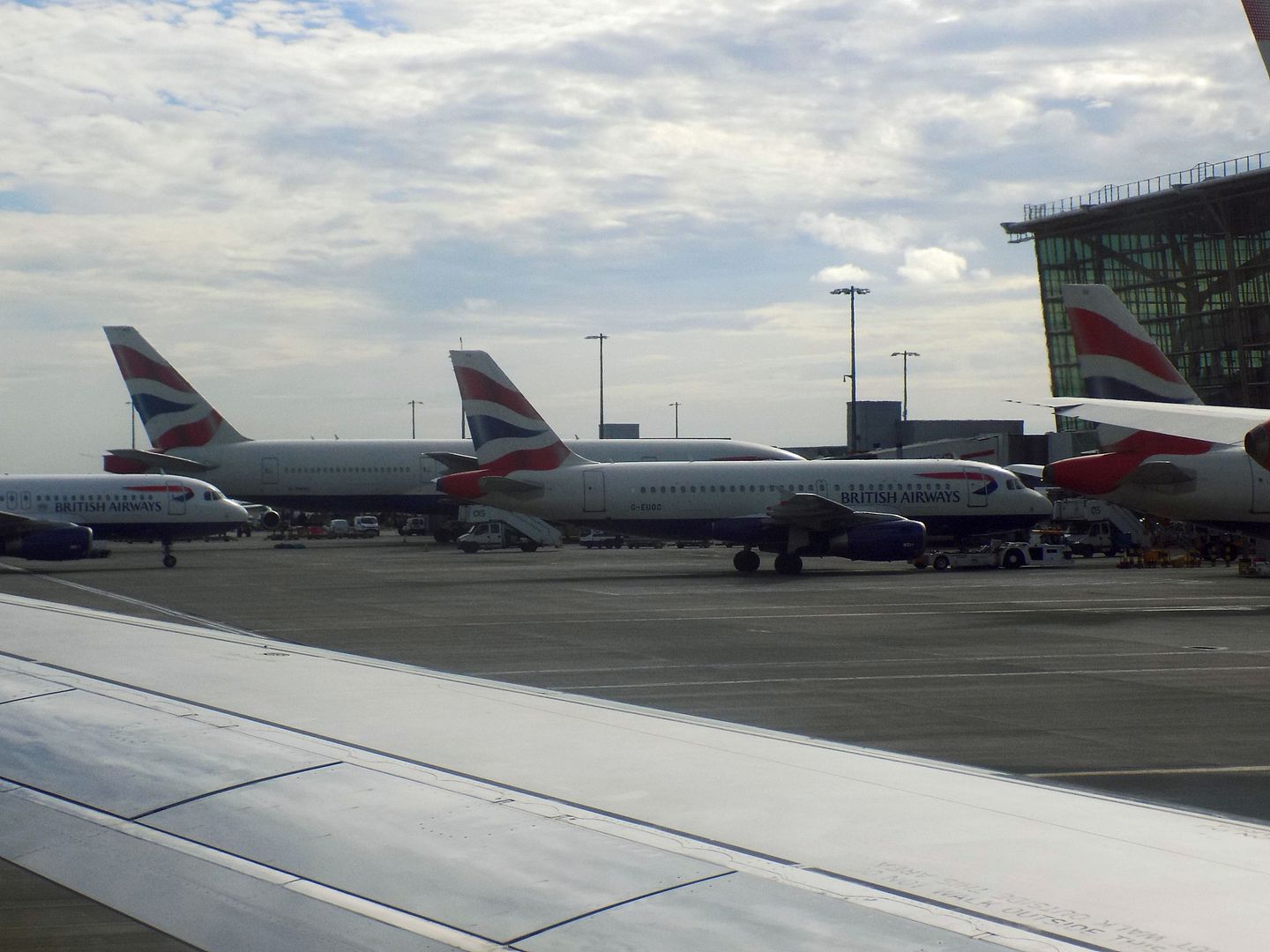 Almost at the terminal.
After disembarking we caught the Heathrow Express to Paddington. I do recommend that route to Heathrow - much better than a long ride on the Underground when you have lots of luggage.
We had had great flights, a great holiday and smooth travel to and from London. Can't wait to do it all again next year!
The video of our flight.