Moderator: Latest news team
United Airlines flight UA986 CDG-ORD (Boeing 767-300ER reg. N642UA) diverted to Manchester for a medical emergency.

André
ex Sabena #26567
---
Other sources say it was a fuel leak.
The same aircraft N642UA on its next flight UA2768 from Manchester to Chicago was squawking 7700 and diverting again, this time to Shannon. This was a ferry flight with no passengers. Bad luck!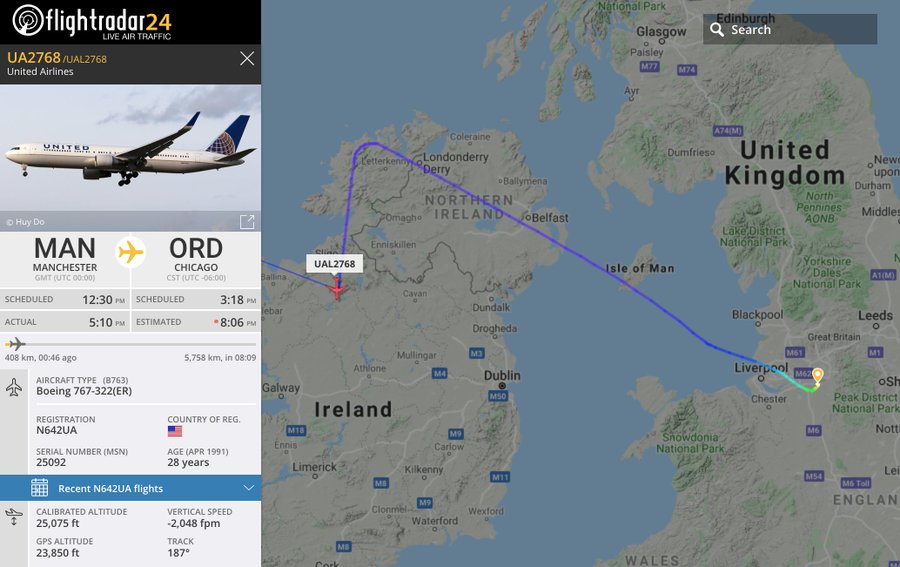 André
ex Sabena #26567
---
---
Someone posted on Twitter: "..
.Zoon zit aan boord: één van de drie hydraulische pompen is kaduuk. Geen probleem, behalve dat ze er geen noodlandingen in Rusland of Siberië mee kunnen maken, vanwege het slechte weer daar. Dus zijn ze omgedraaid..
.". One of the hydraulic pumps failed. Bad weather didn't allow an emergency landing somewhere in Russia.
---
Christmas eve's TUI fly flight TB2601 ANR -> Nador (NDR) diverted to Oujda (OUD) due to fog, which cleared up about an hour later, allowing OO-JEM to reposition to NDR. The return flight from NDR to ANR arrived with less than half an hour delay, so minimal impact on the flight schedule.
---