At approximately 23:12UTC, a British Airways Boeing 777-200ER (G-VIIO), operating flight BA2276 from Las Vegas to London Gatwick, suffered a fire in the left engine during its takeoff roll. The crew aborted the takeoff and evacuated the 172 people on board (159 pax and 13 crew) through the emergency slides. There were no serious injuries to anyone on board the aircraft, although 14 people were slightly injured during the evacuation.
A thick plume of black smoke poured from the plane's engine. Some of those on board said there was smoke in the cabin as one exit was opened and immediately declared unsafe.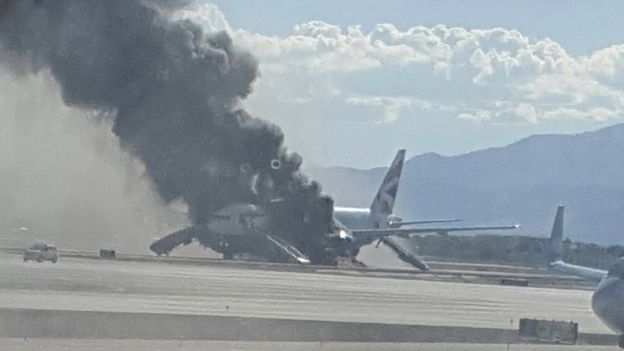 Image: BBC
One runway was shut down, but three others continued to operate.
An investigation into the blaze is now under way after what was clearly a lucky escape.
You can view our full track here:
http://www.flightradar24.com/data/airplanes/g-viio/
#